Confidence rises to 105.4 in December as political uncertainty evaporates
Five of eight metrics fell, but confidence in household finances pulls up average
Jump is second consecutive monthly rise, but figures still far of 2015 levels
Political uncertainty surrounding the general election has gone, and we now have a Government with a strong mandate and a clear direction on Brexit. The clarity has freed consumer confidence to tick upwards during December.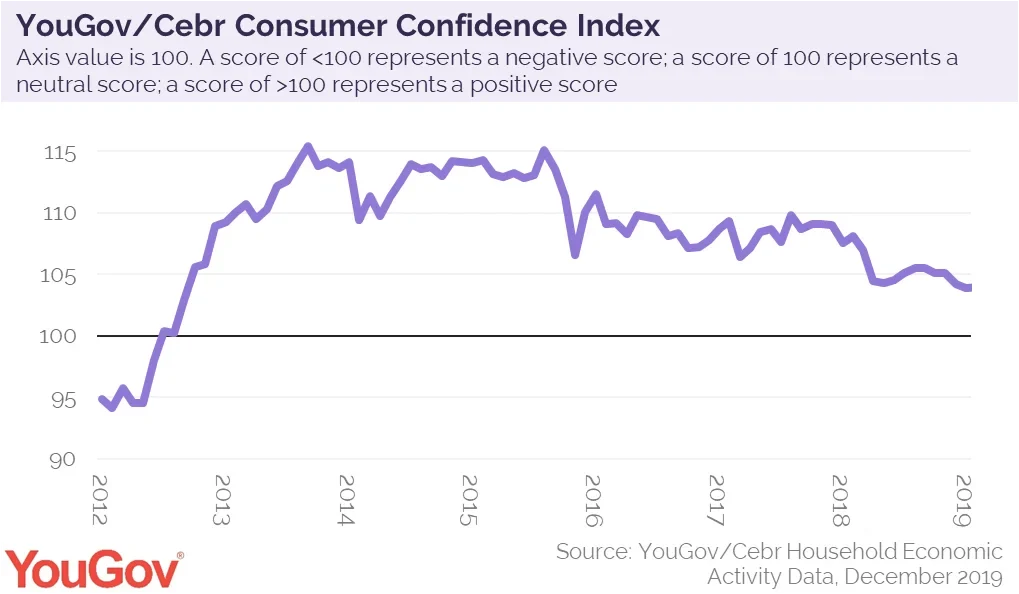 The measure of overall confidence in the state of the economy rose from 105.1 in November to 105.4 in the final month of last decade, according to the latest analysis from YouGov and the Centre for Economics and Business Research. But the rise has done little to offset a long-term depressed trend - we have some way to go before sentiment is as positive as in 2014 and 2015 before Brexit even seemed like a realistic possibility.
YouGov collects consumer confidence data every day, conducting over 6,000 interviews a month. Respondents are asked about household finances, property prices, job security and business activity, both over the past 30 days and looking ahead to the next 12 months.
While any score over 100 means more consumers are confident than unconfident, five of the eight constituent metrics that create the overall score fell during November. The average was dragged up by a significant jump in some key areas.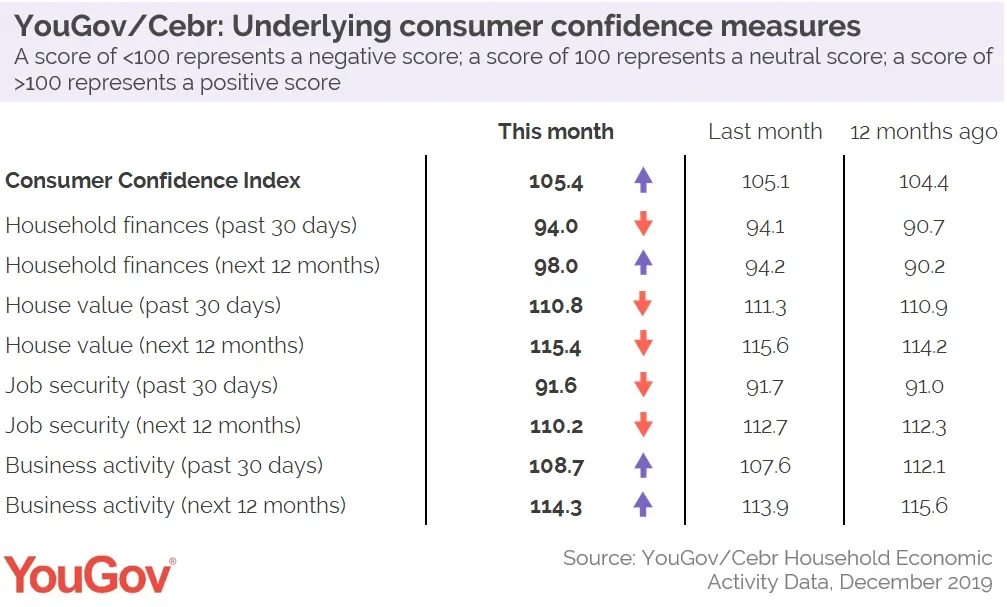 Responses around the business sector were particularly buoyant in December, with the score for the prior 30 days rising from 107.6 in November to 108.7, and expectations for the coming year rising from 113.9 to 114.3.
This optimism is understandably also changing sentiment around the economy. The percentage of Britons who expect it to be in either recession or depression within the next year fell from 69% in November to 64%. Certainly not a positive figure, but at least moving in the right direction.
The number expecting unemployment to rise to some extent over the coming year has also fallen to 56% from 62%. But fears over redundancy persist: the measure of personal job security over the last month fell 0.1 to 91.6 in December and expectations for the coming year were down more than two points to 110.2.
Also affected - but still firmly in positive territory - are house prices. Estimates for prices during December eased off from 111.3 to 110.8 and expectations for the coming year shed 0.2 to 115.4.
Oliver Rowe, Director of Reputation Research at YouGov, said:
"A small improvement in sentiment like this may be down to the clarity provided by a definitive general election result. For the first time in several years consumers know exactly what to expect in terms of Brexit - for better or worse - and it is boosting confidence. This is the second consecutive monthly rise we've seen, but there's significant progress to be made to get back to levels of confidence seen before the EU referendum."
Nina Skero, Chief Executive at the Centre for Economics and Business Research, said:
"Consumer confidence showed signs of recovery in December, very likely supported by a decisive general election outcome. It is possible that we will continue to see a gradual recovery in consumer confidence over 2020 as the country works its way out of a three-year political deadlock. While many Brexit questions remain unanswered, it seems that the process is about to enter the fast lane, helping to alleviate consumers' Brexit fatigue."