Confidence ticks up 1.1 points in November, driven by belief in rising house prices
But two thirds expect recession/depression within a year and more than half think unemployment will rise
Consumer confidence has ticked upwards by 1.1 points to 105.1 despite the uncertainty of an impending general election, according to the latest analysis from YouGov and the Centre for Economics and Business Research. But the rise has done little to offset a long-term downward trend and the metric is equal to or lower than every single month since summer 2013 bar three.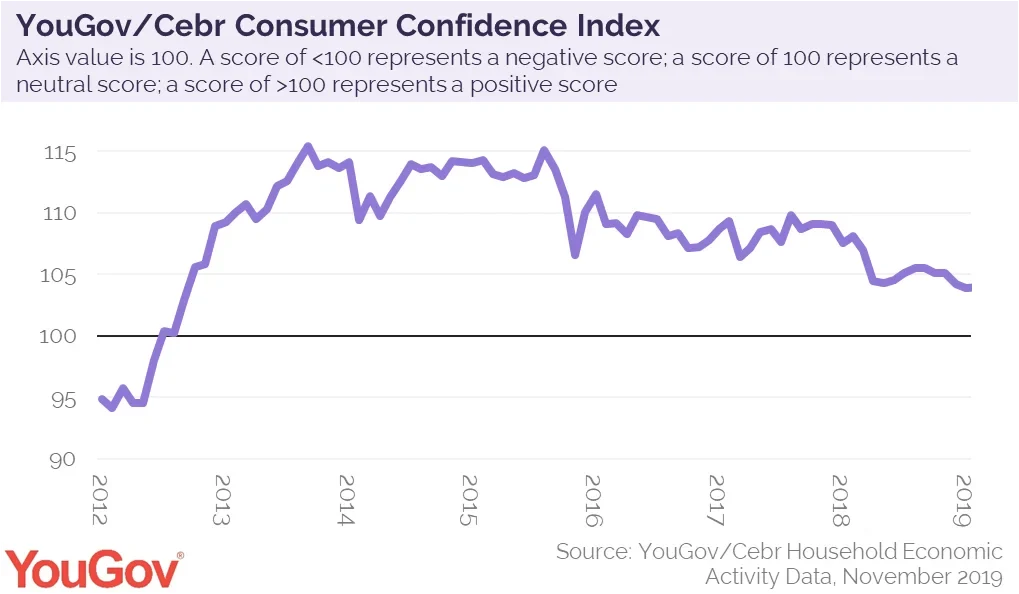 Much of the small rise was down to growing optimism that house prices have been on the up, and will continue to climb. Respondents gauged that their house value both over the last month and the coming year would be higher, causing a climb in those metrics of 3.8 and 4.8 points respectively.
Also on the rise was job security, with estimates over the last month and the coming year both 1.3 points up. This shows that the public are relatively confident that their job will be safe, but the picture is rather different if you ask about jobs in general. Some 16% of those surveyed told us that unemployment is likely to increase a lot in the coming year, and a total of 62% expect it to increase to some extent.
And an even more telling result showed that more than two thirds (69%) of respondents believe the UK economy will be in either recession or depression within the next year.
YouGov collects consumer confidence data every day, conducting over 6,000 interviews a month. Respondents are asked about household finances, property prices, job security and business activity, both over the past 30 days and looking ahead to the next 12 months.
While any score over 100 means more consumers are confident than unconfident, five of the eight constituent metrics that create the consumer confidence score rose during November.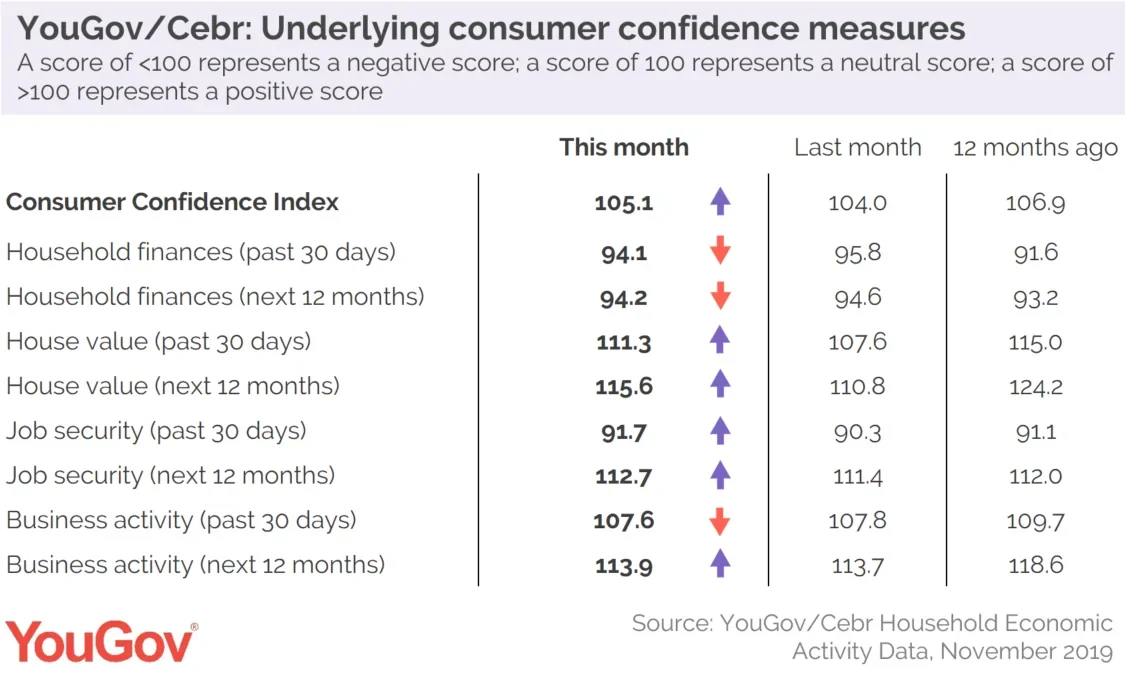 The sentiment around household finances both over the coming year and previous month grew more pessimistic during November, falling 0.4 and 1.7 points respectively. Business activity was a mixed picture. With the measure for the past month falling 0.2 points but estimates for the coming year 0.3 points up to 113.9 - well into positive territory.
Oliver Rowe, Director of Reputation Research at YouGov, said:
"A small improvement in sentiment like this may be down to the removal of the imminent threat of No Deal Brexit last month on Halloween. Without the prospect of crashing out of the EU Britons have more faith in stable and resilient house prices, which is helping to offset persistent fears about jobs and the economy."
Nina Skero, Chief Executive at the Centre for Economics and Business Research, said:
"It is encouraging to see consumer confidence climb as we enter the all-important pre-Christmas spending period. Still, the November uptick does little to offset the wider concerns consumers have about the economy. With 7 in 10 expecting to see negative GDP growth within the next year, this slight rebound in confidence is unlikely to last."