Apple recently launched its own credit card in the US which works through Apple Pay, and has plans to offer it in the UK soon. Using Goldman Sachs as the issuing bank and Mastercard as the payment network, the Apple Card is a physical slice of titanium that can work as a traditional credit card, but is optimised for use through an Apple device.
Apple Card is only available to those who own an iPhone running iOS 12.4 or later, meaning this latest offering is only on offer to existing customers - those who are most likely already fans of the brand.
But is Apple Card just a product for diehard Apple fans? Or is it a serious contender in the growing fintech industry?
YouGov Profiles data shows that those who own an iPhone are highly aware of their finances and like to check their accounts regularly. Unsurprisingly, those who own an iPhone use a smartphone for online banking much more than the average Brit – over a quarter use their smartphone to check their bank accounts at least once a day (29%) and 11% check several times a day. Only a fifth (18%) find online banking uncomfortable.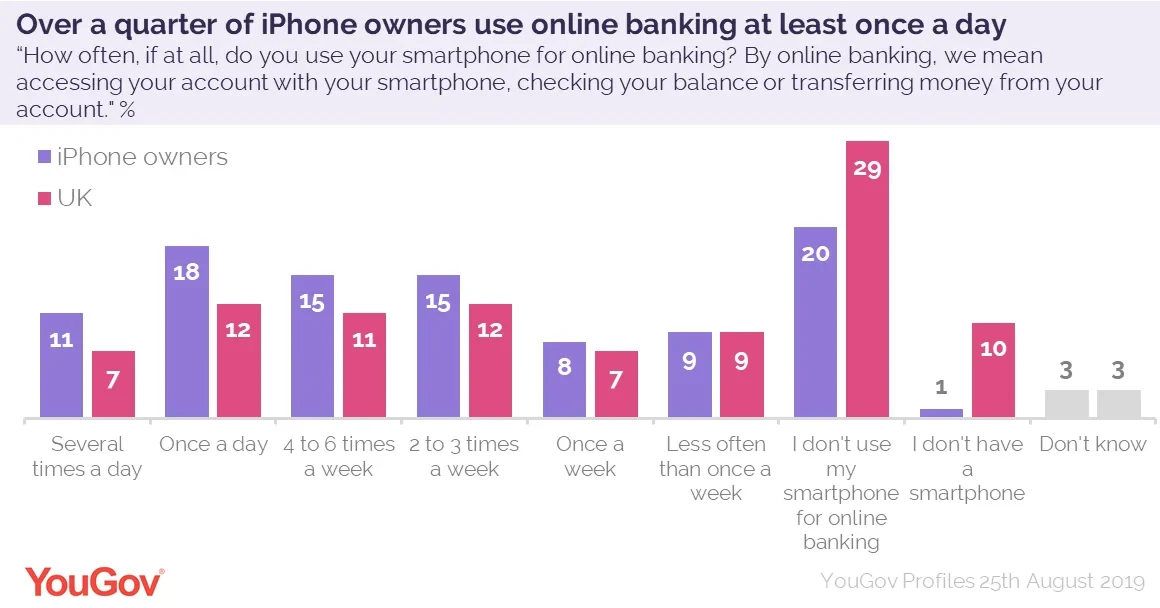 Comparatively, just 7% of the UK check their bank accounts on their smartphones multiple times a day and only 12% check once a day. Almost a third of the UK say that they don't use their smartphone for online banking at all (29%) while 10% don't own a smartphone, demonstrating the exclusivity of a product that is smartphone-only.
One brand which has managed to successfully appeal to a tech-only customer base with a similar product to Apple Card is Monzo, the app-only disrupter bank which burst onto the scene in 2015. YouGov data shows that iPhone owners are twice as likely as the average Brit to have a Monzo bank account (4% versus 2%), suggesting that this group are already inclined to consider app-only products and that an exclusive product isn't necessarily excluding.
iPhone owners are trusting of less traditional banks and are generally savvier with their spending. Almost half prefer to have more than one bank account (49%) and more than a quarter often move money around to different accounts in order to trick themselves into spending less (27%). Additionally over half say that they trust banks and building societies (51%) while 15% of this group have never interacted with their main current account provider by visiting in branch.
The data suggests that those who already own Apple products are likely to consider using an Apple financial product as they already bank predominately online and check their finances regularly. They're also much less likely than the average Brit to only replace their tech when it goes wrong or is broken (34% versus 42%) suggesting they're more willing to try out new technology.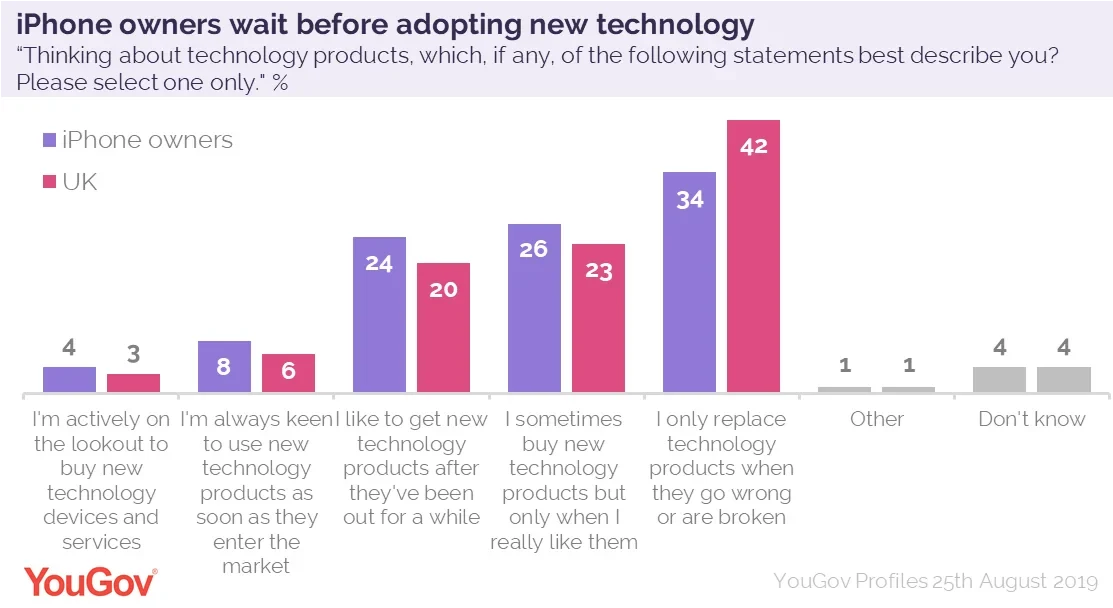 However it will take time to see whether Apple Card catches on even among the most hard-core of Apple fans. It's worth remembering that these early adopters of technology will only purchase new technology when they really like the product (26%) and once the product has been out for a while (24%).
Image: Wall Street Journal