Consumer confidence hits a low of 104.0 in August, a level not seen since 2013
75% of Britons believe UK will be in recession or depression within a year
63% expect to see unemployment rise over the coming year
The latest analysis from YouGov and the Centre for Economics and Business Research shows that most Britons expect the country to be in recession this time next year. Some 56% of respondents believe that the economy will be in recession and a further 19% think it will be in a depression.
Just 24% of Britons think the economy will be growing, and only a tiny minority of 1% think it will be booming.
The latest data also reveals that consumer confidence has continued its long-term downward slide by dropping to 104.0. While any score over 100 means more consumers are confident than unconfident, the index is still notably below where it was before the UK voted to leave the European Union in 2016. In fact, you have to trace the history of the YouGov/Cebr tracker back to May 2013 to find lower confidence, when we saw a figure of 102.9.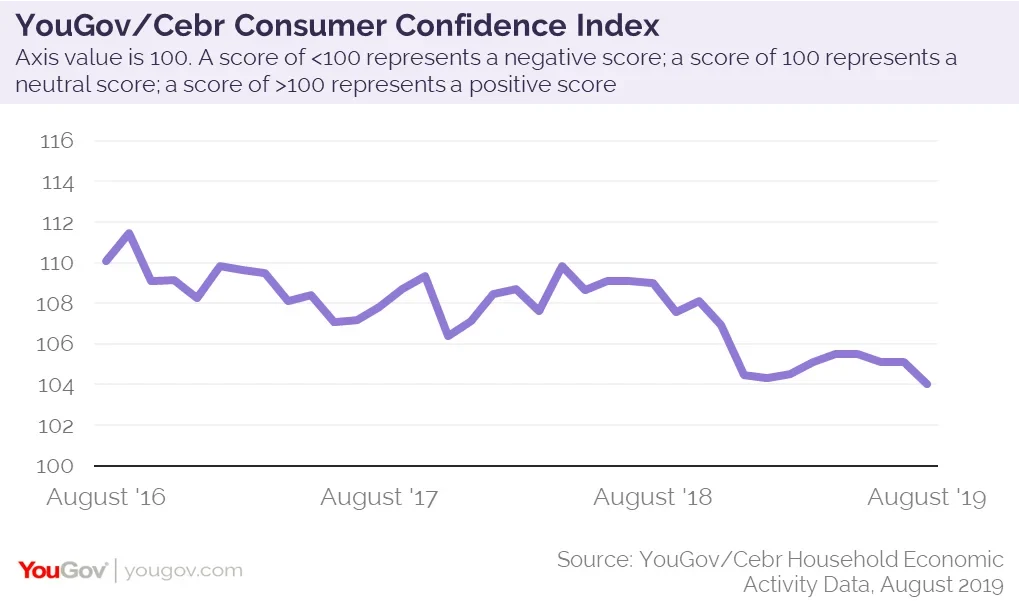 YouGov collects consumer confidence data every day, conducting over 6,000 interviews a month. Respondents are asked about household finances, property prices, job security and business activity, both over the past 30 days and looking ahead to the next 12 months.
While five of the eight metrics which make up the overall figure rose over the last month, significant drops in three areas were enough to weigh it down.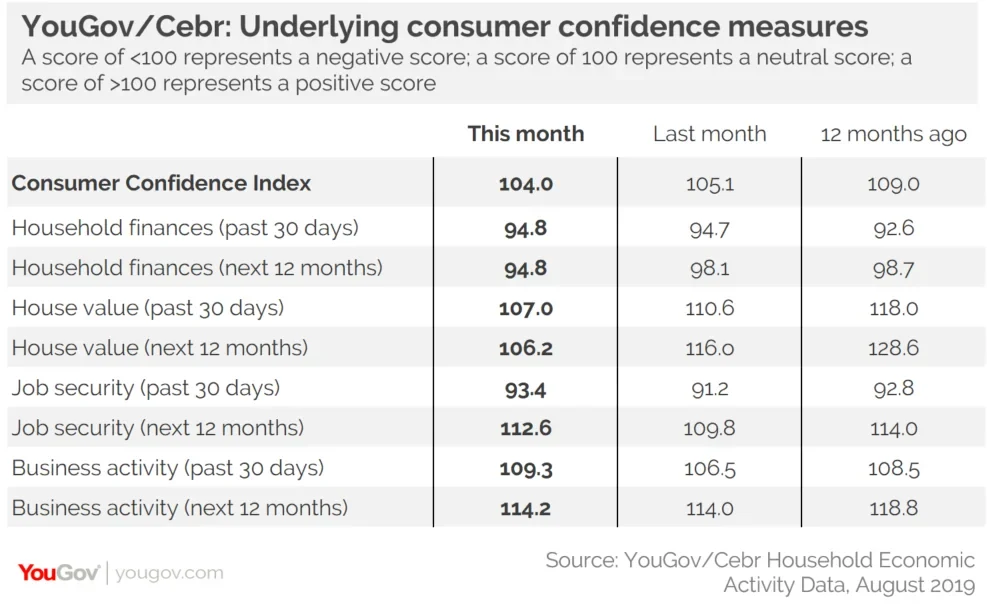 Particularly large falls were seen in house values. Estimates over the last month slid from 110.6 to 107.0, which is considerably lower than in August last year when the figure sat at 118.0. Expectations for the coming year also fell significantly from 116.0 in July to 106.2 in August.
The outlook on household finances over the coming year also took a large dip, falling from 98.1 to 94.8 - well into negative territory.
Counter to this, however, job security figures rose. Britons reported that they felt slightly safer in their job than last month. Security over the last 30 days rose from 91.2 to 93.4 and the outlook for the coming year was up from 109.8 to 112.6.
Despite the climbs showing that Britons don't expect to lose their own job, our survey also showed that 16% of respondents believe unemployment will increase "a lot" over the coming year. A total of 63% expect to see an increase to some extent.
Oliver Rowe, Director of Reputation Research at YouGov, said:
"Britons have grown progressively more cautious about the future over the last few years, and we see growing concern about house prices and the wider economy."
Nina Skero, Director at the Centre for Economics and Business Research, said:
"Economic commentators have been warning of a heightened recession risk, and our latest research shows that their expectations are matched by those of the general public. These fears have led to a gloomier housing market outlook, suggesting transaction numbers and prices are about to come under even greater pressure."