With increasing uncertainty on the horizon people are saving more, seeking better deals on mortgages and insurance and cutting down on takeaways and shopping – but they refuse to sacrifice holidays
Consumer confidence has steadily fallen since the 2016 Brexit referendum. Currently, 61% of the public expect the UK economy to worsen over the next 12 months and around two in five (41%) expect their own personal financial situation to decline.
A third (33%) are worried about the increasing costs of everyday goods and around a fifth (21%) are concerned that they have insufficient savings in case of an emergency.
Changes in financial behaviour
To mitigate these worries, more than two thirds (67%) of Brits say they have already started, or plan to start, saving money because of the uncertainty caused by Brexit. Three in five (61%) of these people say they aren't saving for anything in particular but want to be prepared for whatever comes.
Others are looking to cut down their expenses as much as possible. Around a third of those who have a mortgage are reviewing their current rate (34%) and a quarter (26%) of insurance policy holders are looking to get better deals on their life insurance, critical illness cover or income protection.
Previous YouGov research showed that people are often too apathetic to switch providers, believing they're all the same. Brexit uncertainty could be a strong catalyst.
Cutting back on spending
As well as saving and seeking better deals on monthly bills, many also plan to spend less as Brexit approaches.
Takeaways are likely to be the main casualty, with the biggest gap (-25) between those who say they will spend more and those who say they will spend less in coming months. Coffee and snacks are next most likely to go with a gap of -18, followed by gym membership (-14).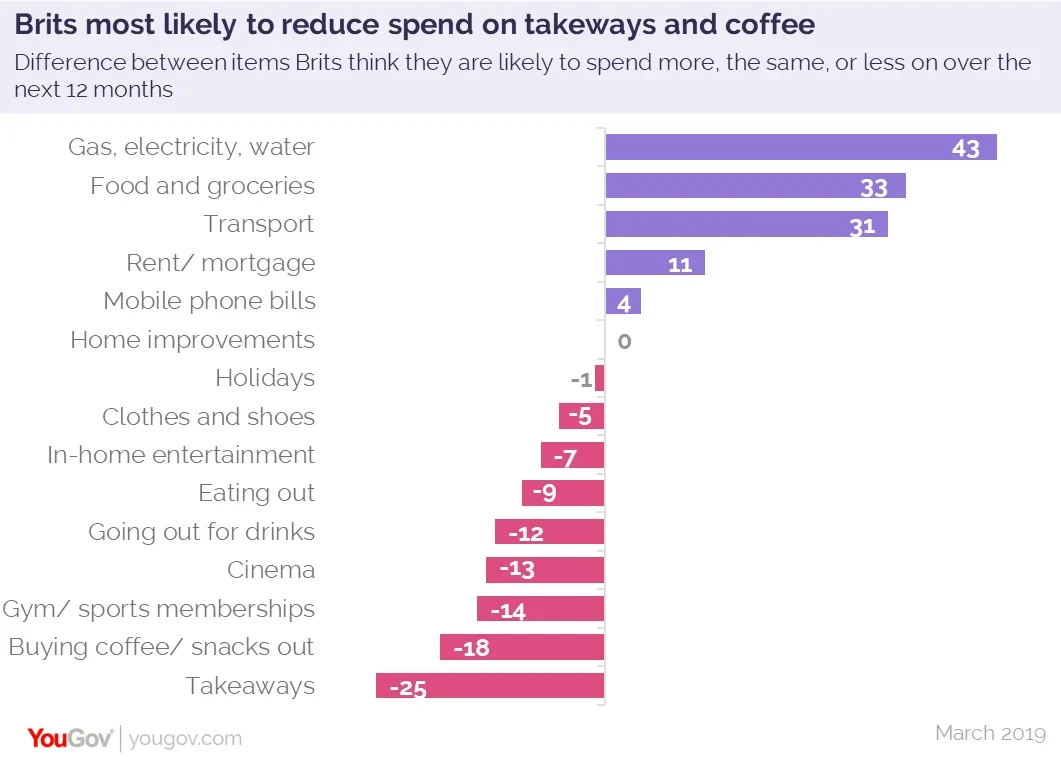 In what will be yet more unwelcome news for the high street, consumers also plan to spend less on clothes and shoes (a gap of -5). Spend on eating out (-9), going out for drinks (-12) and cinema tickets (-13) is also likely to decrease.
Travelling abroad looks to be the least affected. While many believe that holidays (66%) and airfares (65%) will be more expensive after Brexit, only around a quarter (24%) are actively planning to cut down on their travel spend in the next 12 months. What's more, two in five (40%) say they will definitely take a holiday abroad in 2019.