A government scheme invested up to £1,000 into a fund for each child born between 2002 and 2011 – but many parents never knew about it, or simply lost track of the money
A new YouGov RealTime survey adds to the body of evidence that millions of children are unaware of the existence of a government fund in their name containing several thousand pounds.
Child Trust Funds (CTFs) were savings accounts available to children born between 1st September 2002 and 2nd January 2011. The Government sent the child's parent or guardian two free vouchers of between £250 and £500, depending on the family's household income, one at birth and one several years later, to be deposited into a fund in the child's name. The money would not be subject to any tax, nor would it affect parents' eligibility for benefits.
If parents did not deposit the initial voucher, HMRC set up an account on the child's behalf.
However, authorised CTF providers holding these accounts say they fear that up to 1.75 million funds are 'lost' – in other words, the responsible adult is unaware of the fund's existence or location.
As the first cohort of Child Trust Fund recipients turns 17, a rising number of MPs and charities are calling for a concerted effort to match children with their trust funds.
One in six parents of children aged 8 to 16 were not aware of Child Trust Funds
YouGov's survey asked parents of children born between 1 September 2002 and 2 January 2011 a series of questions on whether they knew of the funds' existence and location.
Before taking YouGov's survey, one in six (16%) parents of children aged 8 to 16 say they were not aware of Child Trust Funds. Men twice as likely as women not to be aware (22% vs 10%).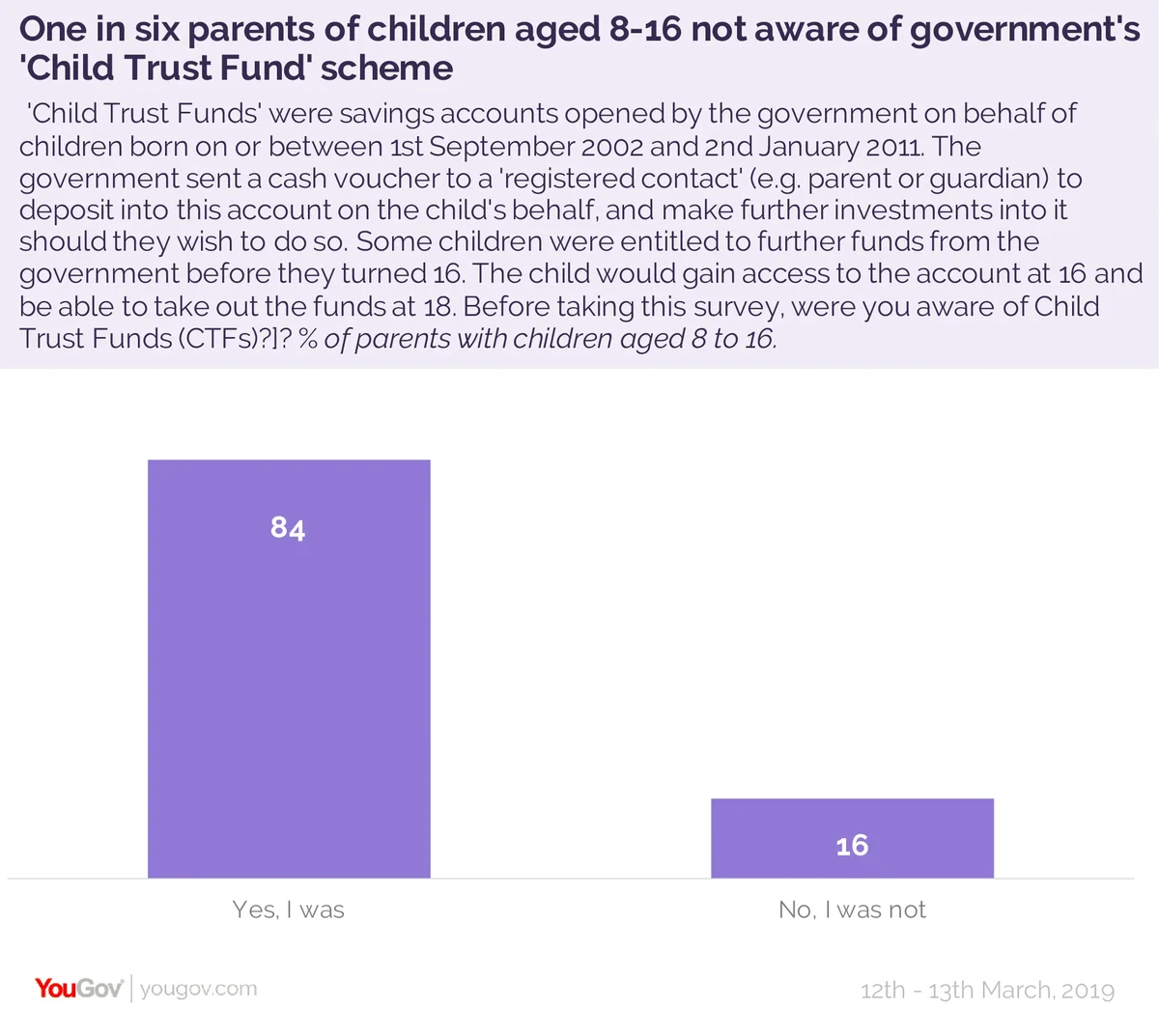 Among those who were aware of child trust funds, one in eleven (9%) did not deposit the vouchers they received. Another one in ten (10%) do not know or cannot recall whether or not they did so.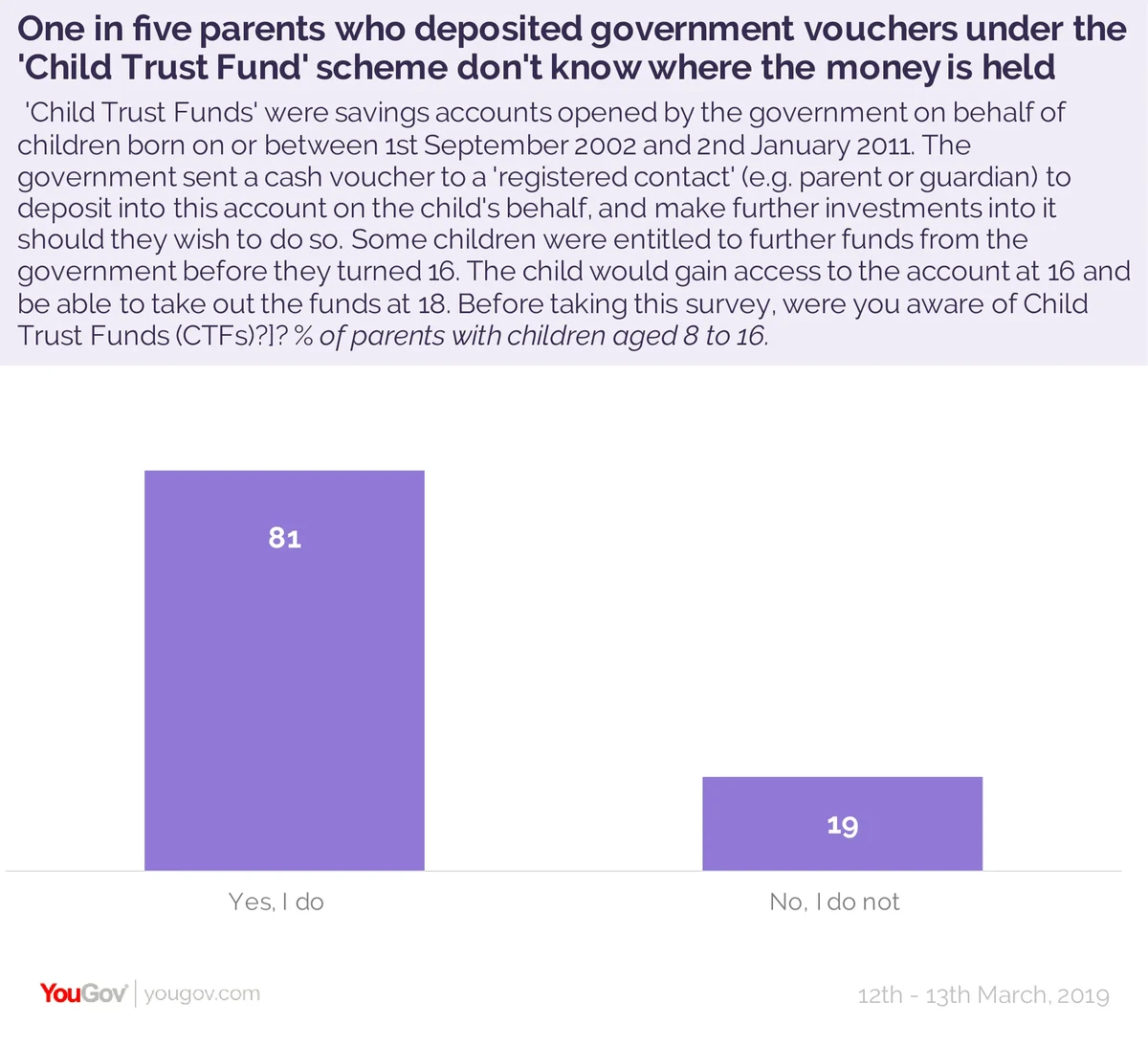 Even among parents who deposited their vouchers, one in five don't know where the money is
Among those who deposited their vouchers, one in five (19%) are not aware of where the child's trust fund is currently located.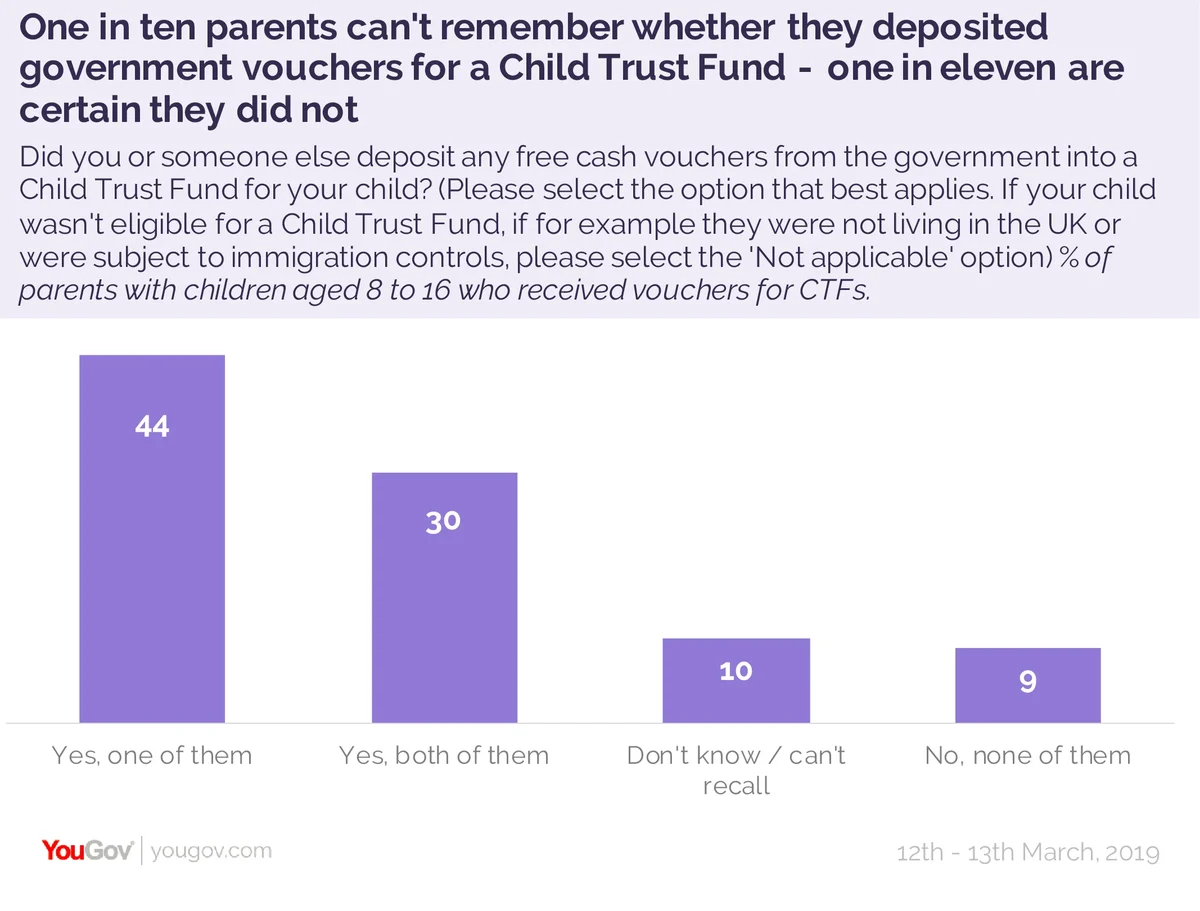 86% of parents who are aware of the existence of the fund did not know about the government website which exists to help parents track the location of their fund. Just under one in six (14%) are aware of the website.
Photo: Getty
See full results here