Confidence dropped to 104.3 in January, the lowest level seen since May 2013
Expectations of business activity slumped to a low not seen since 2011
Four of eight component metrics were down month-on-month
Consumer confidence dropped 0.1 points to 104.3 in January as Brexit uncertainty continued into the New Year. It is now sitting at a low not seen since May 2013, according to the latest analysis from YouGov and the Centre for Economics and Business Research.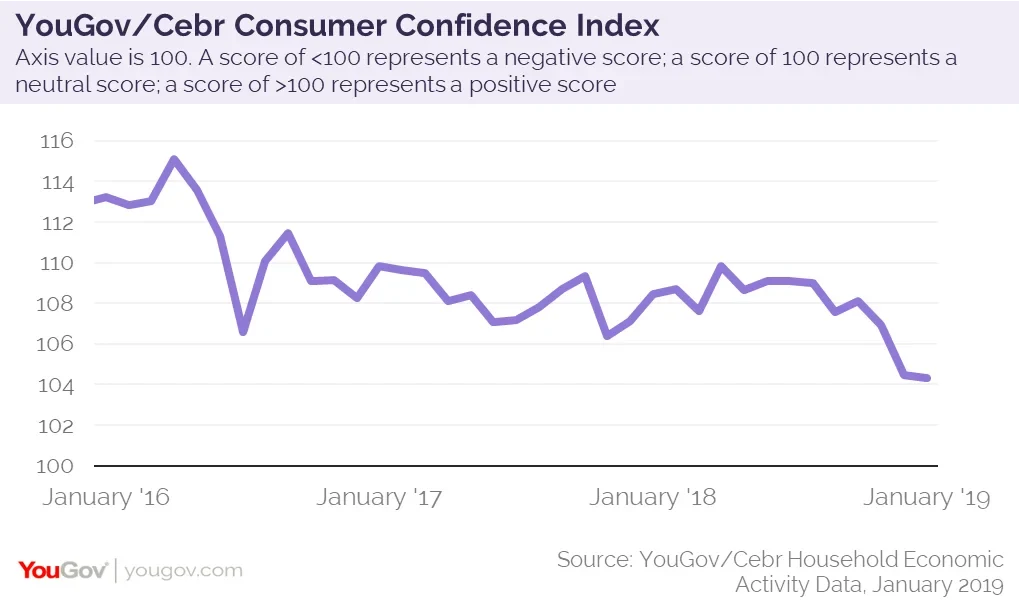 While any score over 100 means more consumers are confident than unconfident, the last four months together describe a downward trend that has wiped 3.8 points from the metric, and the index is still notably below where it was before the UK voted to leave the European Union in 2016.
YouGov collects consumer confidence data every day, conducting over 6,000 interviews a month. Respondents are asked about household finances, property prices, job security and business activity, both over the past 30 days and looking ahead to the next 12 months.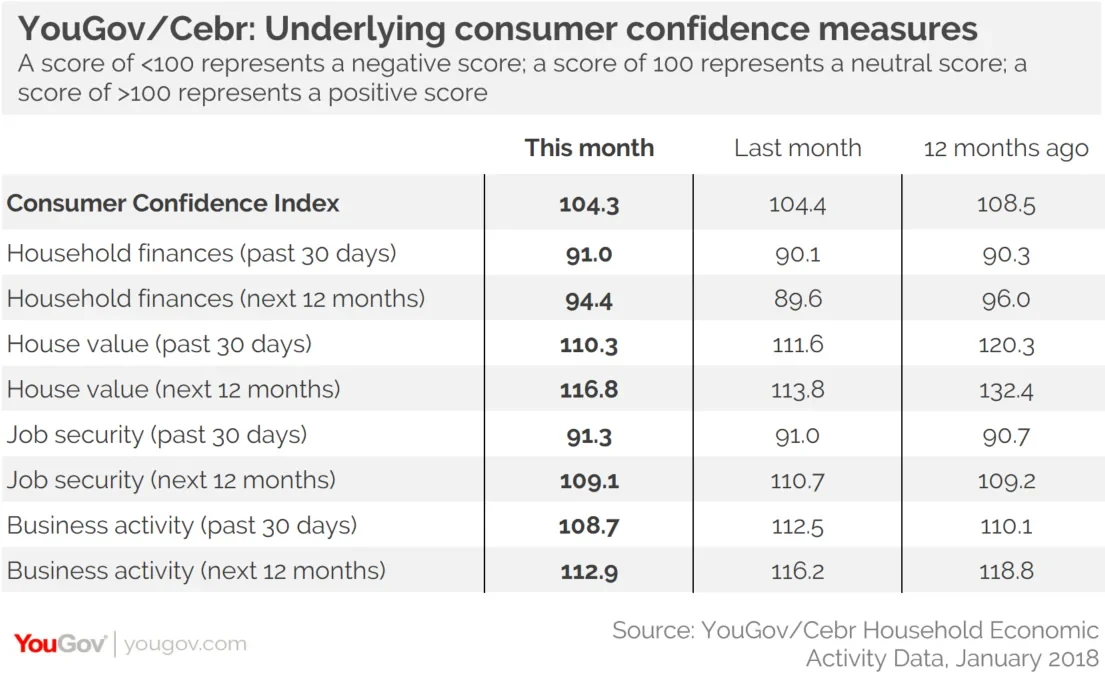 Estimates of business activity in the last month fell 3.4 points to 108.7 while predictions for activity over the next year also fell 2.7 points to 112.9 - a level not seen since November 2011 and joint lowest since measurements began.
Job security over the last month was up marginally by 0.3 points to 91.3, although it is perhaps telling that expectations of the coming year slumped 3.2 points to 109.1.
House price sentiment slipped 0.6 points to 110.3 but expectations for the next year were up 2.6 points to 116.8. The forward looking housing metric may have taken a positive move, but seems considerably less optimistic in the context of the previous month's huge 10 point fall. If we discount last month's figure we're still at a low not seen since Feb 2013.
Despite Christmas spending pressures, household finances over the last month were up 0.3 to 91.0, and expectations for the next year were also up - although by a much higher margin - by 4.2 to 94.4
Nina Skero, Director and Head of Macroeconomics at the Centre for Economics and Business Research, said: "The fact that consumer confidence is at its lowest level in over five and a half years is telling of the general state of disorder on the UK political scene as well as the underwhelming economic performance towards the end of 2018.
"The uncertainty surrounding Brexit has only expanded in recent weeks, weighing on the expectations for business activity and job security. With no apparent breakthrough in sight and the prospects of further delays and complications looming large, we expect consumer confidence to remain subdued in the coming months."