Young men are by far the most likely demographic to have bought Bitcoin – and to think they understand how it works
Ten years ago – just after the start of the financial crisis – a man going by the name of Satoshi Nakamoto published a paper about a new cryptocurrency called 'Bitcoin'.
A decade on, YouGov research explores how much we think we know about the cryptocurrency, how many of us have ever bought it, and whether we think currencies controlled by the people using them – rather than by a central institution – have a long-term future in Britain's financial system.
We've all heard of Bitcoin – but most of us don't get it
Nine out of ten (93%) Brits have heard of Bitcoin. However, less than one in twenty (4%) say they understand Bitcoin 'very well'. Just over one in five (23%) say they understand it 'fairly' well, with men more than double as likely as women to say they do (33% vs 12%).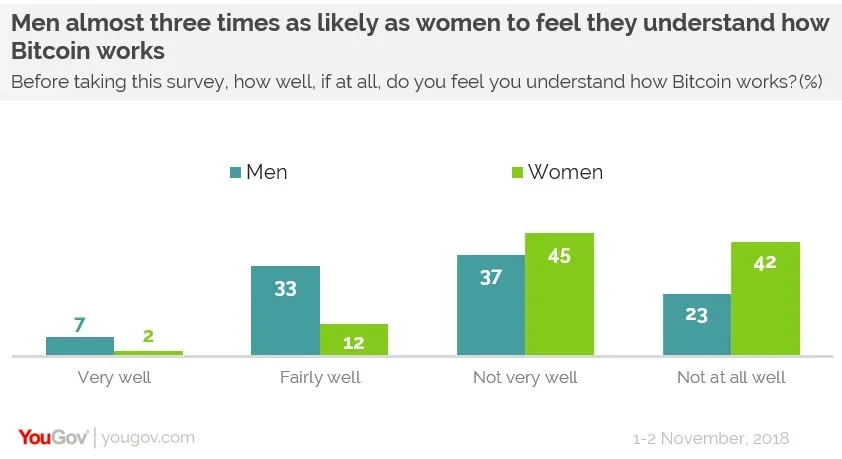 Young people are significantly more likely than older generations to feel they understand Bitcoin 'fairly well', with four in ten (43%) saying this compared to just one in six (16%) of those aged 55 and above.
Who's actually bought Bitcoin?
Though the vast majority of us have heard of Bitcoin before, very few have actually gone out and bought the currency.
Under one in twenty (4%) say they have, with those people overwhelmingly likely to be young men: 6% of men say they have bought Bitcoin, compared to 1% of women. Furthermore, one in eleven (9%) 18 to 24 year olds say they have bought the cryptocurrency, compared to one in a hundred (1%) of those aged 55 and above.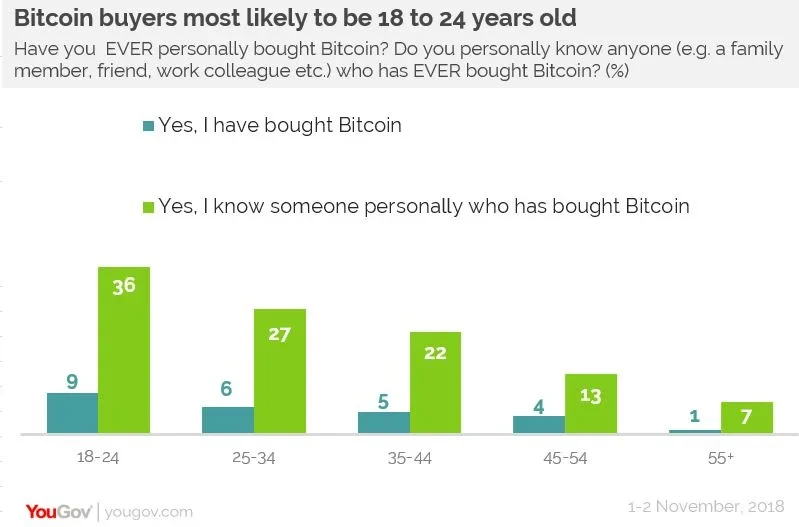 The younger people are the more likely they are to know someone who has bought Bitcoin - falling from one in three (36%) 18 to 24 year olds to just one in fourteen (7%) of those aged 55 and above.

One in five people think cryptocurrencies could be as common as card or cash in future
Thinking more broadly about the role of cryptocurrencies in the financial system, one in five Brits (21%) think cryptocurrencies will one day be as commonly used a payment method as card or cash.
Despite men being much more likely to have bought Bitcoin or know someone who has, men and women are almost equally likely to think Bitcoin could go mainstream (22% of men vs 19% of women).
Still, four in ten (43%) Britons are more sceptical, saying they do not think cryptocurrencies will ever be as common as cash or card. A third (34%) don't know.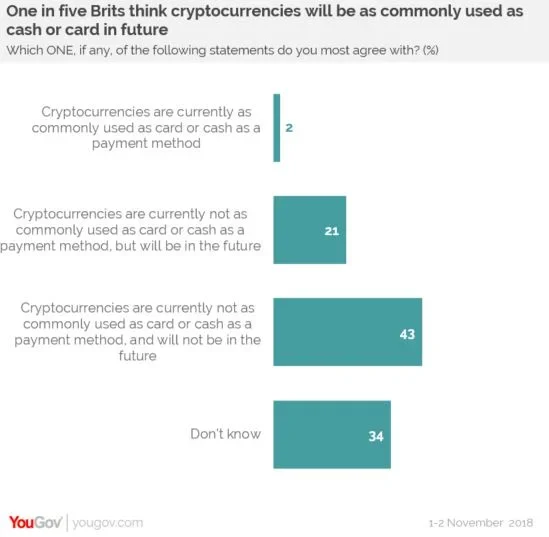 Currency by the people, for the people? Not so sure
One of the key principles behind cryptocurrencies is the notion that their value is controlled not by a central institution, but by the people using it.
However, YouGov's research shows Brits aren't particularly won over by this idea. They are seven times more likely to say they feel 'very negative' about the notion of a type of currency controlled by the people using it than 'very positive' (20% vs 3%), and twice as likely to feel 'fairly negative' (20%)' than 'fairly positive' (9%).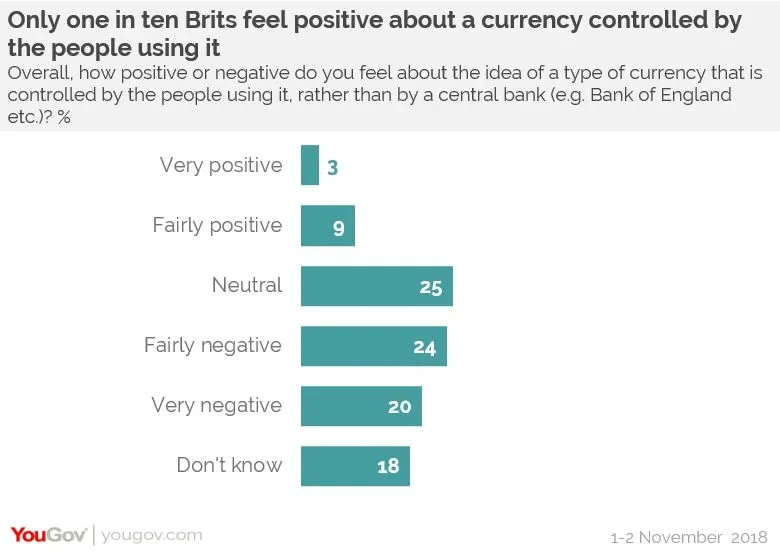 One in four (25%) are 'neutral' towards the idea, and one in five (18%) don't know.

Men are only slightly more open to the idea of a currency by the people, for the people, with one in six (15%) feeling 'fairly' or 'very' positive compared to one in ten (10%) women. Young people are double as likely as older generations to be positive about it, but those feeling positive are still very much a minority (15% of 18 to 24s, vs 7% of 55+).
Photo: Getty