YouGov research published in its Finance Report 2018 indicates that almost half of Britons believe banks should choose to refund a customer if they have been a victim of fraud – even if that customer has been 'careless' and failed to protect their money.
The study shows that close to half (49%) believe that 'banks should not allow people to be worse off at the hands of criminals and should refund the money even if the customer has been careless'.
However, over a third (36%) think that 'where customers have been victims of bank fraud because they have been careless and haven't taken precautions, they should not receive refunds'.

Notably, the less monthly disposable income a person has, the more likely they are to think that banks should cover the cost. For example, 41% of those who have less than £125 a month in disposable income believe banks should cover the cost of fraud, as against 22% of those who have £500+ a month.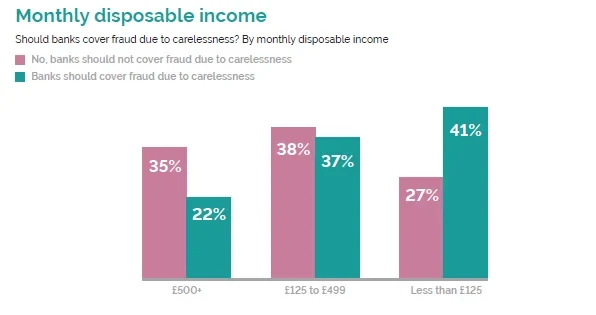 Added to this, those that don't think banks should be made to pay are more likely to believe that they 'manage their finances well' (80%), 'consider themselves financially secure (60%) and 'look for profitable ways to invest money' (54%).
As fraudsters become more sophisticated and advanced in their methods, the risk to account holders grows. While many banks will choose to refund customers, they are under no legal obligation to do so. The issue our report explores is accountability, and whether banks' responsibilities still exist if the customer is at fault.
Image Getty