Fears around sharing financial data and existing satisfaction of banks are barriers to growth
New YouGov Custom research reveals that close to three quarters (72%) of UK adults have not heard of 'open banking', while just one in three (28%) are aware of it.
In terms of who has heard of the term, perhaps unusually, it is those in the older age groups that are more likely to be aware. Close to four in ten (39%) of those aged 55+ have heard of open banking, against just 14% of those aged 18-24.
Added to this, those in the more affluent ABC1 group are more likely than those in the CD2E group to have heard of the term (35% vs. 18%).
YouGov provided those who answered the survey with a clear description of open banking. Despite this, 45% do not understand the ways they could use open banking, against 18% that do.
Nervousness about sharing data is a barrier. Over three quarters (77%) would be concerned about sharing their financial data with companies other than their main bank, whilst just 6% would not be concerned (16% weren't sure). Just 12% state that they would be prepared to share their financial data in order to access new and innovative products or services.
Another barrier to take up is the general levels of satisfaction people have with their bank. Approaching two thirds (63%) say that they are satisfied with the service they get from their current bank and are therefore not interested in using banking services from other companies. Those aged 55 and over are most likely to say this (72%).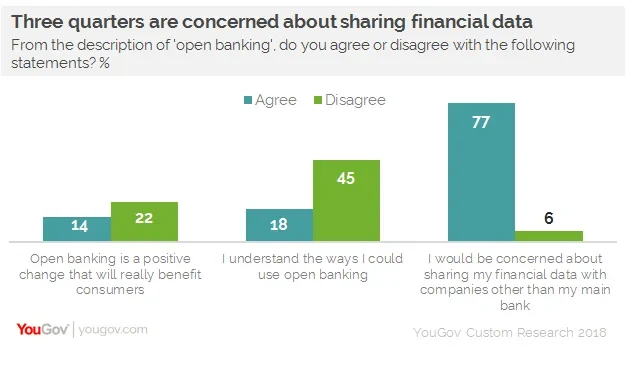 With such low levels of understanding about what open banking is, it's perhaps unsurprising that Britons are unsure about the impact the service will have. Over six in ten (63%) aren't sure either way about whether open banking is a positive change that will really benefit consumers – 14% believe it will benefit, against 22% that don't.
Account aggregation is seen as the most innovative service related to open banking (20% say this), ahead of money management (8%), choosing the right account (7%), account management (7%) and buying things (7%).
The introduction of open banking was hailed as a revolution for the financial sector, however what we're actually seeing is more of a slow and silent evolution. More needs to be done to allay consumers' fears about data security whilst financial service providers will also need to ensure that there are real benefits for consumers who are prepared to share their data in this way.
It is surprising that the older generation is more aware of open banking, as we may expect a younger, more tech savvy audience to be interested in the ground-breaking products and services. The reality may be that true innovation is yet to take place and the products and services currently available are not really considered necessary.
It will be interesting to see how things evolve and whether or not a truly innovative product or service can create real disruption in the market and overcome consumers concerns about sharing their data.
Image Getty