A YouGov analysis of the UK's most recommended brands over the course of the pandemic year reveals MoneySavingExpert.com (MSE) as the top-ranked brand. The consumer finance website had strong endorsements from its customers and its first-place rank is a testament to the depth of loyalty felt by members of the financial-advice site.
The rankings are based on YouGov BrandIndex's positive Recommend score, which measures the percentage of a brand's customers who would recommend it to a friend or colleague. Every brand in our Rankings has a minimum sample of 300 and has been tracked for at least six months.


The money transfer service Wise, formerly TransferWise, was the runner-up in this year's Recommend rankings. The fintech company allows users to hold money in 55 currencies and has now partnered with banks such as Monzo to make money transfers easier.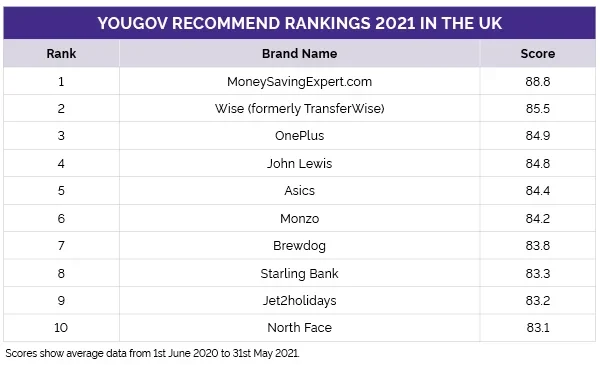 And speaking of Monzo (no. 6), the bank continues to impress its customers by earning yet another spot in YouGov's Recommend Rankings this year. One of Monzo's top competitors, Starling Bank, also wins a spot in the Recommend Rankings, coming in at no. 8 amid a big year for challenger banks.
Popular smartphone brand OnePlus rounds out the top 3 recommended brands in the UK during the pandemic. The brand started as a "flagship phone killer" but more recently has shown it can also compete with budget smartphone makers too with its OnePlus Nord.
While pubs and out-of-home occasions were off-limits for many people in the UK, craft beer maker Brewdog adapted by expanding its online business and launching a delivery app. Its efforts seem to have paid off in the eyes of its customers, who helped usher the beer brand to seventh place in the UK's Recommend Rankings. It's worth noting that this data was captured before the brand attracted negative publicity for its golden can marketing campaign and the company's working conditions.
The appearance of Jet2holidays in the top ten list signals good news for the travel brand, especially after the impact COVID-19 had on the travel and tourism industry. In our new International Travel & Tourism report, we analyze consumer travel preferences across 25 global markets to forecast what the road back to normality will look like.
Rounding out the list of most recommended brands in the UK is retailer John Lewis, and footwear and apparel manufacturers, ASICS and North Face. Rising consumer interest in health and fitness helped boost ASICS' popularity throughout the pandemic and purchasers clearly think a lot of the brand. Along with earning the no. 10 spot on YouGov's Recommend Rankings, North Face also topped UK-based shopping platform LYST's list of hottest products in the world, in both the men's and women's categories.
In addition to the most recommended brands over the last year, YouGov also looks at the brands that made the greatest improvement to their Recommend score in the past 12 months. Several brands in the transportation sector dominate the list of most improved brands including Thameslink and Northern Rail. CrossCountry, National Rail, Arriva and Network Rail are the other transportation brands to make notable improvements to their scores. It's possible that the fact there have been far fewer travellers on British trains this year has made the experience of those that have caught a train a more pleasurable one.


The pandemic altered the ways people shopped for and consumed food, as YouGov recently explored in our recent International FMCG/CPG 2021 report. Foster's and Burger King managed to boost their customer advocacy amid a turbulent time for food and drink brands.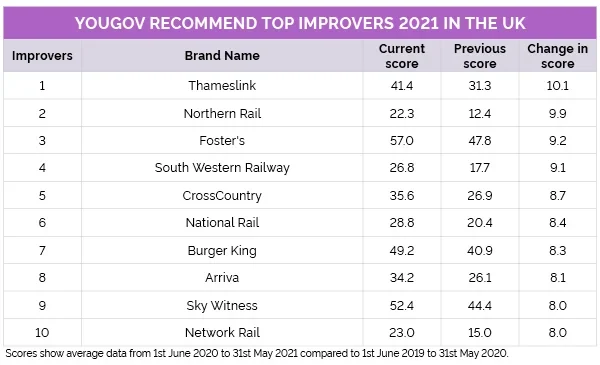 And as many people in the UK hunkered down in their homes, many sought entertainment and distraction from the outside world on their TVs. Sky Witness, a British pay TV channel, home to US drama shows such as How to Get Away with Murder, The Blacklist, Hannibal, and Grey's Anatomy, made great strides to improve in this measure of customer advocacy.
Methodology: The YouGov Recommend Rankings 2021 are calculated using data we collect from members of the public in markets around the globe every day, from our flagship YouGov BrandIndex tool.
Every brand's performance is tracked daily against a range of metrics, and our Recommend ranking measures the percentage of a brand's customers who would recommend it to a friend or colleague. The rankings data can be further developed with YouGov Recommend+ a fresh approach to understanding consumer advocacy.
YouGov Recommend+ is a highly cost-effective NPS® diagnostics approach that gives marketers the full picture on what drives existing and potential promoters by speaking directly to those customers who recommend your brand.
YouGov BrandIndex draws data from interviews with our 15 million registered panel members across 40 sectors and more than 55 countries globally. This year's ranking includes consumer views from across 33 markets, including USA, China, Germany, India and the UK, and many more.
Want to see how other markets compare? Our annual rankings highlights the top 10 recommended brands across 33 markets and top 10 most improved brands across 29 markets.