YouGov Profiles reveals which of us has given up fast fashion for sustainable options, or even second-hand
Fast fashion is a hard habit to kick. The allure of a quick, cheap, stylish purchase is too much for most Brits to pass up. But, nonetheless, some do; who are the adults who only buy clothes from sustainable sources?
YouGov Profiles asked to what extent Britons agreed with the following statement: "I only buy clothes from sustainable brands", and the results show that half of the public disagreed. A third (35%) say they tend to disagree, and another 15% definitely disagreeing – giving a total of 50% who disagreed to some extent.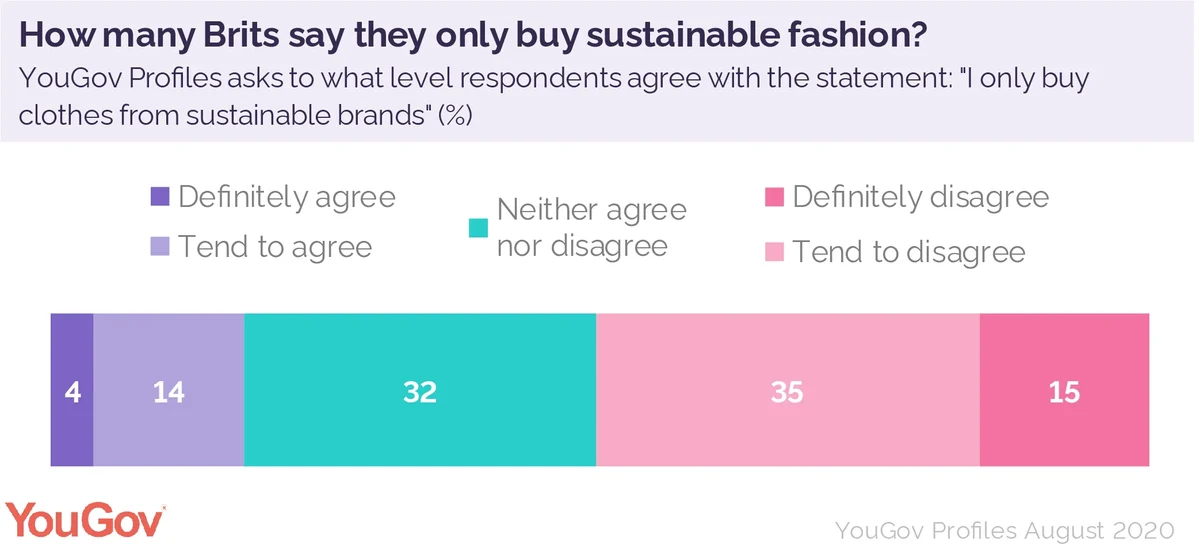 However, while 18% of the general population agreed to some extent with the statement, just 4% of Brits completely agreed - and it's these 4% we are interested in here.
Diving into the demographics shows that this group is evenly split along gender lines, with 52% being male and 48% female.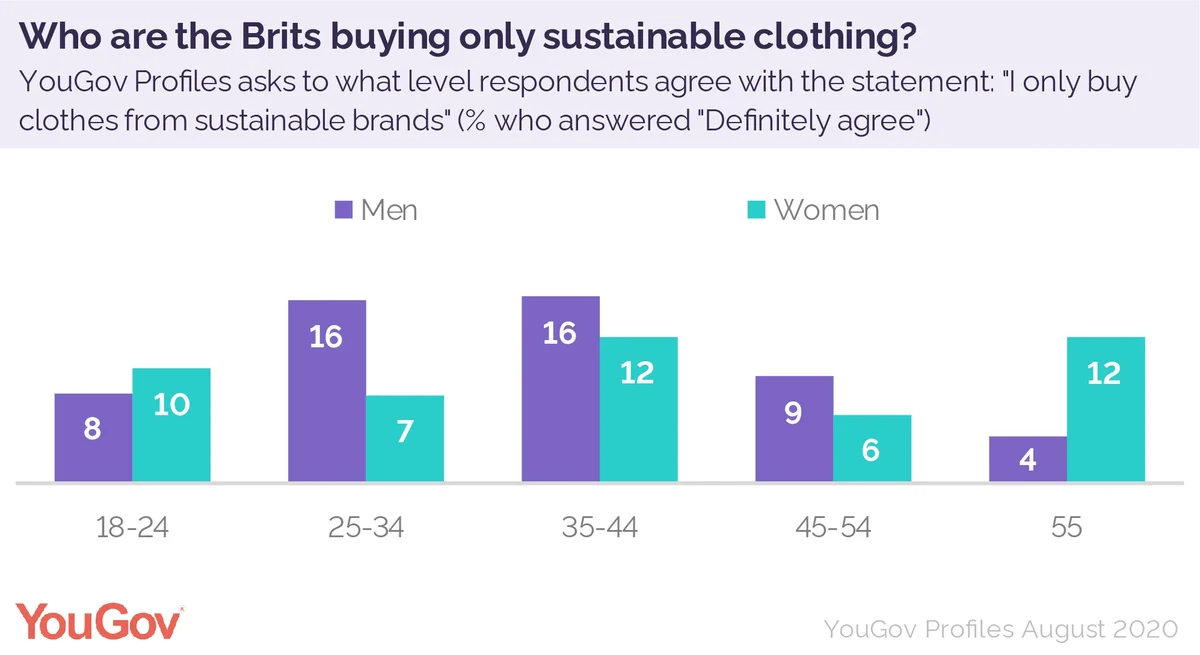 Among the men, they are most likely to be younger or middle-aged, with 40% of the group overall being 44 or under. Women of the same age range make up 29% of the group. Among the older age groups, such as those aged over 55, 12% are women, compared to 4% of men.
These Brits buying sustainable clothes have distinctly differing opinions on retail compared to the general population. Some 83% agree that fashion brands should consider addressing social issues, compared to 55% of the general population.
Over two thirds (67%) of Brits buying from sustainable brands also agree that they only buy products from companies with ethics and values matching their own, compared to 38% of the general population.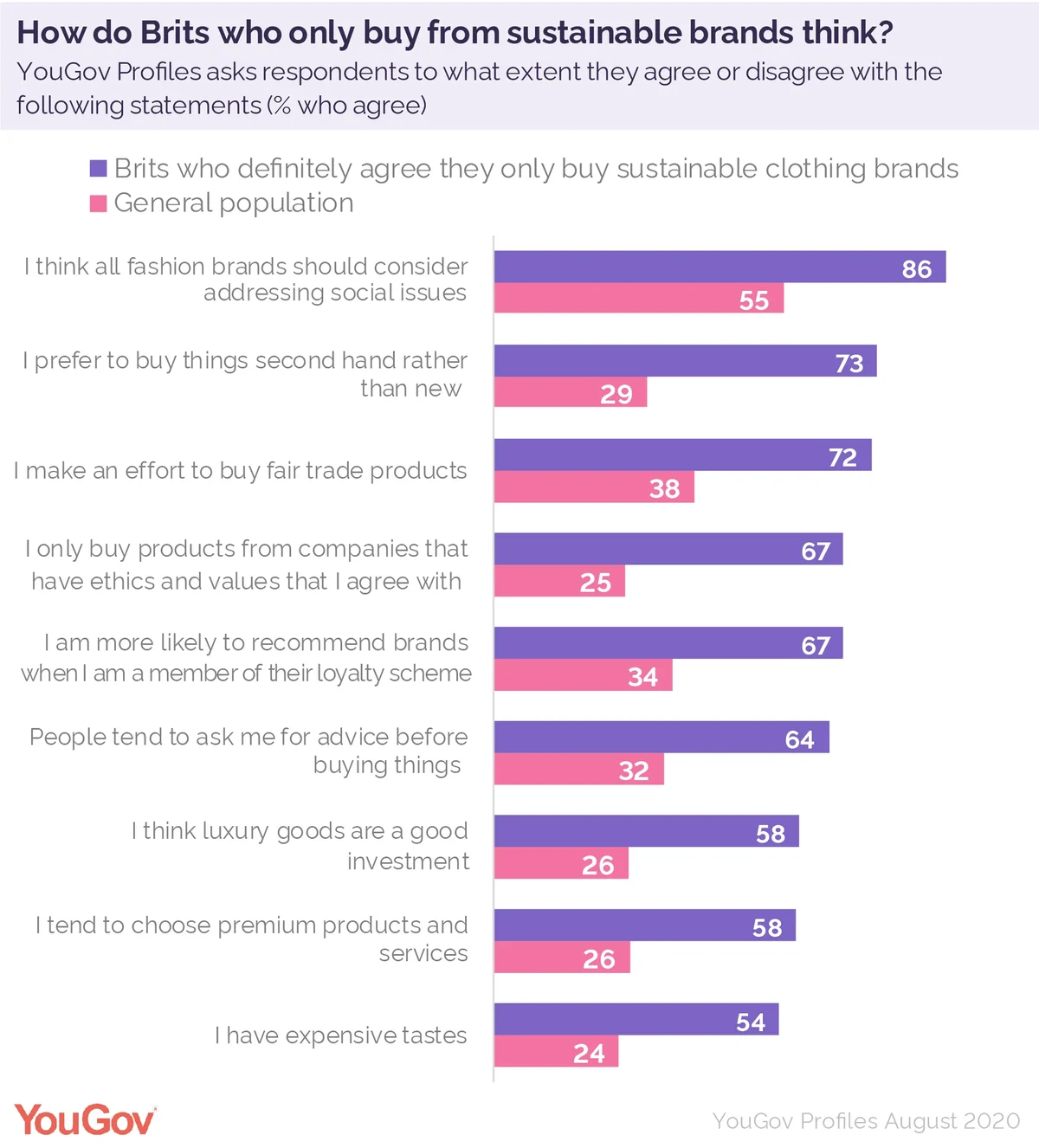 Perhaps most surprising is that these sustainability-conscious Brits are also more likely to prefer premium goods (58% compared to 26% of general public) and have expensive tastes (54% compared to 24% of the general public).
But the biggest difference between the two groups is that Brits focused on buying from sustainable brands are also much more likely to be fans of picking up a second hand bargain. Nearly three quarters (73%) of Brits who only buy sustainable fashion also say they prefer to buy second-hand items than new. This is compared to less than a third (29%) of the general population.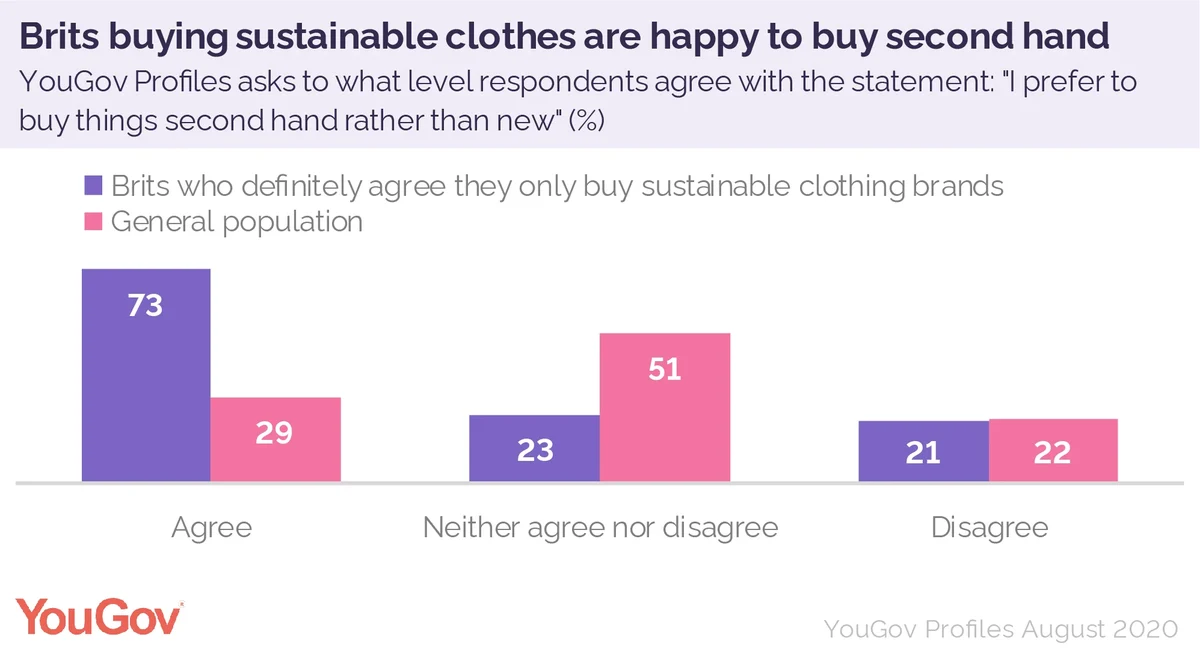 Only 21% of Brits buying sustainable fashion say they would disagree that they prefer buying second-hand, roughly the same as the general population (22%).