One in nine men plan to hit the pub this week, as do one in six adults under 24
The pub is a quintessential slice of British culture, and for nearly four months now we have been deprived of them by the COVID-19 pandemic. Tomorrow, however, landlords can reopen their doors - albeit with special measures in place to protect staff and punters. So are Brits put off by the threat of coronavirus, or do they plan to go for a pint?
Our latest polling shows that, overall, 8% of Brits who visited pubs before lockdown plan on returning this week - with 4% planning to do so as soon as possible tomorrow.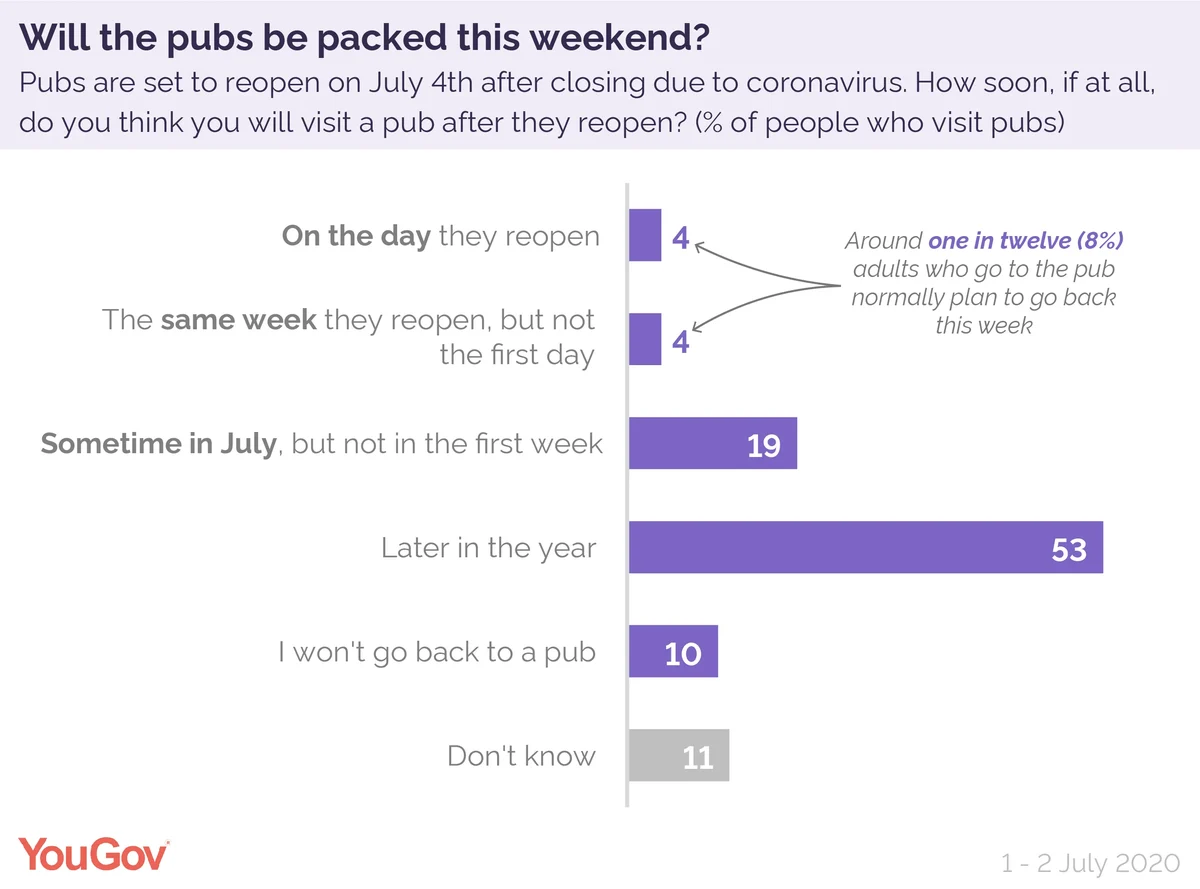 Breaking the data down by gender shows that 6% of men who went to the pub before the lockdown began in March plan to grab a pint as soon as they can, with another 5% keen to hit the pub this week at some point, and another 22% planning to visit their local sometime this month.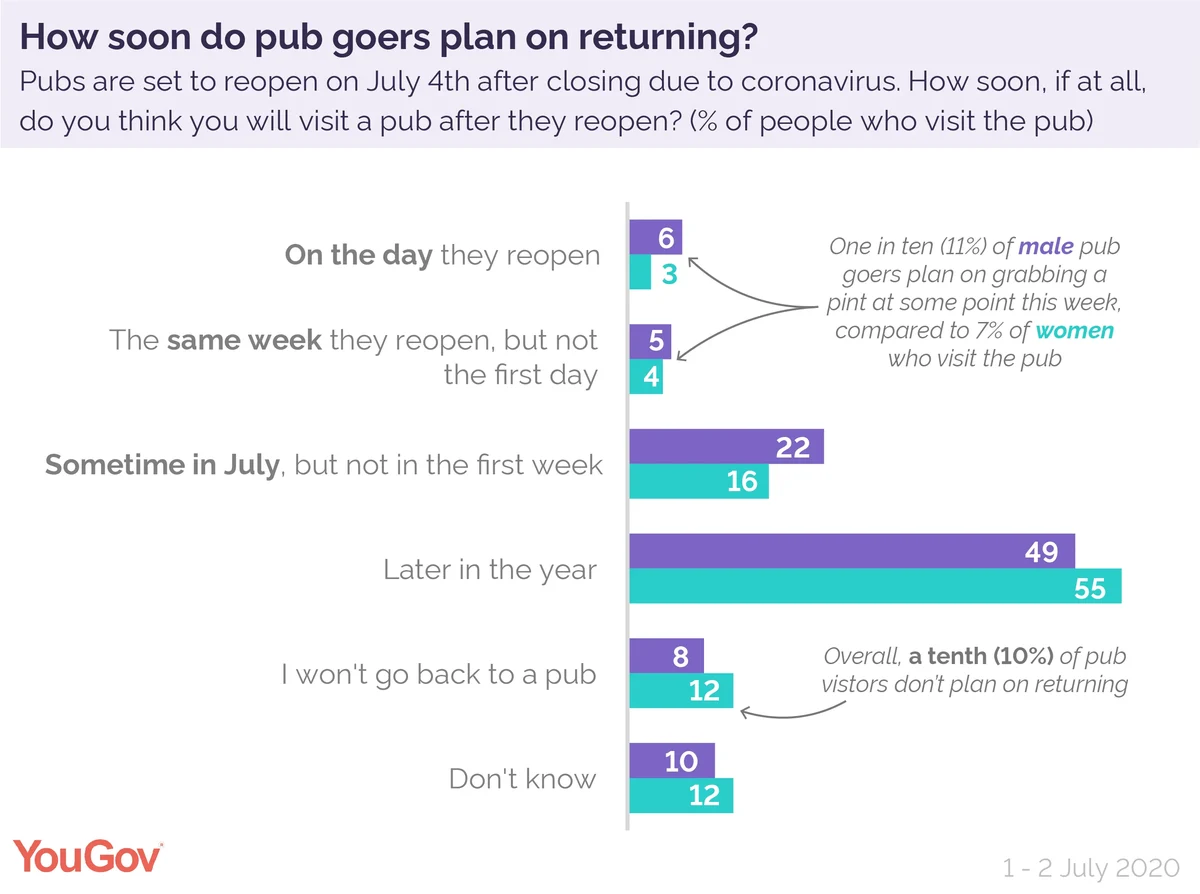 This is compared to seven percent of female pub goers who also say they will be returning for a beverage this week.
Most British pub lovers plan on waiting it out, with 53% saying they will return to the pub sometime this year but probably not in July. However, one in ten (10%) pub goers say they don't plan on returning this year.
Looking at the age breakdown, young Brits are the keenest to return to their local, with 11% of regular pub goers aged between 18 and 24 planning to head out for a drink this weekend, and another 5% doing so later in the week.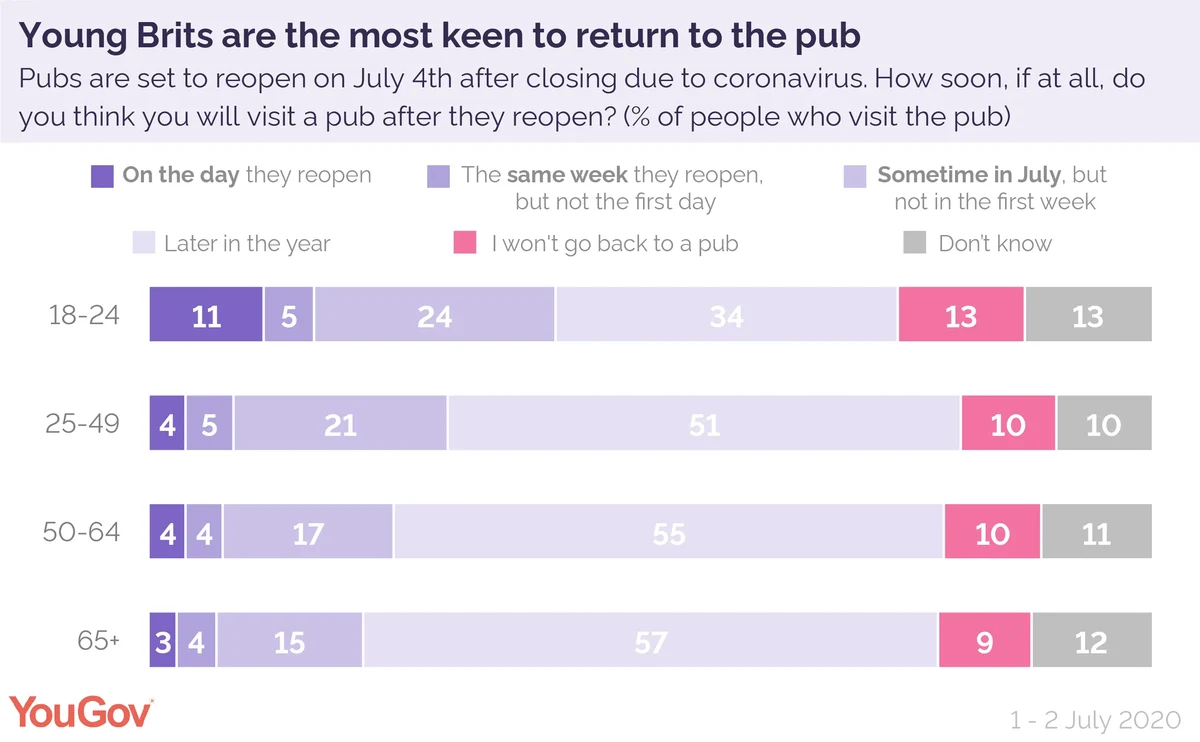 The older generations are more hesitant, preferring to wait until later in the year to visit the pub, with 55% of those aged 50 to 64 and 57% of those aged over 65 selecting this option.
Interestingly, despite being the most likely to return to the pub as soon as possible, younger Brits are also the most likely not to return, with 13% of adults under 24 saying they won't be visiting a pub anytime soon.
Are people happy to give up their details to hit the pubs?
It has been suggested that one way of protecting customers and staff is for venues to keep a log of visitors, including their contact details, so that if a patron later tests positive for COVID-19 the other customers can be contact-traced. And our data shows that most Brits are happy to go along with this plan.
Approaching two thirds (63%) of Brits who visit pubs and restaurants say they would be comfortable with supplying their details for potential contact tracing – with three in ten (30%) very comfortable in doing so.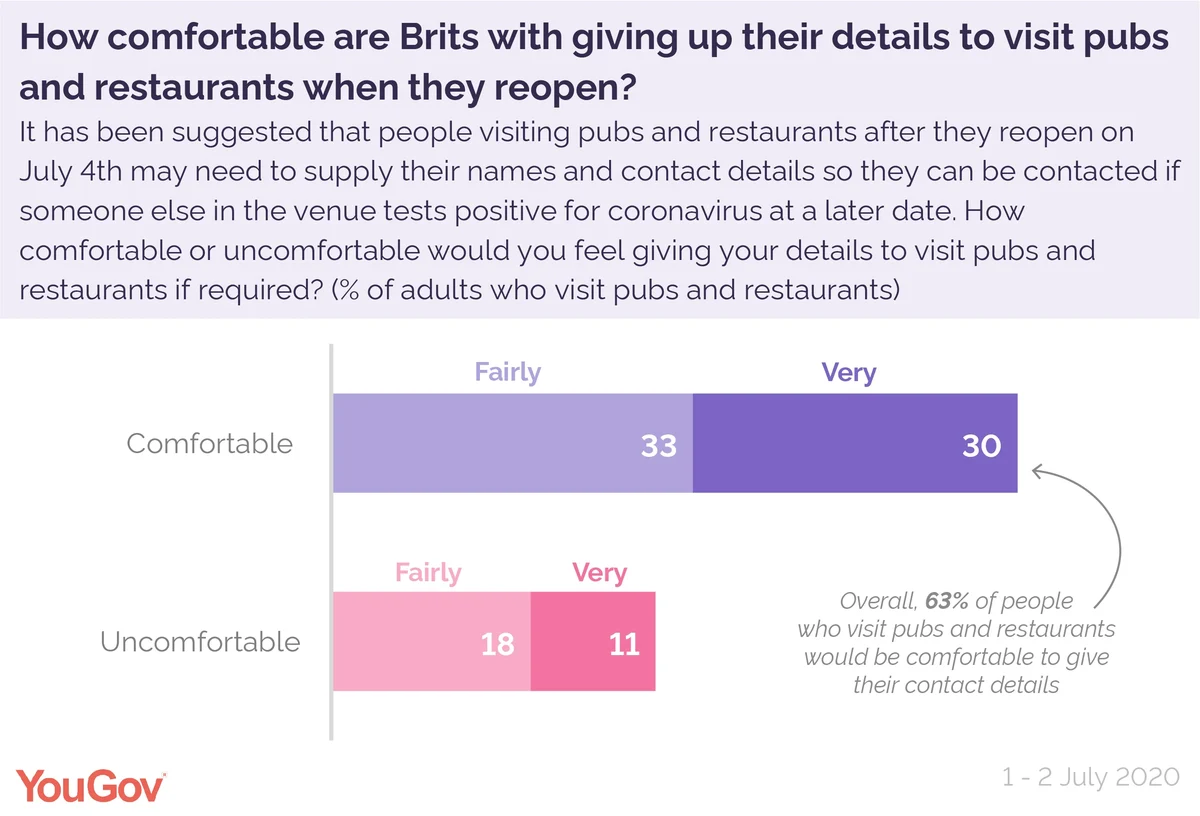 Only 30% of adults who visit pubs and restaurants would be uncomfortable giving their details to staff. Earlier we saw how young Brits were the most keen to get out to the pub, however they are also the least likely to be comfortable with giving their details for contact tracing. Just over half (57%) of Brits aged 18 to 24 who visit pubs and restaurants would be comfortable giving over their details, compared to 79% of those aged over 65 who say the same.
Please note: the data used in this article has been rebased for adults who visited the pub before lockdown began.