Half of Britain has been caught out by free trial offers, accidentally signing up for a movies, music or shopping subscription because they forgot - or were unable - to cancel them
It's a common trick: signing up for a free trial to watch the movie, download the audio book or use the software, then cancel straight away. But half of Brits (47%) have been caught out and accidentally signed up for an annual subscription because they forgot or were unable to cancel, totalling £800m in the last 12 months. Among them, one in eight (15%) have done it at least twice in the past year.
Another one in eight people kept paying for the subscription for over four months before finally cancelling. One in four (23%) kept paying for two to three months, while half (48%) managed to cancel within a month.
Britons have lost over £800m to unwanted subscriptions
YouGov asked Britons which accidental subscription cost them the most, including cancellation fees. Using the adult population of Great Britain (50.9m) we calculated an estimated minimum figure* of how much money has been wasted.
Some two percent of Britons - around a million people - have paid £200 or more for a rolling subscription they didn't want, coming to a total of almost £200m. The total cost of Britons' most expensive unwanted subscriptions comes to £837m.
Majority think companies should be required to have active opt-in process
Seven out of ten Brits (68%) think companies should do more to inform customers that they are about to sign up for a full subscription after a free trial, notifying them that their free period is over and requiring an active opt-in.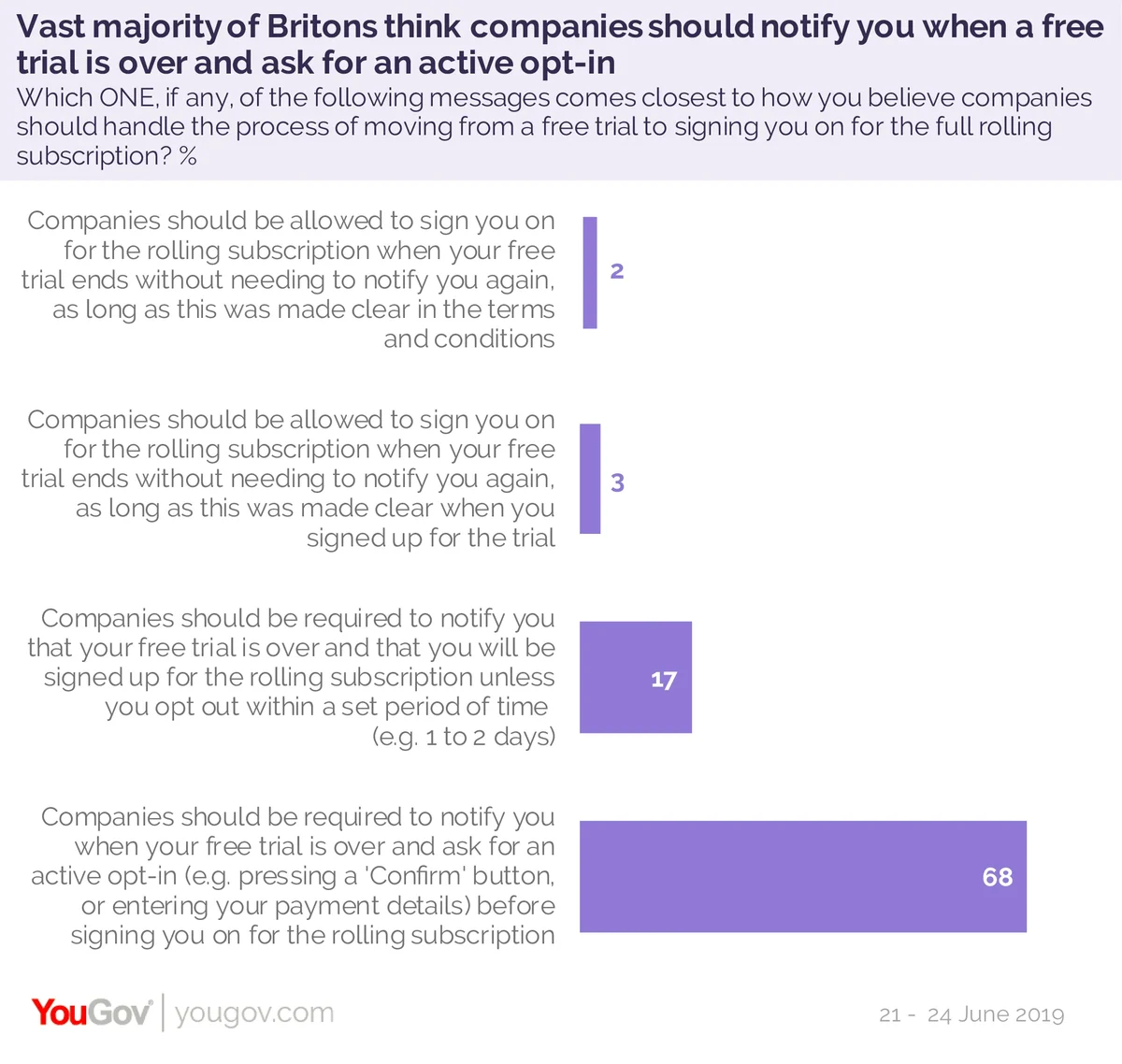 Young people are slightly more likely than older groups to advocate for less hands-on approaches to signing-up.
Some seven percent of 18 to 24 year olds think companies should be allowed to sign you up for the rolling subscription after your free trial ends without needing to notify you again, as long as this was made clear when you signed up, compared to just one percent of those aged 55 and above.
One in five 18 to 24 year olds (21%) think firms should be required to notify you that you'll be signed up unless you opt out within a set period of time, e.g. one or two days, compared to one in eight (14%) of those aged 55 and over.
Still, a majority of all age groups (68%) think companies should be required to ask for an active opt-in before signing you on for the rolling subscription when the free trial ends.
Photo: Getty
* All calculations used the middle of estimate ranges (e.g. £10 for the £0 - £19.99 range), except for on the top range where the bottom end of £200 was used.