New YouGov Custom research indicates that three quarters of British adults do not think that a meal replacement drink is a healthy eating habit.
To coincide with the UK launch of 'Soylent' – a 'meal replacement drink marketed at professionals to replace food voids at inconvenient times' – YouGov research has assessed how keen Britons are for a product like this.
Our data suggests that less than one in ten (9%) of consumers would consider purchasing a meal replacement drink. Of those who would consider it, a third (36%) would consume it at least once a day, rising to 85% consuming at least once a week. However, once told the price (£39.99 for 12 bottles), only a third (35%) of all considerers would continue to be interested in the product.
What might explain this reluctance? YouGov's study shows that 74% of Britons do not believe a meal replacement drink is a healthy eating habit. Women are even more likely to think this (80%).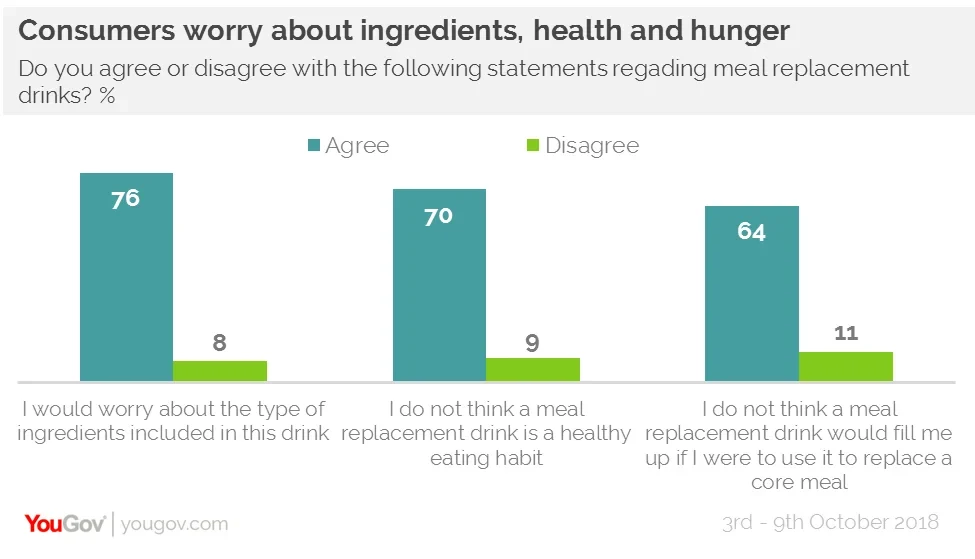 Aside from the price, nervousness regarding the products ingredients and the ability to satisfy hunger are of core concern. Close to two-thirds (64%) questioned whether a meal replacement drink would fill them up if they were to have it instead of a core meal. Interestingly, almost half (48%) believe that this would be fine as a snack, but not as a main meal.
Taste is also something people are sceptical of. Just over half (53%) expected the product to not taste good, against just 11% that thought it would. Brand recognition is also important, 53% said that they would only drink something like this from a trusted or established company.
Clearly, there's work to do be done from meal replacement drinks companies in terms of their messaging and communication, particularly given the infancy of such a product category. Our research clearly underlines the reservations that consumers have.
If these brands are able to put across to shoppers that it's actually more beneficial to have one of these drinks instead of missing out on meals altogether – which many people do due to busy lifestyles – then the idea suddenly appears to be much more positive. This is likely to be more effective than marketing the drinks as something people can have instead of their planned main meal, which almost encourages people to skip meals/
Image Getty