YouGov finally settles the debate
Drinking tea is Britain's national pastime, and as with any treasured ritual the nation is wracked by bitter disputes on appropriate protocol. This is not a new phenomenon – indeed George Orwell acknowledged as much in his 1946 essay "A Nice Cup of Tea".
Now a new YouGov Omnibus survey reveals where the nation stands on contentious cuppa concerns.
Milk in tea: Brits overwhelmingly say milk should go in last, not first
Orwell considered this to be one of the most controversial tea protocol questions of all, saying "indeed in every family in Britain there are probably two schools of thought on the subject". The writer himself was firmly in the 'Milk First' camp, but today only 20% of Britons feel the same way. Orwell's heirs find themselves vastly outnumbered, with almost four times as many (79%) preferring to add milk last.
Habits here differ by age: the older Brits are the more likely they are to add milk first. While only 4% of 18-24 year olds adding milk first, this rises to 15% among 25-49 year olds, 24% among 50-64 year olds and finally 32% among 65+ year olds.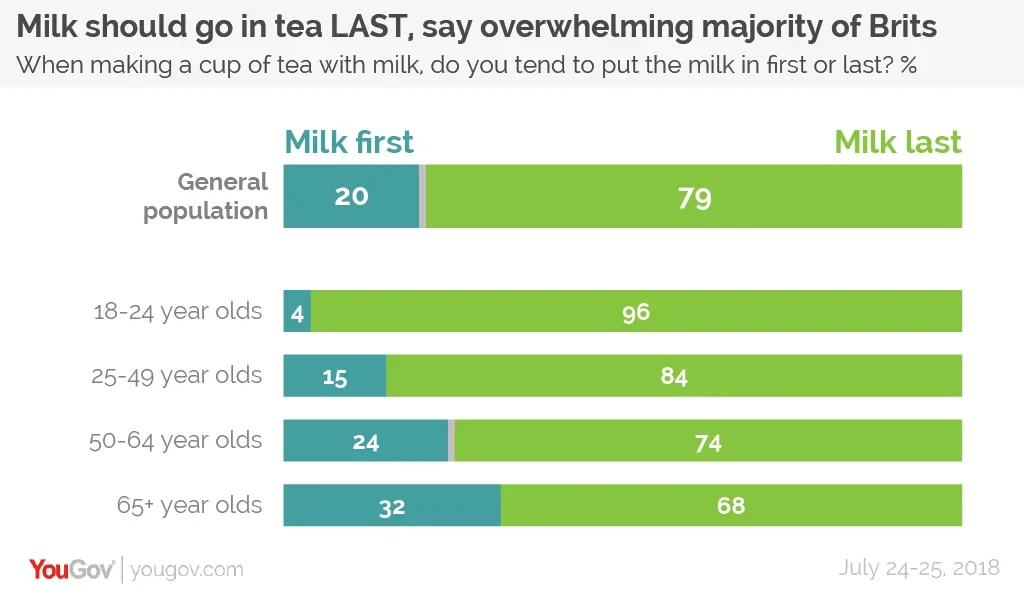 Whether or not a person poured their milk in first or last supposedly once had strong class connotations – the story goes that in the old days only the most expensive china would not shatter when boiling tea was poured into it, so the less well-off cooled their vessels by pouring their milk in first. Regardless of whether or not this is true, the results show that the classes do not differ in their milk-tea mixing habits, with the middle classes (ABC1 demographic group) and working classes (C2DE) equally likely to add their milk in first (19-21%) or last (80-78%).
How strong should a cup of tea be?
The survey also reveals how strong Britons like their tea. YouGov showed the public an eight-point strength scale, from a dark milk-less brown at one end to a dairy-drenched pale beige at the other.
Orwell held that all tea lovers love their tea strong, Almost half of tea-drinking Brits (47%) like an E-strength cuppa on our scale (see below). A further 14% like their tea to be one degree more milky, and 19% one degree less milky.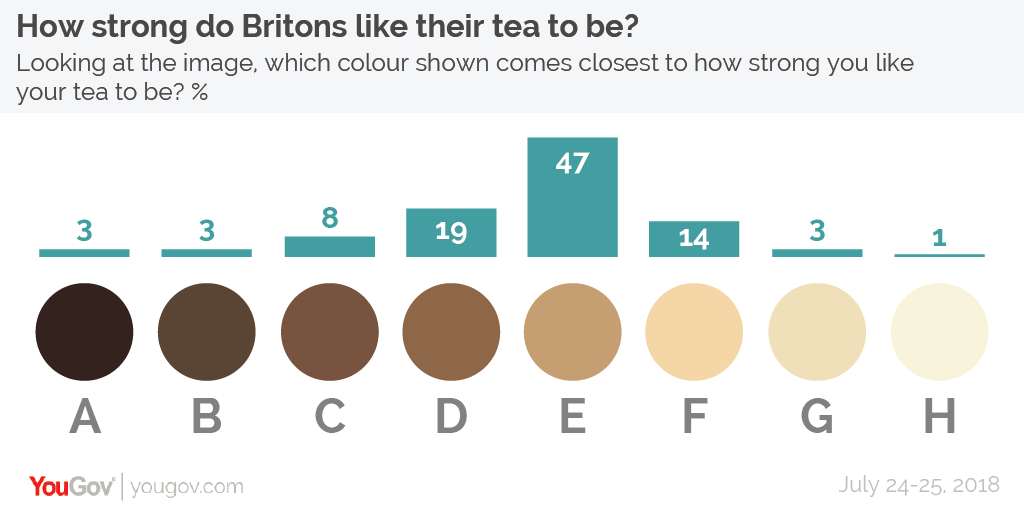 Brits say that Yorkshire Tea makes the best brew
A much more evenly contested battle is over which tea bag brand produces the nicest cuppa. Yorkshire Tea comes out on top, with the backing of 25% of tea-drinkers. PG tips comes in a close second on 22%, followed by Tetley in a more distant third at 16%. Only 7% tea drinkers said they either didn't have a favourite or didn't know which their favourite was.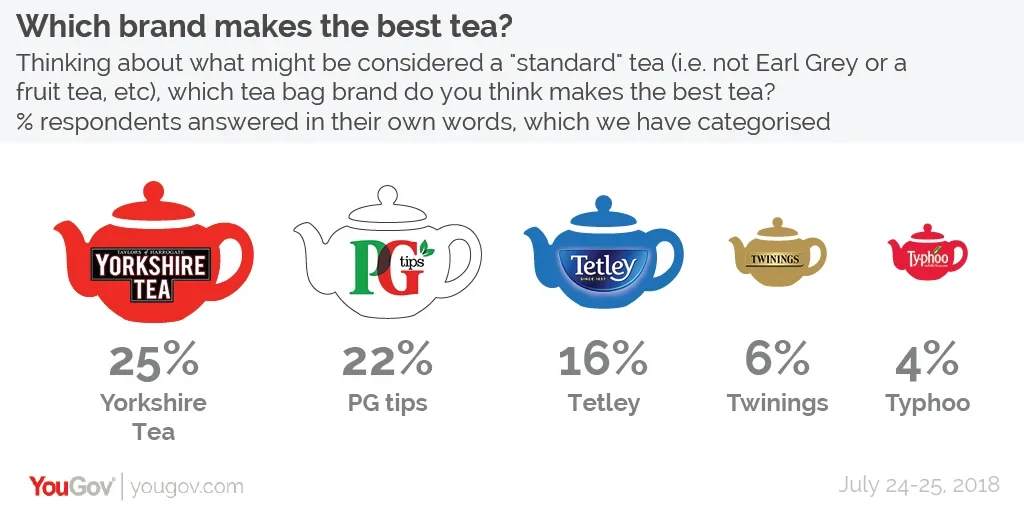 The survey also revealed the levels of tea consumption among the populace. Overall, six in ten Brits (58%) say they drink tea on a daily basis, with 11% saying they drink more than five a day. One in five (19%) drink tea less frequently than once a day, while 22% have eschewed our national beverage entirely and do not drink tea at all.
While Orwell considered himself to be in the minority for drinking tea without sugar back in 1946, he would find himself in good company today with only 24% of Brits adding white sugar (and 4% brown sugar), although a further 13% add a non-sugar sweetener. Much more common, of course, is adding milk to tea, which 80% of tea-drinkers do.
Photo: Getty