Airbnb customers are the strongest brand advocates, while Universal Studios Orlando is top choice for those with children.
Airbnb customers are the strongest advocates of any brand, new analysis from YouGov BrandIndex reveals.
Our rankings looked at brands' current and former customers, and analysed which brands had the highest proportion of people recommending them to a family member of friend.
Airbnb comes out on top, with a score of 73.9. The result underlines how the company has helped revolutionise the travel industry since its inception – providing an attractive service for both host and holidaymaker.
Looking only at those aged 18-34, Airbnb is in top spot by a margin of 8.5 points (ahead of Universal Studios Orlando). Airbnb's growing popularity is reflected in other markets too with it being YouGov's most advocated brand in Germany and France.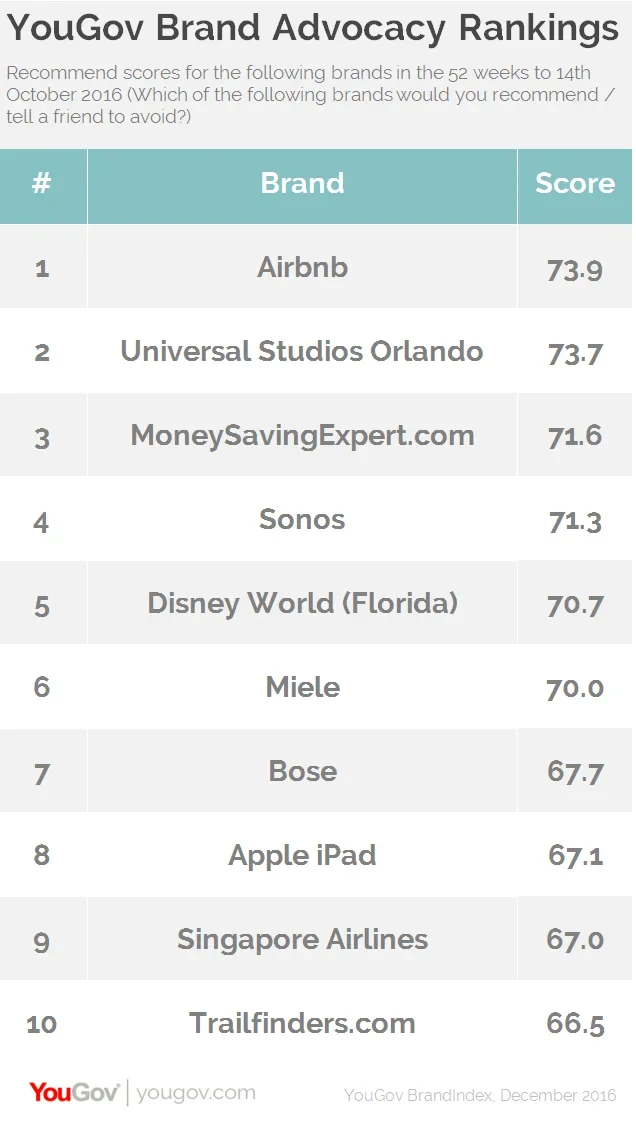 A recommendation from friends or family is one of the strongest votes of confidence it is possible to give to a brand. Having consumer advocates is especially powerful when it comes to the travel sector, where people spend a lot of money and want to guarantee a perfect experience for them and their loved ones.
And indeed, brands from the travel industry make up a large proportion of the top ten with Universal Studios Orlando in second place with a score of 73.7. Another major holiday brand – Disney World Florida –also makes the chart, coming in at number five. Universal Studios Orlando is the top brand among those with children, underlining how the expectation that a trip there would be one to remember has been met.
Other travel brands with high levels of customer advocacy are Singapore Airlines (at number seven), and trailfinders.com (at number ten).
Elsewhere in the top ten, another brand with heavy emphasis on the consumer – MoneySavingExpert.com – comes third (with a score of 71.6). There are also two high-end electrical manufactures in the list – Sonos is fourth (with a score of 71 .3), while Bose comes in at number seven (on 67.7).
Not everyone cares about having high-quality electrical equipment but among those who do want to make sure they get the standard of experience they pay for. As such, an endorsement from a loved one will be highly influential.
Image iStock