Plans for Dyson's "radically different" electric car have been revealed. Founder James Dyson said that the patents were deliberately light on specifics, but hinted towards unusual proportions and off-road potential. The cars are expected to launch in 2021.
Most famous for their vacuum cleaners, fans and hand dryers, this diversion into the motoring industry is a bold move.
James Dyson explained the concept in a memo to staff, stating that competitors had missed opportunities to adapt current electric vehicles and had underestimated the electric car market. Dyson originally met with the prime minister to discuss making electric cars compulsory by 2030 instead of the 2040 deadline suggested, which Dyson felt was a "watered down" promise.
According to data from YouGov Profiles, existing Dyson customers are 4% more likely (at 42%) than the UK average (at 38%) to consider owning an electric car in the next 10 years, showing that this new venture could be a good match for the company's customer base – but also that there's significant demand in the UK for such cars, even among those who've never bought anything from the brand.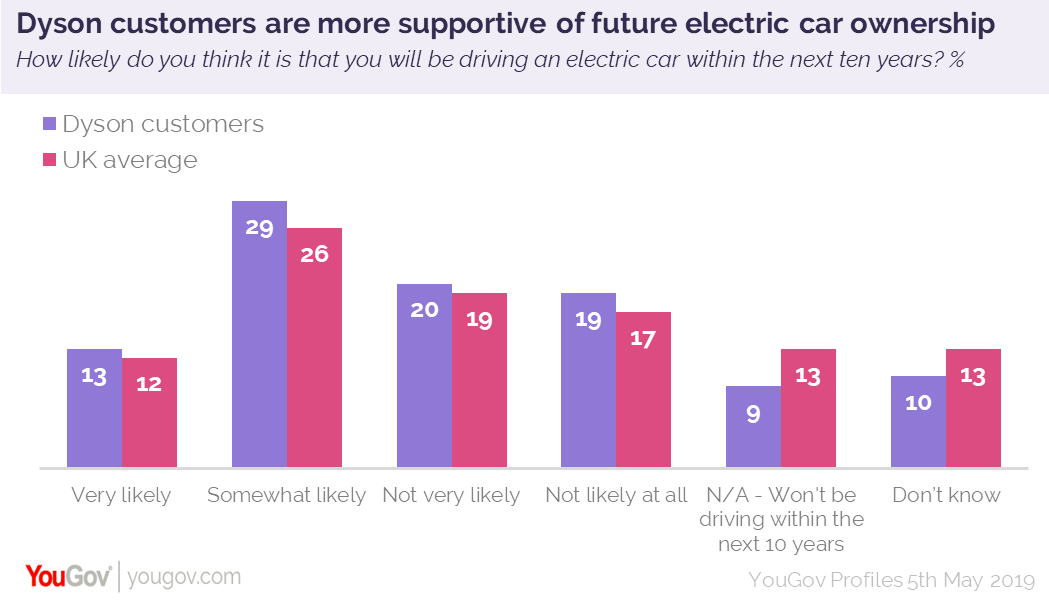 James Dyson has previously urged the Prime Minister to bring forward the ban on fossil fuel vehicles from 2040 to 2030, stating that the current drive behind the electric car market is a desire for silent, non-polluting vehicles rather than financial motivations.
YouGov Profiles data suggests that Dyson customers support this theory; 48% of customers agree that the biggest threat to civilisation is climate change. Additionally almost two thirds (60%) think that we should drive less in order to save the environment. VW also recently announced plans to create reasonably-priced electric cars, which is a welcome move after the 2015 emissions scandal found the company guilty of cheating on diesel emission tests.
The VW scandal affected Dyson customers more than the UK average, with almost two thirds (59%) saying they would now avoid purchasing from the company (compared to 50% of the UK as a whole). This suggests that the Dyson customer base is aware of, and cares about environmental issues, and want their consumer choices to have less impact on the environment.
Image: Futurism