Seven in ten say that they would support a ban on long term unpaid internships, new research from YouGov and the Social Mobility Commission shows.
The results (from 4724 UK adults surveyed on behalf of the independent public body) come just ahead of a second reading of a private members bill in the House of Commons calling for a ban on the practise.
The data suggests that approaching three quarters of Britons (72%) support a change in the law, with four in ten (42%) saying that they would "strongly" support a ban in people undertaking unpaid work placements, if they were longer than four weeks.
Britons also want an end to the 'who you know' culture. Eight in ten (80%) say that they would support companies being required to openly advertise internships and work experience opportunities via their website, rather than organising them informally.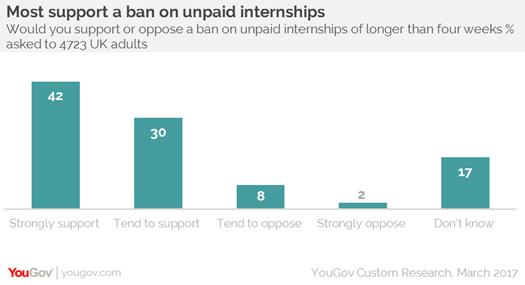 Back in March, YouGov discussed the implications of Pret A Manger's now aborted plans to hire 16-18 year olds for week-long unpaid internships.
YouGov BrandIndex data indicated that Pret A Manger's consumer perception took a brief hit when the story broke, although the chain managed to recover from the story, after it recognised that the public believed the policy to be ill-advised.  
Image: Getty