In recent weeks, as June 23rd creeps closer, businesses have started to join politicians in nailing their colours to the mast over the EU referendum.
Over the next couple of weeks more organisations and business leaders will make their views public as voters finely weigh the arguments being put to them.
Two brands that have already jumped in to the Brexit debate on opposite sides of the fence are budget airline Ryanair and pub chain JD Wetherspoon.
Ryanair boss, Michael O'Leary, has pushed for Britain to remain a member, while Wetherspoon chief, Tim Martin, wants to leave.
Both are using the business tools at their disposal to push politics with the pub chain producing 200,000 anti-EU beermats, and the budget airline reportedly emailing its subscribers with a call for them to register for the vote.
Using YouGov Profiles we can assess how these overt political actions will resonate with customers of both brands.
Ryanair customers are significantly more likely than the average punter favour remaining in the EU.
Over half of the people who fly with the company want to stay (55%), as opposed to fewer than four in ten (37%) who want to leave. There are 8% who are yet to be convinced either way.
JD Wetherspoon customers are a little closer to the national average and pretty evenly split on the issue, with 45% wanting to leave and 46% wanting to stay.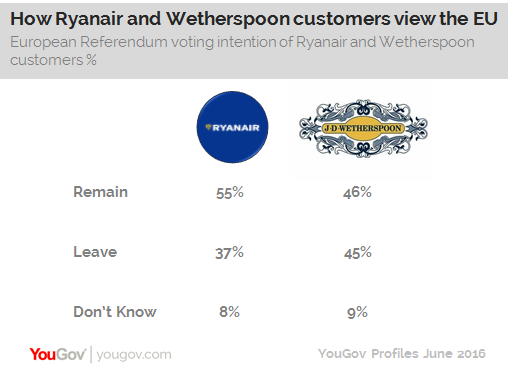 Both brands entering the political fray in such a public way has led to them attracting more headlines.
YouGov BrandIndex data shows that there has been an increase in the number of people talking about both Ryanair and Wetherspoon with their colleagues, friends and family.
Ryanair in particular has seen its Attention score rise to a yearly high of +25 in recent days, up from +14 in the middle of the month.
More organisations will get into the debate in the next two weeks.
What we don't yet know is whether overt political interventions from brands on either side of the referendum debate will harm their standing among customers or who take a different view towards the EU.
Image PA