New YouGov research into the FreeFrom industry indicates that while there are positive steps being made in the provision for food allergies in restaurants, several challenges are still to be met by the hospitality sector on this issue.
FreeFrom foods – such as gluten free, dairy free, or wheat free products – are big business and getting bigger.
But while supermarkets have increasingly catered for those wanting FreeFrom foods, can the same be said of the restaurant and hospitality trade?
YouGov's study indicates that 1 in 6 (17%) of the population consider themselves to have a food allergy or intolerance, though 76% of sensitivities are suspected rather than diagnosed. A quarter of households include at least one allergy or intolerance sufferer. Together with the consumers who are choosing to cut down on ingredients such as gluten or dairy for health and lifestyle reasons, this represents a significant group of potential customers who are looking for FreeFrom options when they are eating out
There are signs that the introduction of the FIR regulations at the end of 2014 are having an impact, with an increase in the proportion of sufferers saying that they are generally well catered for and menus are well signposted. A fifth (21%) now believe this compared to 13% a year ago.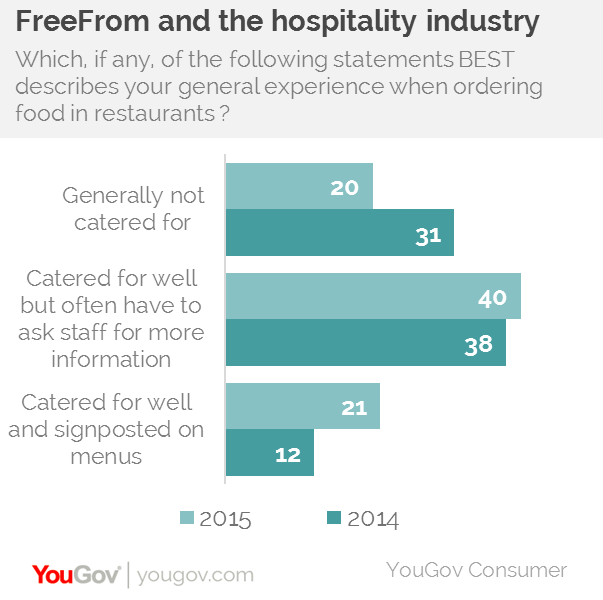 We asked about menus in greater depth. Half of sufferers have noticed more restaurants catering for those with allergies; in the last year. 3 in 10 say that allergens and intolerance warnings are clearly displayed on most menus.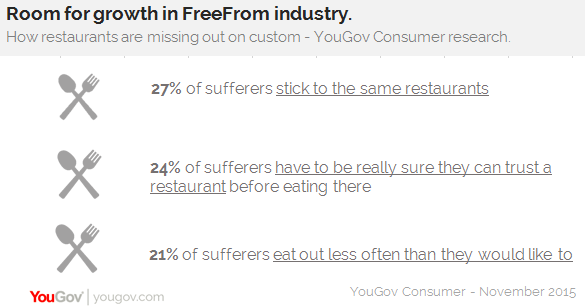 However, there is still a degree of trepidation for many sufferers. A third say that they are nervous that most restaurants do not really understand about food allergy and contamination. Over a quarter (27%) stick to the same restaurants while 24% of sufferers say they have to be really sure they can trust a restaurant before eating there. Most pressingly, a fifth (21%) say they eat out less often than they would like to.
As more and more consumers turn to FreeFrom foods for 'lifestyle' rather than medical reasons – i.e. the desire to cut certain ingredients such as gluten out of their diet – it is imperative that the hospitality industry keeps pace with this development.
Our data points towards signs of progress, but it is clear that restaurants are missing out on custom due to simple and eminently solvable factors, such as clear messaging.