Retailers could face a "Black Friday hangover" in the last few days before Christmas, research from YouGov suggests.
The initial findings from YouGov's Black Friday retail research suggests that shoppers approached the day more strategically this year, using it to buy Christmas presents for others instead of gifts for themselves, although this activity was only seen online. A fuller version of the report will be available to retailers, suppliers and marketers in the New Year.
The proportion who bought Christmas presents online on Black Friday doubled year on year in percentage terms from 7% in 2014 to 14% in 2015, whereas those buying festive gifts on Black Friday in-store dropped slightly from 5% to 4%. The large increase in present buying at discount prices could make the run in to Christmas more challenging for both online and in-store retailers.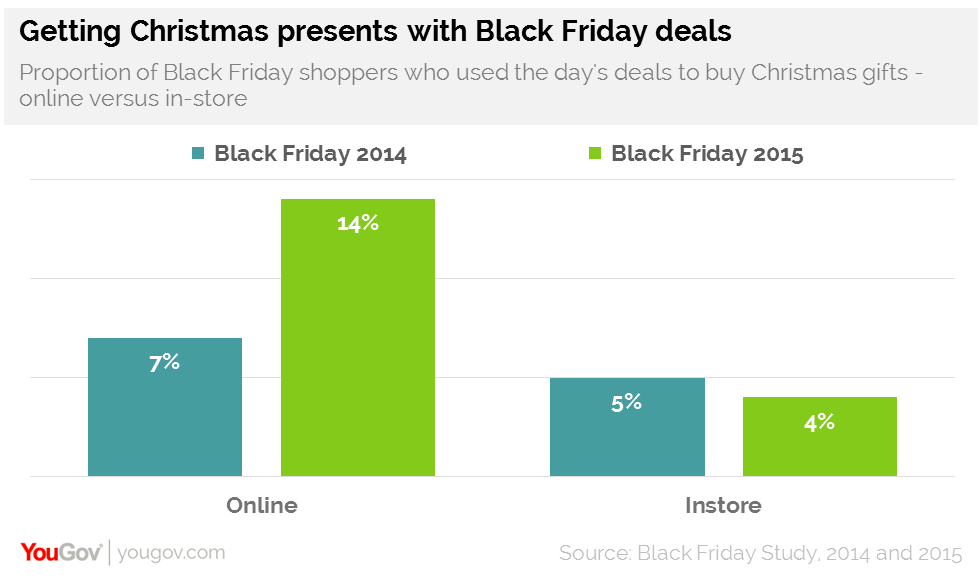 However, despite the potential challenges for retailers, it seems that after chaotic scenes last year, Black Friday 2015 has cemented the sales day in the pre-Christmas shopping calendar. The data suggests it has increased awareness among consumers, improved the experiences of those who bought items and redeemed the perception of the day among shoppers.
The wall-to-wall marketing of the day by online and offline retailers has also paid off this year with awareness levels for Black Friday increasing from 85% in 2014 to 91% this year. The day remains well ahead of Cyber Monday in consumers' eyes, although the online-only sales day has closed the awareness gap, improving from 59% last year to 77% this year.
Although a much greater proportion of consumers looked for Black Friday bargains online this year the proportion of those encountering technical issues on sales days more than halved compared to last year (14% this year versus 36% in 2014). However, the online crush meant more items tended to be out of stock (21% versus 17% in 2014) and delivery times were longer than stated (15% versus 10% last year).
YouGov's research finds that Black Friday seems to have redeemed itself in the eyes of consumers involved in the day itself. Among consumers who shopped on the sales days in both 2014 and 2015, a quarter (25%) felt this years' experience was much better overall. Just 5% felt it was worse. However, despite the more positive experiences the same proportion this year as last (50%) reckon they will completely steer clear of Black Friday 2016.
Richard Moller, Associate Director of Consumer Research at YouGov, says: "From a consumer and marketer perspective, Black Friday 2015 was almost an unqualified success – cementing the day as a fixture in the shopping calendar.  However, the story for retailers is more complex. As a PR gimmick to drive people onto retailers' websites in the lead-up to Christmas it was a success. From an in-store perspective it is less clear-cut with footfall down as people looked to avoid the scrums of 2014.
"An important shift this year for both retailers and consumers, though, was towards using Black Friday as an opportunity for shoppers to buy Christmas gifts. It could well be that with so many presents bought at a knock down rate online retailers see a Black Friday hangover in the final few days before Christmas. With retailers taking a more strategic approach this year, 2016 could become even bigger and the ones that will perform strongest will be those that best understand how the day has evolved this year and in turn, how this will shape next year's event."
More information about YouGov Consumer Research
Image from PA