For 72% of his ten years as Conservative leader David Cameron has been more liked - or less disliked - than his Labour or Lib Dem opponents – and still has a higher average approval score than any other leader during that time
On December 6 David Cameron reached his tenth year as Conservative leader, having beaten David Davis with twice as many votes in 2005 on a promise to deliver a "modern, compassionate Conservative Party". After suffering three electoral defeats under Major, Hague and Howard, with Iain Duncan Smith struggling to convince the party as leader between 2001-2003, Mr Cameron's image overhaul struck a chord with the membership. Since then he has been criticised for evading definition – 'Cameronism' is not something that has stuck – but only three other Conservative leaders in history have survived the ten year mark.
YouGov tracks public ratings of leaders of the three main political parties in England on a monthly basis, providing a rich dataset to analyse the ups and downs of Cameron's time as party leader. There have been fewer highs and lows than with Nick Clegg and Gordon Brown, underlying the reputation of a "steady as you go" politician (the range between his best and worst rating is 1.6, lower than Gordon Brown's 1.7 and Nick Clegg's 2.5, but higher than Ed Miliband's 1). But his average score (4.4) far exceeds any of the other leaders' between 2006 and 2010. 
A decade of David Cameron
Mean rating from 0 to 10 (where 10 means strongly like and 0 means strongly dislike) for party leaders during David David Cameron's time as Conservative leader. Hover over datapoints to explore

December 2015
David Cameron has also reached the highest rating among his own supporters (8, in September 2010) compared to any other leader. Tony Blair reached 7 among Labour supporters in December 2005 (although he may well have had a higher rating before the dataset begins), and Menzies Campbell reached 7.4 among Lib Dem supporters in September 2007.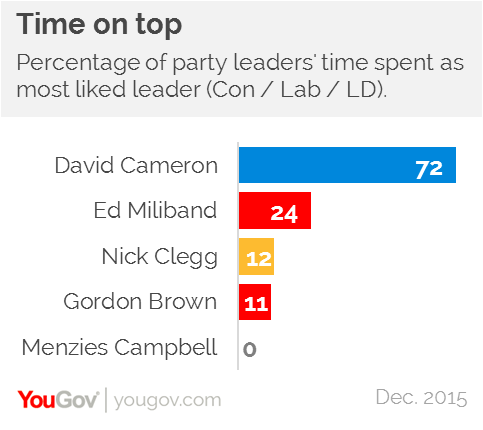 The data shows how much people like each party leader, but on a measure of how well or badly the public think each politician is doing in their job the current gap between David Cameron and his rivals is larger. The last time YouGov asked the question the prime minister's job approval rating was net 0 (47% well, 47% badly) while Jeremy Corbyn's was net -41 (24% well, 65% badly). 
Although spending brief periods of time with lower ratings than Brown, Clegg and Miliband, Cameron has spent 72% of the ten year period as the most liked leader. Ed Miliband was most liked for 24% of his tenure, while Nick Clegg's and Gordon Brown's spell as most popular leaders was brief (13% and 11% respectively.
PA image