New research from YouGov CityBus reveals Brightonians are the most likely to say their fellow inhabitants are attractive out of residents of 12 British cities
YouGov carried out research among 15 of the biggest cities in the UK. Almost three quarters (74%) of people in Brighton agree that people in their city are attractive. They are closely followed by those in Cardiff – 72% of those in the Welsh capital believe their fellow citizens to be attractive. Liverpool is next on the list, with 68% in agreement.
On the other end of the scale, it appears as though those on the south coast are a little less complementary. Only three in ten (30%) of those in Southampton agreed that those in the city are attractive. It is not a much better picture in Plymouth, where only 39% agreed. Coventry complete the bottom three with 47%.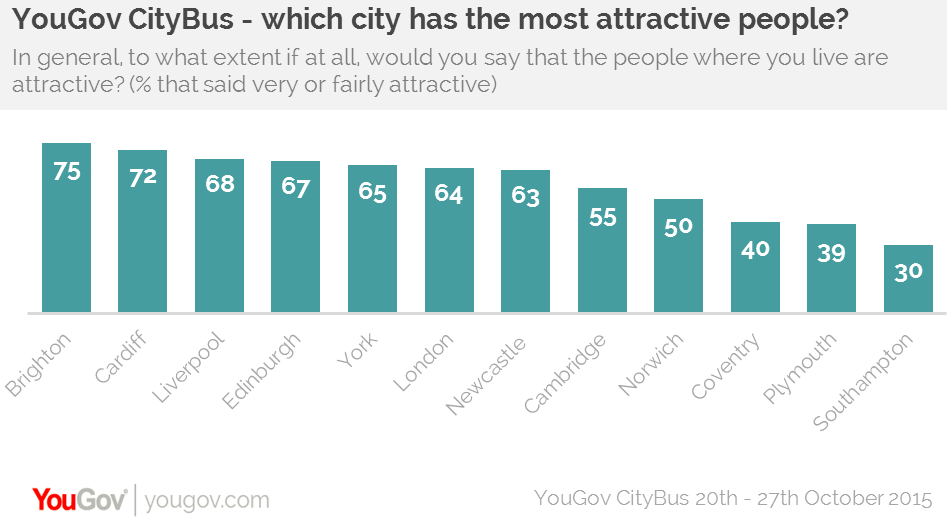 Of course, there are other humanistic qualities that are of more value. We often hear the cliché that those in the north of England are friendlier than their south eastern counterparts. Our data does lend itself to that notion. Liverpudlians rate themselves as the most friendly (91% agree), ahead of those in Newcastle (89%). Those two cities score highest when considering 'generosity' too.
Only 47% of Londoners believe their city's inhabitants are friendly, compared to 45% who say they are not. Again those in Coventry are inwardly critical (30%), as are those in Oxford (33%). Overall, however, it is a positive picture with just less than three quarters (74%) believing their city's residents to be friendly, compared to 19% who do not. 
Learn more about YouGov CityBus
PA image