Film star Liam Neeson tops our Northern Irish poll as favourite personality; James Nesbitt bags second place

Ballymena born Liam Neeson has emerged as Northern Ireland's favourite Northern Irish personality, a recent YouGov Northern Ireland poll reveals.
The Oscar-nominated actor ‒ famed for playing roles such as Oskar Schindler in Oscar-winning film Schindler's List; Bryan Mills in Taken and Qui-Gon Jinn in Star Wars: The Phantom Menace – topped the poll after nearly two in five (39%) put him in their top three Northern Irish personalities.
Young Northern Irish respondents were most enamoured by Liam Neeson, with over half of 18-24 year olds (54%) voting for the actor.
The poll – which did not include political figures – sought to find the region's favourite Northern Irish personalities by interviewing over 1,000 Northern Irish respondents.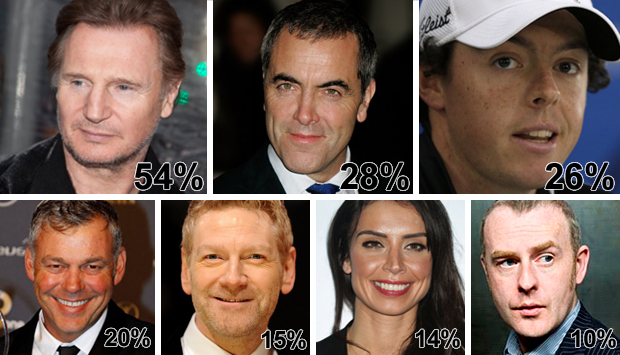 Images from the Press Assocation
Taking second spot in the poll was fellow actor James Nesbitt, best known for playing Adam in television series Cold Feet and coincidentally also born in Ballymena, who was voted for by 28% of respondents.
Former number one male golfer Rory Mcllroy closely followed with over a quarter (26%) of respondents selecting him. The U.S Open winner polled second amongst Northern Irish adults aged 18-24 with 30%, showing that he is fast becoming a key role model amongst young adults across the region. 
Other Northern Irish celebrities who proved popular include professional golfer Darren Clarke (20%); actor and film director Kenneth Branagh (15%); TV presenter Christine Bleakley (14%) and comedian Colin Murphy (10%).
See the survey details and full results here
For more information please contact YouGov PR Executive Giovanna Clark, +44 (0) 20 7012 6000