In 2010, Starbucks started to offer late night opening in the US, offering customers evening menus and serving wine and beer. The brand – along with Prêt à Manger – is now trialling extended hours in the UK. 
The food critic Jay Rayner recently experienced evening service for the first time and lambasted it as 'among the most depressing 10 minutes of my life', stating that 'going to a branch of Prêt à Manger for a classy night out of prosecco drinking is a bit like going to a brothel in search of true love.'
But are the public as sniffy about the concept as the critics? We assessed the attitudes and opinions of more than 60,000 consumers to evaluate whether high street coffee outlets are really an attractive venue for dinner and drinks.
The blunt answer is 'not yet.' Half (49%) of all consumers don't think that any of the major coffee retailers are well suited to providing evening dining. Although brands such as Costa, Prêt, Caffè Nero and Starbucks receive clearer support, especially among their existing customers, others – including Greggs and Subway – do not.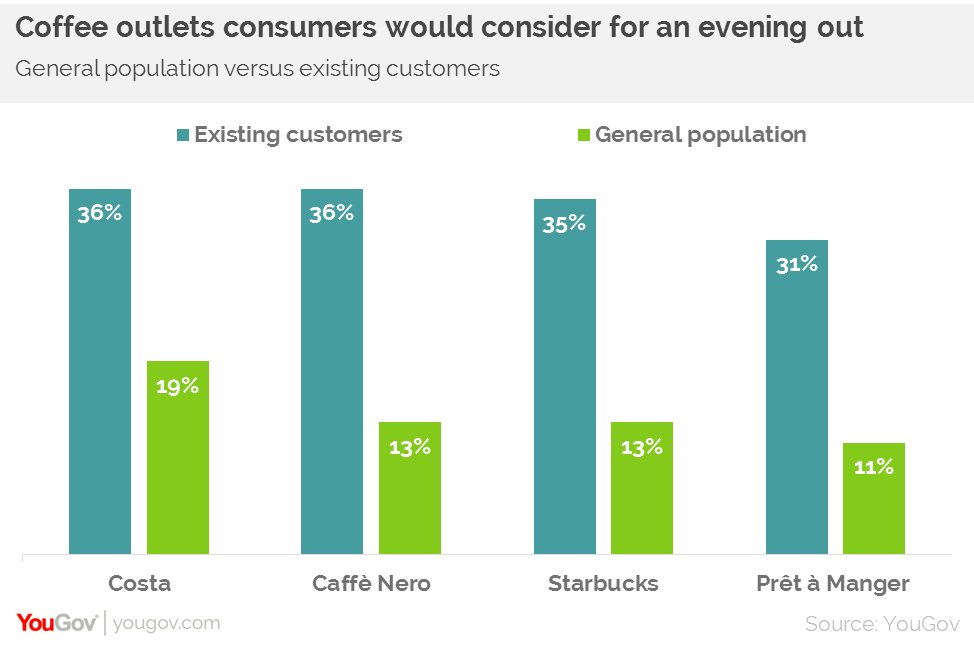 But when we look into the figures in a bit more depth there is a defined audience for coffee outlets to tap into when it comes to extended opening hours. Around a third of current customers of Costa, Starbucks, Caffè Nero and Prêt would consider evening dining at one of the stores. Combined, this represents a potential audience of more than ten million. Support for the likes of Paul, Greggs, Subway and EAT is markedly less.
However, there's some way to go to turn this hypothetical market into real cash. The highest levels of support for the late night opening concept come from existing customers and while people will buy lunch at these outlets most days, it is unlikely that they will dine out at them as often. As a result, although the brand loyalists may be regulars in the day time, their support for evening dining – while genuine – may not so readily translate into actual evening custom.
Also, the much higher levels of support from existing customers – as opposed to the general public – raises the question of whether this concept will help chains grow their base or simply provide an additional service to current customers.
Despite these obstacles there is clearly interest in the broad concept. Now that we have identified the consumers who are interested in late night lattes we will soon look at them in great detail, profiling them to help brands understand who these people are and how best to attract them.
See more information about YouGov's Custom research
Image from PA