Thanks to major players like John Lewis and Marks & Spencer, when people think of Christmas ads, big budgets and impressive editing come to mind.
However, this year Sainsbury's has decided to buck the trend. It has scaled back its Christmas ad spend and simply extended its black and white 'Living Well' campaign, which has been running since January.
The advert features various different groups of 'everyday' people singing along to a special festive tune and is the antithesis of 2014's high-budget First World War themed ad which was produced in conjunction with Royal British Legion.
Sainsbury's has stated that scaling down its Christmas ad spend was a conscious decision, but how has the trimmed back offering gone down with the public?
Our brand tracking data shows that while it is not performing quite as well as the blockbuster 2014 ad, this year's spot is holding its own against Sainsbury's 2015, 2016 and 2017 Christmas adverts – despite lacking the fanfare that usually surrounds them.
In terms of ad awareness (whether someone has seen an advert for the brand), this year Sainsbury's achieved an uplift of 12 points at its peak (21 November), while last year's ad (The Greatest Gift featuring James Corden) achieved a 15-point uplift at its peak (30 November).
The 2014 First World War advert achieved a 21-point uplift by 26 November, and 2015's ad (Mog's Christmas Calamity) had an 18-point uplift by the 21 November.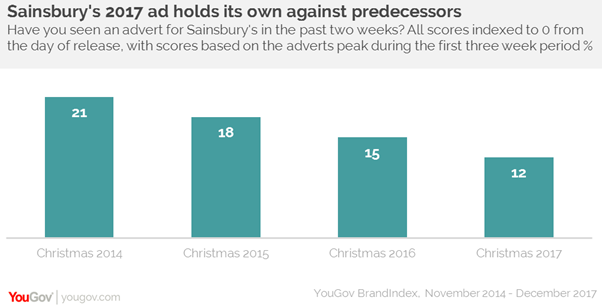 The brand's attention score (whether you have heard something positive or negative about a brand in the past fortnight) was highest on its day of release in 2014 (18), followed by this year (16) then 2016 (14) and 2015 (13).
Of course, Sainsbury's decision allows the business to raise advertising spend at other times in the year, should it decide to. The move also helps to reassert the message the brand has pushed over the last year in a consistent way. In future, we may well see further examples of large companies deciding to move away from competing for Christmas hype and attention.
Image Getty