We assess which brand's advert achieved the best awareness levels last month
This month, Hula Hoops is the brand that has achieved the greatest uplift in Ad Awareness score (whether a respondent has seen an advert in the past two weeks).
Hula Hoops' £3.5million BMB campaign is an attempt to appeal to a greater number of households than ever before. It also aims to ''reignite a feeling of nostalgia'' while offering a modern image of the brand to adults. 
Since the campaign's release, Hula Hoops' Ad Awareness score has risen by 8 points among all respondents (from +1 to +8). The score peaked at +10 among those that eat crisps at least several times a week.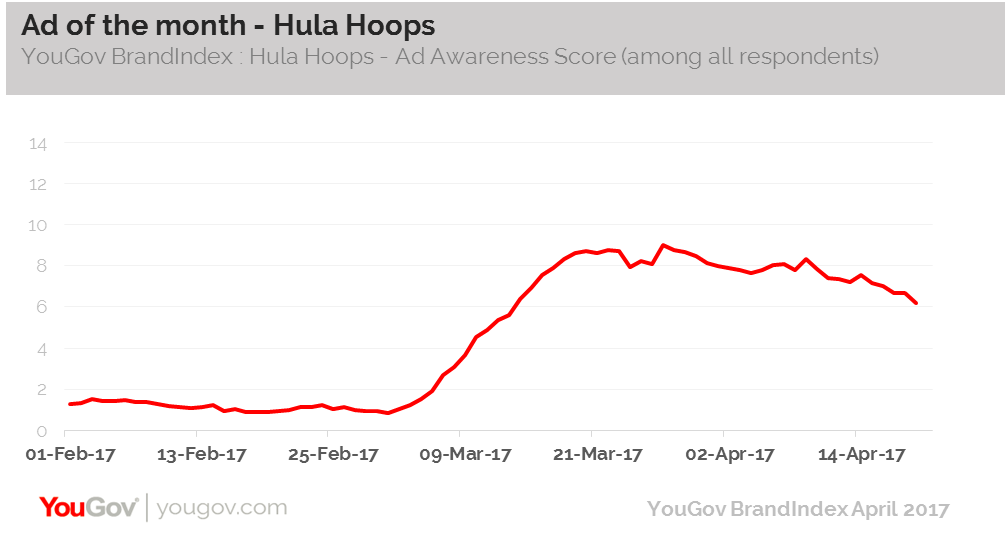 More importantly, the Ad Awareness score among those that would consider purchasing Hula Hoops peaked at +16 during the latter part of March.
Looking at the snack sector more generally, Hula Hoops' overall Impression score is fairly healthy (+25), which places it close to McCoy's and Doritos. However, it does still lag behind industry leader Walkers.
However, it hasn't all been good news for the brand in recent days. News emerged in recent days of shoppers who bought multi-packs of Aldi Snackright Hoops, only to find packs of KP Hula Hoops inside. This once again opened the debate about just how different own-brand products are to their costlier rivals.
The challenge for Hula Hoops, notwithstanding that slightly negative news headline, is capitalising on its advert success, and creating greater loyalty from customers that may return to the brand as a result.