The recently released YouGov BrandIndex Brand Rankings painted a healthy picture for the supermarket sector, with Aldi and Lidl holding the top spots overall and Tesco being crowned as the most improved brand.
But for how long can this last and after better than expected Christmas results for several major supermarkets, is this the start of a new era of growth or a short-term phenomenon?
Aldi and Lidl continue their success
This week, Aldi rose to become the UK's fifth biggest supermarket – and our data underlines why.
For the third year in a row, Aldi and Lidl filled the top two positions in the YouGov Brand Rankings. The two have moved away from their position as disrupters and are now taking on their longer-established rivals in terms of quality.
YouGov's brand tracking data indicates that far from Aldi's offering turning stale, it is managing to attract new shoppers to its stores.
Indeed, it's Purchase Consideration score (whether you'd consider shopping with a brand) continues to rise steadily.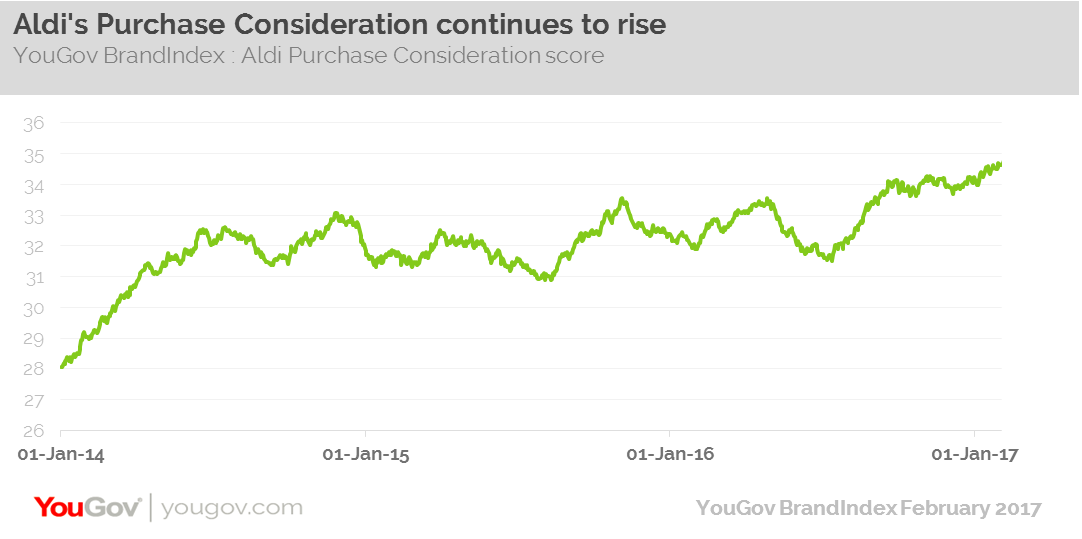 Both brands have been praised for their wage policy – with Aldi now paying more the Living Wage Foundation's new national rate. Indeed, Aldi's Impression score (whether people have a positive/negative impression of the brand) is four points higher than this time last year.
The question now is if the two brands will need to alter their strategies in order to continue their expansion.
But the big supermarket brands are fighting back
Tesco and Morrisons reported sales growth in the run up to Christmas. Tesco is the most improved brand in YouGov's BrandIndex Buzz Rankings, while Morrisons is the fourth most improved.
Tesco's Buzz score has grown by 12 points in the last year, while Morrisons has seen a rise of six points.
This improvement has also been reflected in other metrics – indicating that the recovery is not just in the press, but in underlying consumer perception. This is shown in their respective Impression scores. On this front, Tesco's has improved by nine points compared to this time last year, while Morrison has jumped by seven points.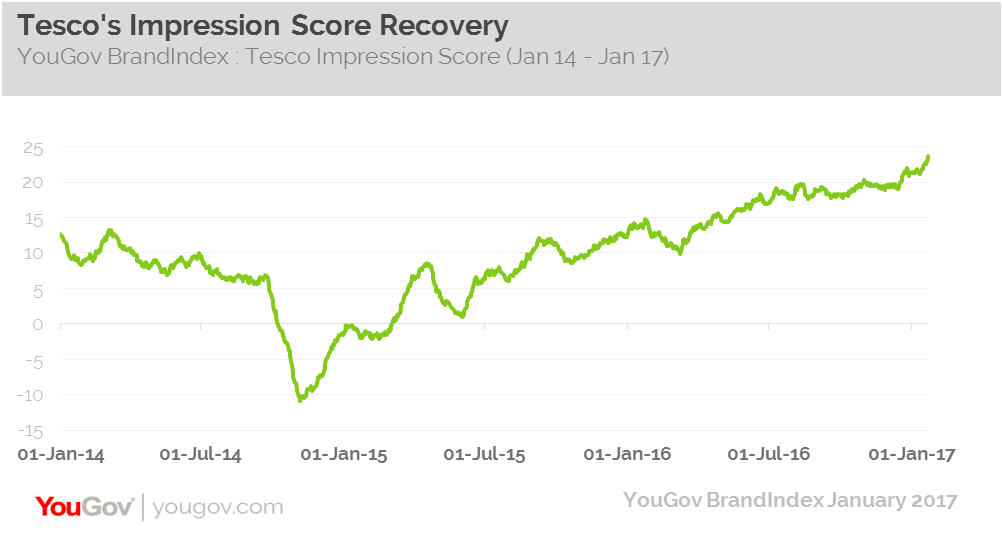 For both brands, a focus on competitive prices and in-store experience have helped achieve this.
What of the future
While improved sales figures should be taken as a positive, there are several reasons why 2017 could be a difficult one for retailers.
Inflation is rising and may hit consumers, while the slump in the pound will impact both suppliers and retailers and causing import costs rise.
The issue of price rises has already caused some consternation during the Marmite stand-off, and will no doubt rear its head several times in the months ahead, with Premier Foods already considering raising prices. Our analysis of the Marmite brouhaha has shown that the blame for the threatened increase in prices was put down to the supplier, but this may not be always be the case.
So while there are encouraging signs for the industry, it is too early to announce that the turnaround is complete.
Find out more about BrandIndex
Image PA