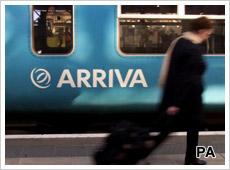 Transport company Arriva's BrandIndex 'attention' score has increased over the past month following news that Deutsche Bahn, the German state rail operator, approached Arriva with a possible takeover bid. Deutsche Bahn is the latest company to be associated with a possible acquisition of the company, chasing the tail of French rail operator SNCF, whose initial talks with Arriva ended on 5th March.
Arriva's 'attention' score, which measures how much a brand is being talked about, rose from a figure of 8.5 just before the possible takeover bid, to 11.5 on 29th March, the highest peak seen this year, and the most attention shown since SNCF's involvement in the brand in January.
At the same time, Arriva has enjoyed a soaring share price since the takeover bids were first brought to light, with a 60% increase the day before SNCF's possible bid as announced (on 27th January).
Recent reports suggest that SNCF has not yet dismissed a counter-bid against Deutsche Bahn. With the imminent prospect of two European transport giants locking horns over Arriva, we predict attention will continue to rise as the scrap is played out. Watch this space.