Leave voters are more determined to get a no deal Brexit than Remain voters are to take a second referendum that comes with Corbyn attached
Jeremy Corbyn made waves this week when he announced that he will seek to call a vote of no confidence in the government when Parliament returns. His pitch included a pledge to serve as caretaker Prime Minister until a new general election could be held and that if that same election were to return him once more as Prime Minister he would hold a new referendum on the terms of the Brexit deal, including an option for Britain to remain in the EU after all.
Despite calls from the Liberal Democrats to have other politicians – namely Ken Clarke and Harriet Harman – take over in the event that the government falls, the Labour leader is unlikely to be swayed from his current path. Nor too does current prime minister Boris Johnson look set to be shifted from bringing Britain out of the EU without a deal on October 31 should a satisfactory deal not be found by then.
The dilemma facing MPs is therefore whether they prefer a No Deal Brexit under Boris, or a second referendum under Corbyn.
YouGov put that same dilemma to the British public.
Almost half (48%) of Britons would prefer to see Britain leave the EU and Jeremy Corbyn not become Prime Minister. By contrast, only just over a third (35%) would rather the Labour leader move in to Number 10 and hold a second referendum. The remaining 17% are unsure either way.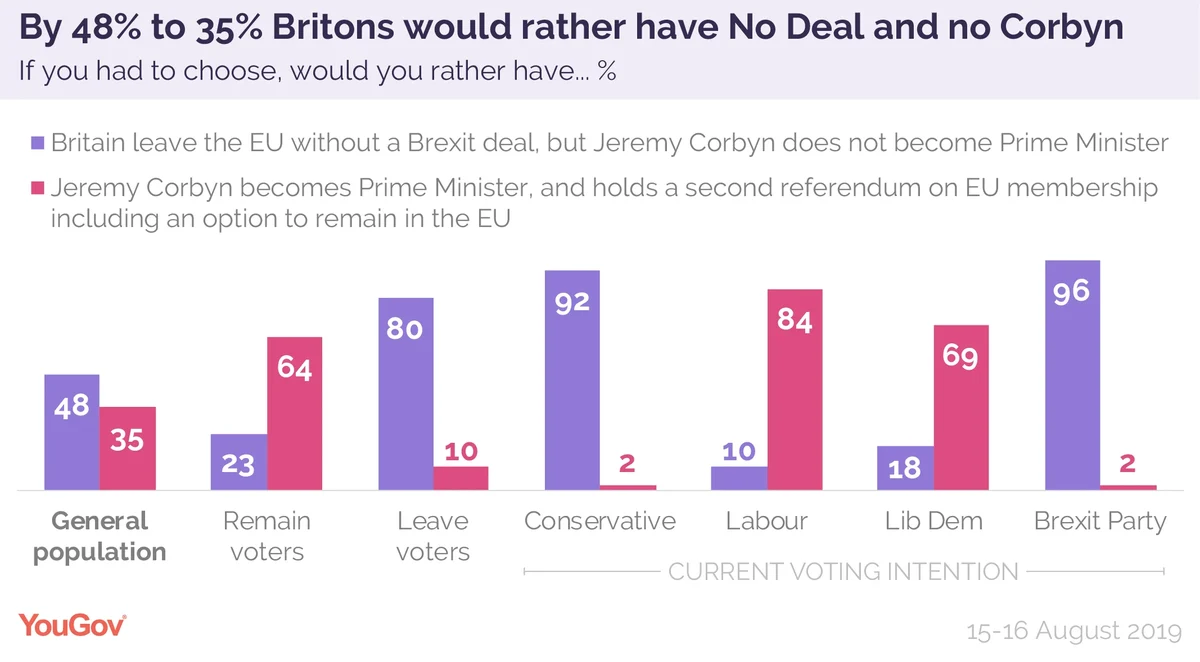 Crucially, Leave voters are more united behind the No Deal but no Corbyn option (80%) than Remainers are behind the Corbyn second referendum choice (64%). Almost a quarter (23%) of those who backed the status quo at the 2016 referendum would rather see Britain leave the EU with no Brexit deal and Corbyn kept out of Number 10.
With the Lib Dems set to play a key role in what happens next, the results show that 69% of those who currently would vote Lib Dem support installing Corbyn in order to get the second referendum, with 18% opposed.
We also looked at how people answered based on the Brexit outcomes they are willing to stomach. Unsurprisingly, those who consider a No Deal Brexit to be either a good thing or an acceptable compromise are overwhelmingly likely to prefer 'No Deal and No Corbyn' at 91%.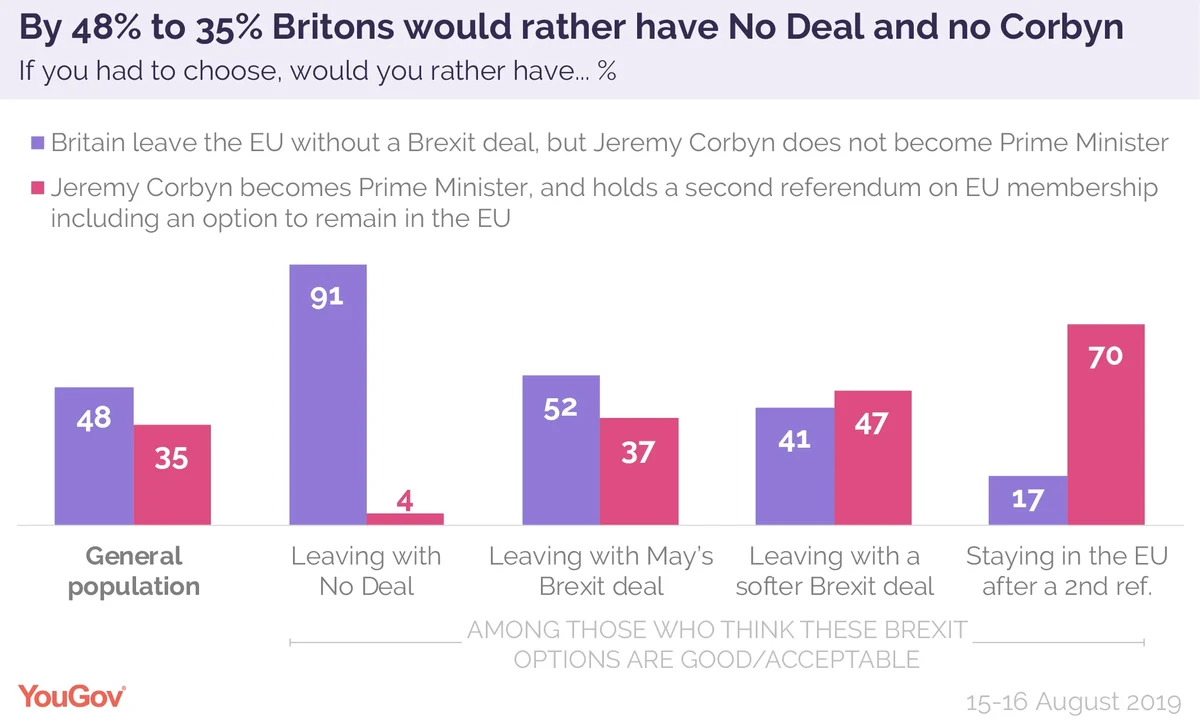 Among those who are happy with or willing to accept the Brexit deal Theresa May negotiated, 52% would rather see Britain leave without a deal and Corbyn not come to power – 37% would want to see him and the second referendum he would bring.
Those who could get behind a softer Brexit that sees Britain stay in the customs union and single market prefer the Corbyn plus second referendum option by 47% to 41%. And those who think a second referendum resulting in a vote to Remain would be a good or acceptable outcome back the Corbyn plan by 70% to 17%.
Photo: Getty