Younger generations of British people don't see themselves as completely masculine or feminine - and 'masculinity' tends to be seen as a negative word by young men
In a new three-part documentary artist Grayson Perry explores British masculinity in some of its most extreme locations – cage-fighters in the north east, in the police and among bankers in the City. With suicide now the biggest killer of men under 50 in Britain, one conclusion of the programme is that men (like cage fighters) who most inhabit their masculine identity can actually be the most comfortable talking about their feelings. In an era when defined roles for men such as mining have fallen by the wayside, it may be necessary to embrace masculinity in other ways.
New YouGov research reveals the scale of the generational shift in terms of how young people perceive their own masculinity, and to a lesser extent femininity. On a scale of 0-6, where 0 is completely masculine and 6 is completely feminine, only 2% of young men (aged 18-24) define themselves as totally masculine, compared to fully 56% of men over 65.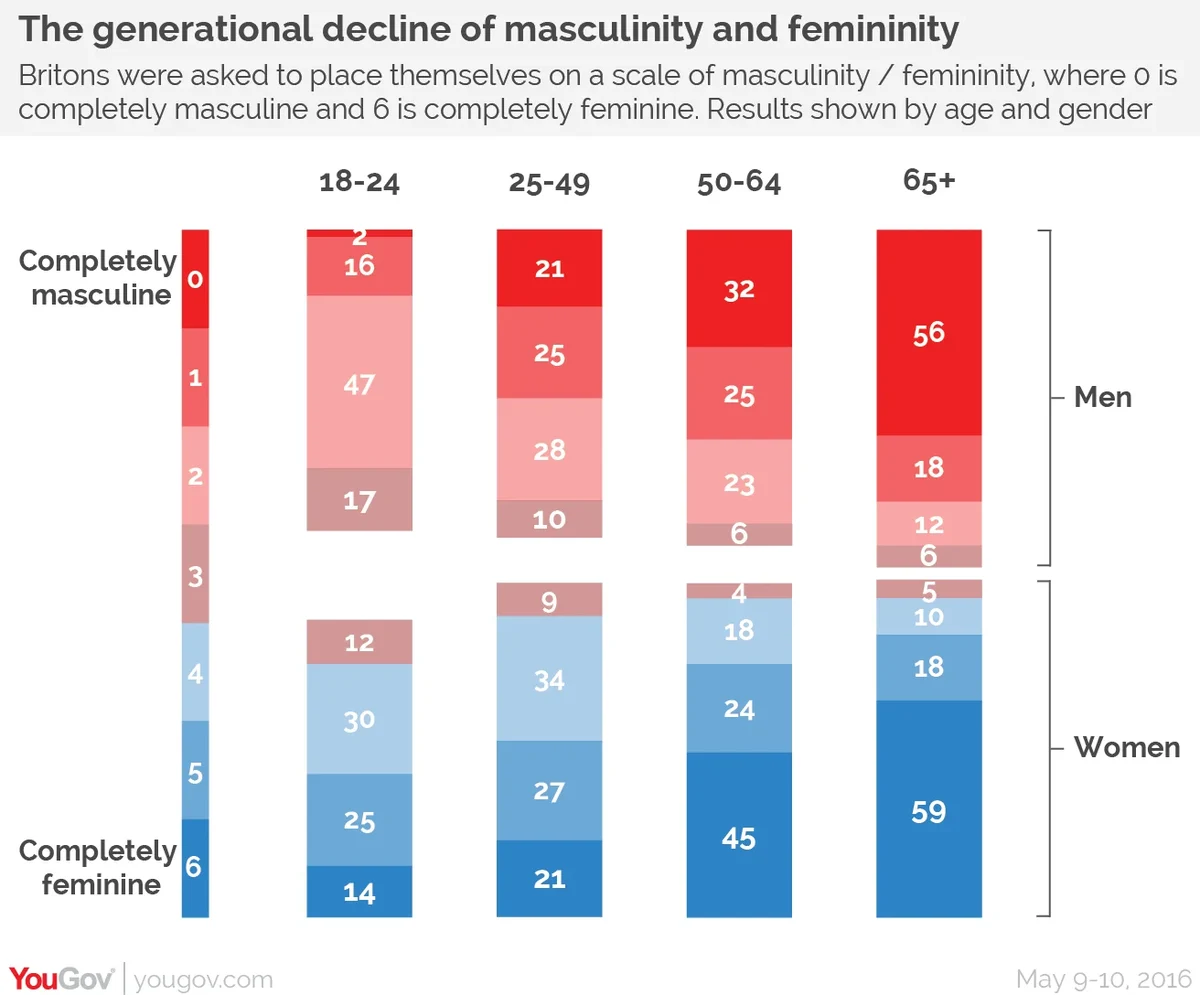 Even including the second highest level of masculinity, there's a 56% gap between male 18-24s (18% at level 0 or 1) and over 65s (74%), and a 28% gap between 25-49s (46%) and over 65s.
There is a dramatic difference between young and old women on their self-defined level of femininity as well, but not quite as large. Only 39% of 18-24 year old women say they are almost entirely feminine (at level 5 or 6) compared to 77% of over 65s.
American men are much more likely to think of themselves as exclusively masculine. Overall 42% of American men say they are completely masculine, compared to 28% of British men.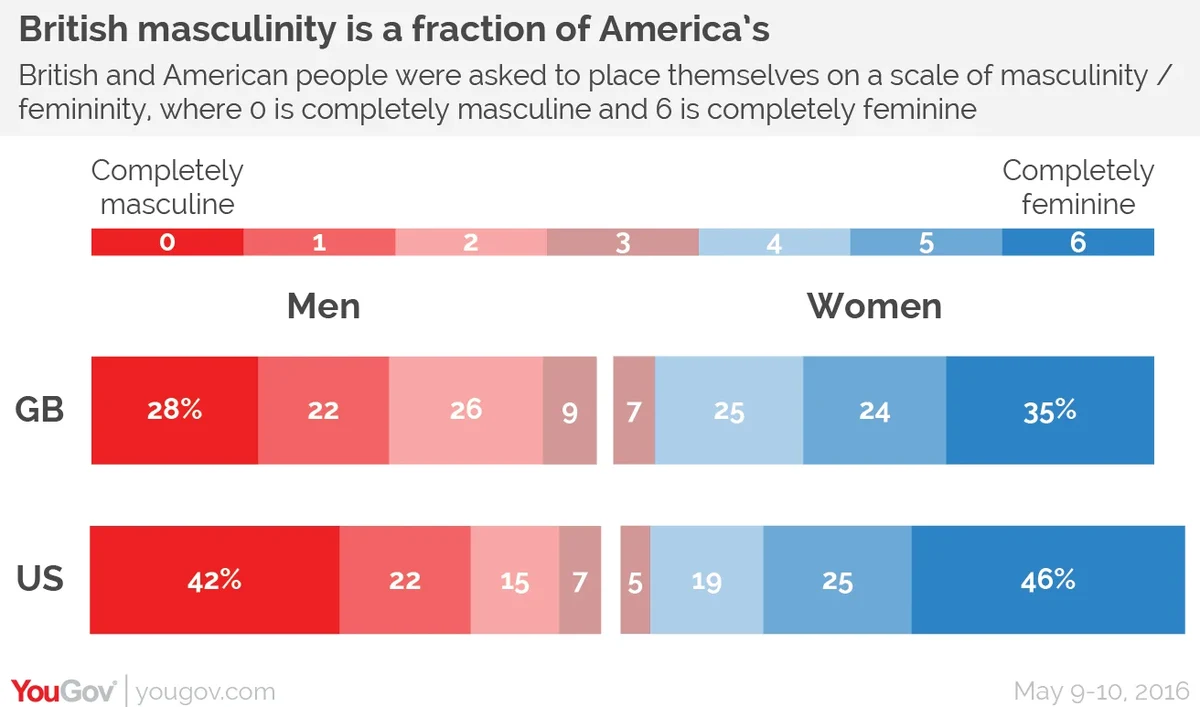 Both young men and young women have a lower opinion of 'masculinity' than older people, but young men are harsher critics of the concept than young women. In contrast, the majority of young men (58%) have a positive impression of 'femininity', as do the majority of young women (55%). Overall 'femininity' has a net positivity score of +56 compared to +44 for 'masculinity'.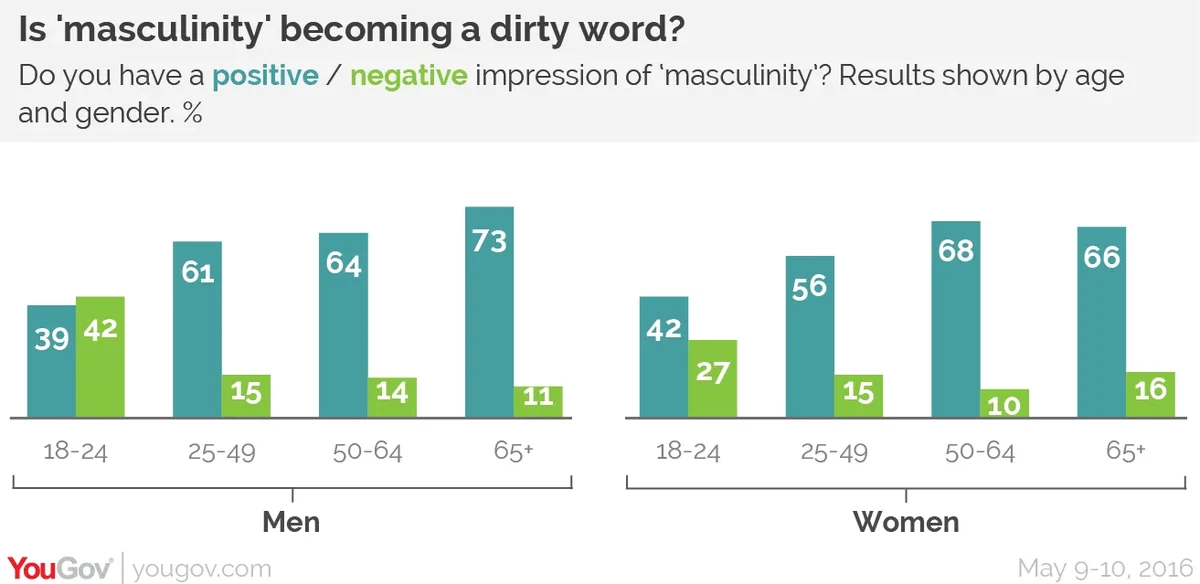 What does 'masculinity' mean? Perhaps contrary to expectations, our research finds little correlation between identifying as more masculine and finding it harder to talk to friends or family about personal problems. Men in general (44%), and particularly young men (36%), are less likely to say they find it easy to talk to friends about issues than women (53%), however. And men at the top two levels of masculinity are more likely (64%) to have had a physical fight than men who place themselves elsewhere on the scale (56%).