With the Christmas season in full swing, it's a good time to assess how selected charities have been performing in the run up to the festive period.
Using YouGov CharityIndex data, we're able to assess how a few charities have benefited from launching Christmas-focussed campaigns.
Of the charities YouGov tracks, the three with the most significant rises in Ad Awareness (whether or not you have seen an advert for a charity in the past two weeks) are The Salvation Army, Shelter and Age UK.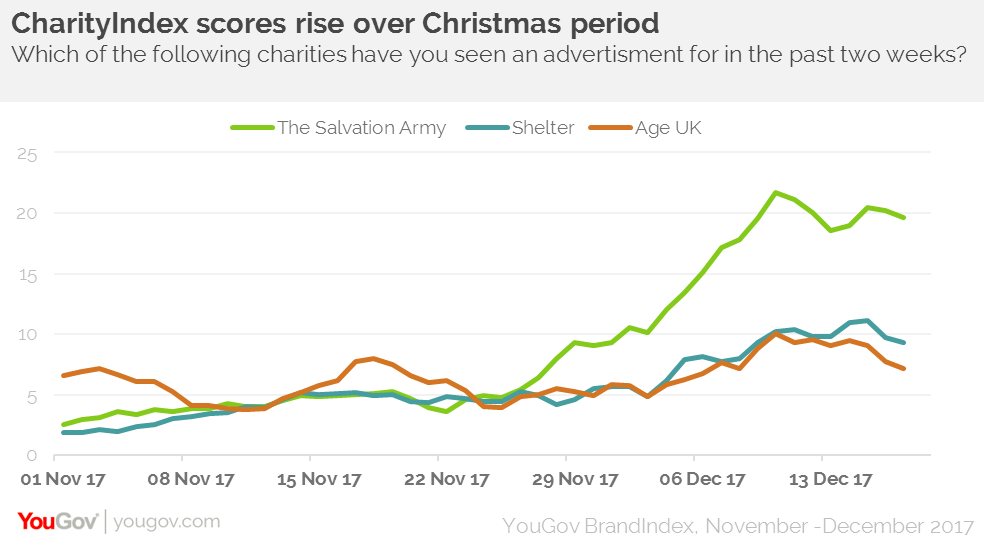 From the end of November through to the campaign's peak, The Salvation Army's score rose from +8 to +22. Shelter's rating has moved from +5 to +11, and Age UK's score has increased from +5 to +10 in the same time period.
The Salvation Army tends to do well at Christmas, seeing a festive increase in its ad awareness over each of the last three festive seasons (+25 points in 2015, +22 points in 2016 and +21 points in 2017). The charity puts a lot of effort into its Christmas campaign, including door-to-door collections and leafleting.
Shelter's campaign comes in second. The charity's continued partnership with Marks and Spencer sees 12 years since its start, and this year's Christmas campaign involved a pop-up Christmas themed dining room and virtual reality experience at London Waterloo station.
The increase in score for the festive period (+5 to +11), is a larger jump than any of the previous three years.
Age UK comes third, just beating conservation charity WWF, with its 'No one should have no one at Christmas' campaign, which has increased by +4 points.
Image Getty