Brazil and China: the new frontier for media companies and advertisers
The media market is growing globally as consumers are becoming permanently 'connected' and people in developing markets, such as Brazil and China, are emerging as some of the largest consumers of both traditional and digital media. For media and advertising companies to survive and thrive in this new environment they must increasingly focus their energies on these new markets.
YouGov conducted a global online study on behalf of KPMG to evaluate the differences in media consumption behaviour across nine different countries[1]
---
[1] The fieldwork took place between the 1st and 15th October 2012 and was conducted online. Data is weighted to a nationally representative sample of c.1,000 adults (16+) across all countries with the exception of the US which is nationally representative of 18+ as this is the "adult" age in the US. China and Brazil samples are only representative of the "urban" or "metropolitan" population due to difficulties reaching those living outside of these areas.

A majority of people who have access to the internet in all nine countries[2] we surveyed are accessing the internet daily, but it is the developing countries that are showing signs of increased usage. When consumers are asked if they are using the internet more or less than they were a month ago 34% of Metro Brazilians and 44% of Metro Chinese say that they are using the internet more often, compared to the other seven developed countries where usage remains fairly stable.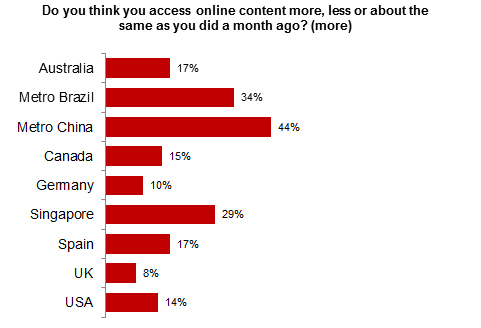 ---
[2] All countries are nationally representative of the offline population with the exception of China and Brazil, which represent the urban population only.
Traditional media consumption is not going away
A large proportion of internet connected consumers engage in "multiple media" by consuming more than one form of media at any one time. For instance, someone may be watching TV on a TV set while also surfing the internet on their laptop. This implies that TV is not declining on account of its central focus in multiple media/dual screen viewing, but with increased use of digital media consumers' attention is more likely to be split between traditional and digital, and thus it's most likely that TV is plateauing. Nearly two-thirds of Americans (60%) and more than half (57%) of Brits watch TV and access the internet (not for social networking) via their PC or laptop simultaneously. This is slightly lower in Metro Brazil (45%) and Metro China (48%) but still a significant proportion of consumers watch TV and surf the internet at the same time.
When social networking is taken into account, consumption tends to be slightly higher in developing markets. Just under a third (32%) of Americans and 27% of Brits say they watch TV on a TV set and use a social networking site simultaneously, compared to 37% in Metro Brazil and 36% in Metro China".
Watching television on a TV set is the most popular form of traditional media and does not seem to be declining due to increased usage of digital media. In September last year, consumers spent more time watching TV than any other form of media (both traditional and digital). In Australia, the US, the UK and Germany consumers spent an average of 15 hours per month watching TV. It is worth noting, however, that despite TV remaining a popular medium, the rise of dual screen viewing may reduce or hamper consumer engagement with what they are seeing on their TV sets, as their attention is increasingly divided.
People also tend to spend more on traditional media activities compared to digital media, although this may be linked to the nature of traditional media activities, which tend to require greater investment in time and money, for instance purchasing books or video games.
Consumers in emerging markets are spending more on content
Internet connected consumers in Metro China, in particular, say they in the last year they spent more on media consumption, both for traditional and digital media. Nearly half of consumers in Metro China have increased their spend on visiting the cinema (47%) and more than two in five (44%) have increased the amount they spend on magazine apps for their smartphones. The same proportion of consumers in China (38%) say they are spending more on playing online games and using video on demand services. This suggests that there is a big opportunity for digital media companies in emerging markets, as usage is expanding rapidly due to increased access and availability.
Consumers in emerging markets also appear to be more willing to pay for content than consumers in mature markets. Consumers in China reported an average spend of $8 on magazine websites and apps, $11 for online games, and $7 for video on demand services in September 2012. To put this into context, Brits spent an average of just $1 on magazine apps and websites, and $2 on video on demand services in the same month.
Brazilians and Chinese are more susceptible to digital advertising, but TV ads and billboards are still most powerful
Metro China has the highest device ownership across all the markets we surveyed, with 78% of the internet connected population owning a smartphone and half (51%) owning a tablet. Consumers in Metro China also show a greater preference for digital media than European, North American and Australian consumers. They are more likely to say that they prefer to be able to consume media on a portable device, so that they can use it when they are out and about, and from room to room in their homes.
However, consumers in Metro Brazil show concerns about security online, which is perhaps due to the fact that the internet is still relatively novel in most developing markets. Around half of consumers in Metro Brazil (45%) agree that they "don't want to make payments online due to security concerns".
Chinese and Brazilian consumers are more engaged and attentive towards digital advertising than people in all other markets we studied. However, digital advertising is not considered as influential as other types of traditional advertising, such as TV and billboards, and consumers are the least responsive to online forms of advertising, such as banner advertising or ads on social networking sites.
Advertising on traditional media remains crucial, and companies do not appear to be reducing their spend on TV ads. According to Carat Advertising Spend Forecasts, TV continues to dominate with a global share of 46.0% in 2012, with particular strength in Asia Pacific, Latin America and the Middle East & North Africa regions, where shares of advertising budgets devoted to TV are at 50% or above.
In spite of this, there is a general consensus amongst online consumers across markets that there is too much advertising and it can become intrusive. It is important not to underestimate the impact of word of mouth; in all nine countries we surveyed, people say that the greatest influence when buying products or services comes from recommendations from friends or family.