YouGov reveals that half of Brits say they would be comfortable with a homosexual Disney princess
While Disney introduced their first gay character in 2017's live action remake of Beauty and the Beast, they have yet to depict a homosexual character as a Disney princess. This could be set to change, however, with Jennifer Lee – writer and co-director of the forthcoming Frozen sequel – reportedly considering making Elsa officially a gay character. (Elsa is already seen as a gay icon as she struggles with a secret about herself that is only resolved when she accepts herself for who she is).
Now new YouGov research finds that almost half of Brits (49%) would be comfortable with a future Disney princess being gay. By contrast, one third (34%) would be uncomfortable with such a move, while 17% answered "don't know". Age is the key factor here: the younger people are the more comfortable they are with the prospect of a gay Disney princess (while 67% of 18-24 year olds would be comfortable, this falls to only 25% of those aged 65 or older).
It's not just sexual diversity that Disney's princesses lack: all Disney princesses are young, single and skinny (although Moana was designed with a more realistic body type).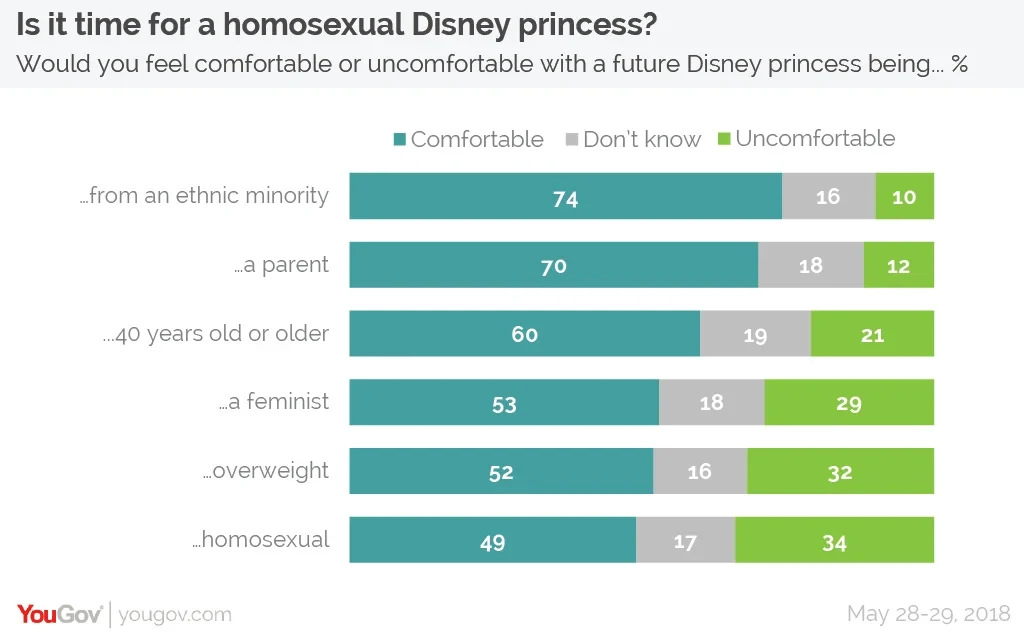 Six in ten Brits (60%) would be comfortable with a Disney princess being in her forties or older, and they are even more comfortable with the prospect of a princess who is also a parent (70%). A small majority would also be ok with an overweight princess (52%).
Which Disney princess is the best role model?
Disney's depictions of its princesses matter because the movies are aimed at young children of an impressionable age. In fact two, thirds of Britons (67%) say that it is important for Disney princesses to be good role models for young girls.
Much has been written on whether and which Disney princesses are good or bad models. But which princesses does the British public think are the best role models?
The three Ms top the list: Moana, Mulan and Merida. Among those who have seen the princess's respective movies, 72% consider Moana to be a good role model, while 68% say the same of Mulan and 66% Merida.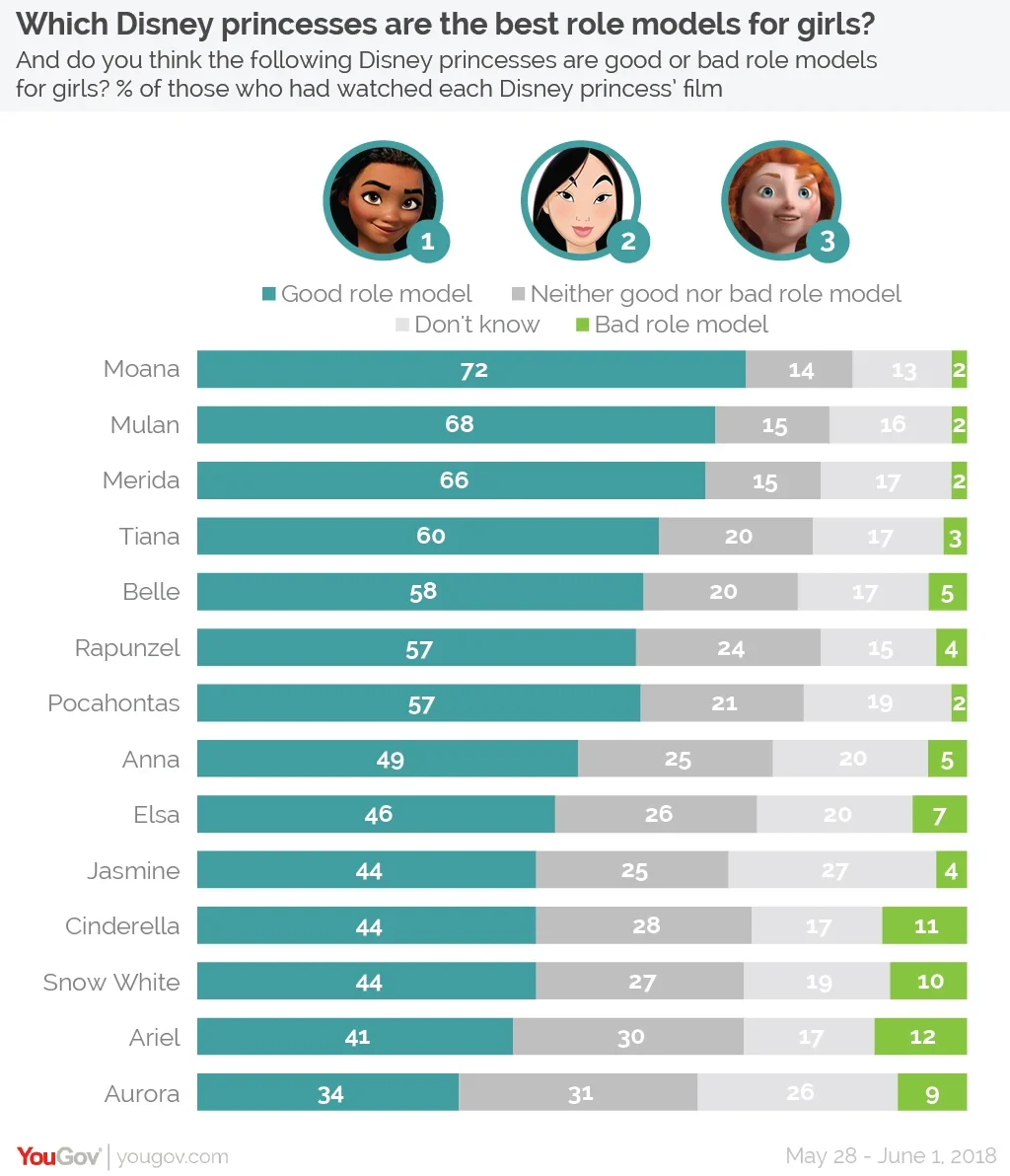 At the other end of the scale Ariel is the most likely to be seen as an actively bad role model, on 12%, shortly followed by Cinderella and Snow White on 11% and 10% respectively – although people are still far more likely to see these princesses as good role models.
If there is broad agreement that Disney princesses should be good role models, what does that look like? What characteristics should Disney princesses possess?
Presented with a list of 13 attributes and asked which they thought a Disney princess should have, the most commonly chosen by those who think it is important for princesses to be good role models was "kind" at 74%. Other commonly chosen attributes by this group are: being intelligent (69%), confident (68%) and independent (63%).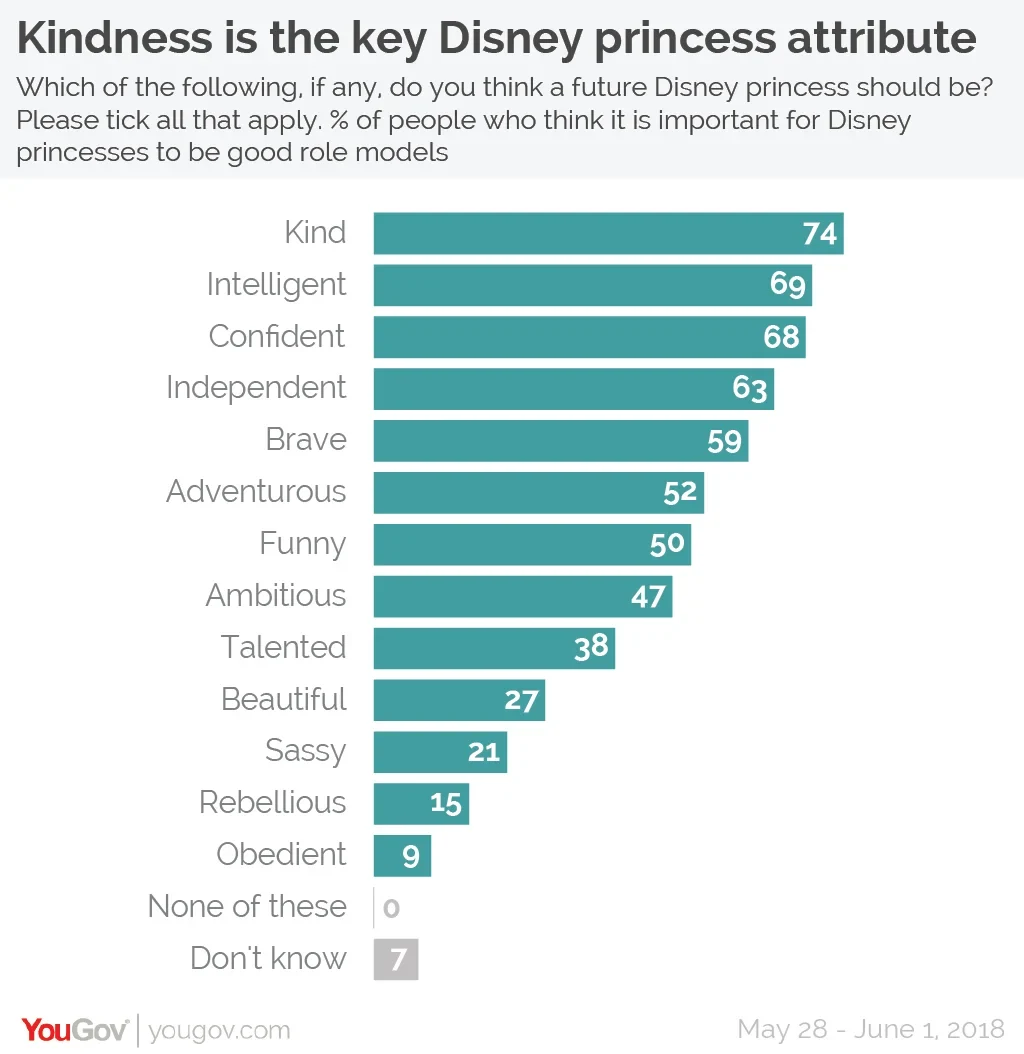 Britain's favourite Disney princess
Of course we couldn't run a survey on Disney princesses without asking about the fundamentals. And so we asked the people of Britain: who is your favourite Disney princess?
In what may well be a surprise to many, Snow White tops the list with 10% of Brits picking her as their favourite. Belle's escapades taming the Beast land her in second place on 7%, while mermaid Ariel and glass footwear model Cinderella are joint third on 6%.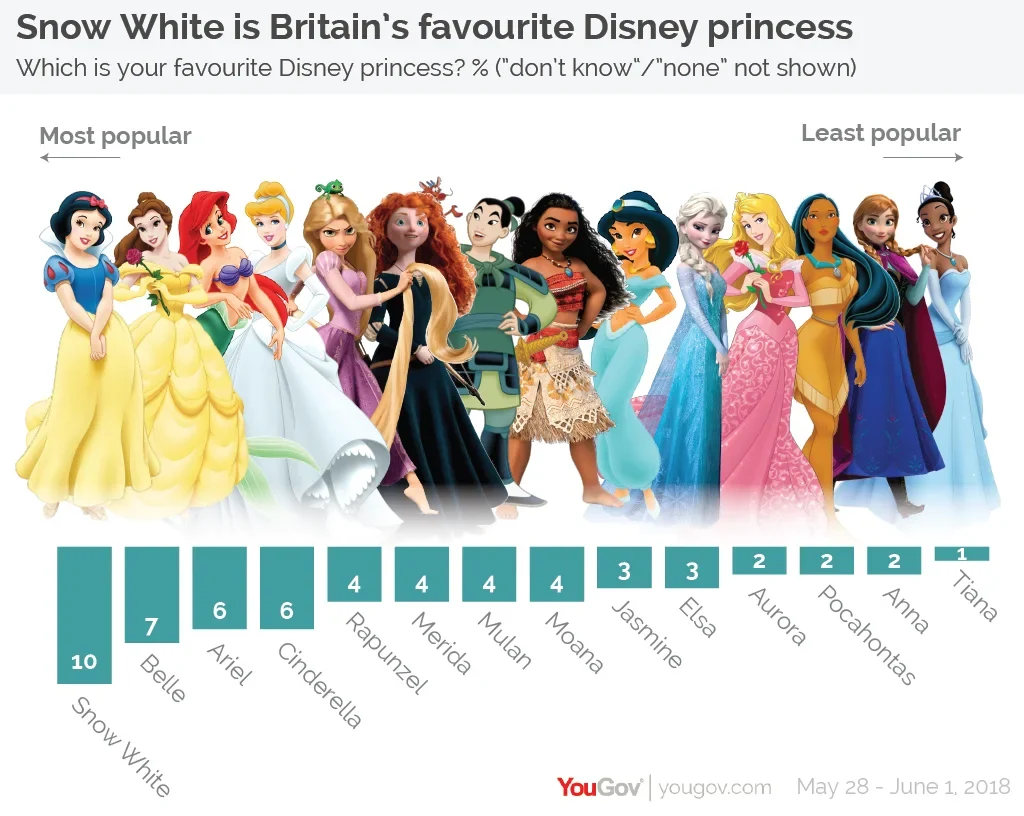 The data reveals a likely reason for Snow White's pole position: she stars in what is by far the most widely-watched Disney princess movie. Almost three quarters of Brits (74%) say they have seen the 1937 film, substantially ahead of the second-most watched movie – Aladdin – on 61%.
Some might argue that this gives Snow White an unfair advantage. So what if we look at the data another way: what percentage of people who have seen a given princess's movie say that the princess who starred in that particular movie is their favourite?
Under this measure, Moana comes out on top, with 17% of those who have watched her movie saying she is her favourite Disney princess. Snow White still remains among the most popular, coming in second place at 13%. Cinderella is the only princess to perform noticeably more poorly, slipping from joint-third into eighth place with 8% of those who saw her film picking her as their favourite.
Photo: Disney