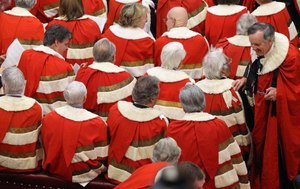 Public: ban party donors from the House of Lords
Sun August 4, 2013 12:12 p.m. BST
Majorities from across the political spectrum find it unacceptable that party donors are made members of the House of Lords, and think the practice should be banned
On Friday Liberal Democrat peer Lord Oakeshott called on Nick Clegg to "show some leadership" and push for changes to the way parties appoint new members of the House of Lords, which Oakshott complained was becoming "polluted" with big-money donors.
New YouGov research for the Sunday Times has found that many in the public share Oakeshott's concerns about donors ending up as peers.
More than three-quarters of the British population (77%) say it is "not acceptable" for parties to appoint people who have donated money to the party as members of the House of Lords, while fewer than one in ten (9%) think it is acceptable.
There was wide cross-party agreement on the issue: majorities of all four major parties ranging from 74% (of Conservative voters) to 85% (of UKIP voters) disapprove of donors being made peers.
Six in ten Britons (60%), meanwhile, are so displeased with the practice of giving peerages to donors that they think the practice should actually be banned. Again, majorities of supporters of each party appear to be in agreement.
In December, the government abandoned plans for House of Lords reform that would have reduced its size significantly and made it a mostly elected body. Nick Clegg was a leading proponent of the plans, which were initially supported but the coalition government but were scuttled amid considerable opposition from rank-and-file Conservative MPs.
YouGov's latest research finds that public opinion on the best way to reform the House of Lords reflects some of those divisions: faced with a number of reform scenarios, the most popular option was different among supporters of each party.
For Conservative voters, the most popular option was leaving the House of Lords as is – 32% want it to remain an appointed chamber. Labour voters most want it to become a wholly elected chamber, the option chosen by 28%. Lib Dem voters want the option that arguably most resembles the scenario sought by their party's leader: 41% want the House of Lords replaced with a chamber that is part elected and part appointed. The most popular option among UKIP voters, however, chosen by 27%, was abolishing the House of Lords entirely.
The family of one new appointee, Sir Anthony Bamford, has reportedly given around £2.5m to the Conservative party over the years. Other high-profile donors whose names are on the list of new peers include James Polumbo, who founded the Ministry of Sound nightclub and has given the Lib Dems almost £700,000, and Sir William Haughey, who has given the Labour Party more than £1m since 2003.
Nick Clegg has said the new peers "will make a valuable contribution to British politics, the House of Lords and the Liberal Democrat team in Westminster", while a Labour party spokesman said the party "totally refutes" the alleged link between giving donations and receiving peerages.
Image courtesy of Getty.