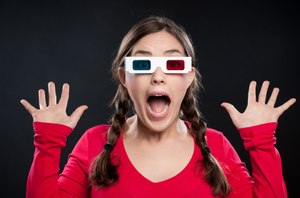 Halloween: Labs Top 10 Scary Films
Mon October 29, 4:30 p.m. GMT
As the spookiest time of the year is just round the corner, we asked Labs participants to tell us what movies make them sit forward, jump back, scream and, eventually, hide behind the pillows.
We compiled a list of Top 10 favourite horror films, so you chill-lovers can enjoy the scariest evening of the year with a bloodcurdling movie that made other Labs participants scream at their screens.
Here they are.
But be warned - some are really, really scary, and should not be watched alone. Even the trailers.
We're very serious.
1. The Exorcist
"It was made in an era before many scary movies were made and I was more influenced by this" Anon
"The suspense is what's scary and the fact that it appears very realistic. It's a believable story" GD, Warwickshire
2. The Orphanage
"This Spanish language film teaches Hollywood a thing or two about making people frightened. It is about suspense, not gore. Ghostly children are always more terrifying too" Bryony, Edinburgh
"It was chilling and very nerve wrecking. Full of suspense" Dee D, Yorkshire
3. Paranormal Activity
"It's very very very scary!" Anon
"Because it's absolutely terrifying" Anon
4. Scream (1-4)
"Wes Cravon is an excellent horror movie maker in his films he really captures suspense & build-up. He is influenced from old school horror films & it reflects in his movies - not just 'Scream' but his film Red Eye, too" Alb, Coventry
5. The Silence of the Lambs
"I can think of no one scarier than Anthony Hopkins as Hannibal Lecter. The storyline is also a one off" Anon
6. The Shining
"Atmospheric, psychological and genuinely terrifying, even after repeated viewing" Anon
7. Saw (1-4)
"A great puzzle of a storyline, and a good soundtrack" Jenny, Stockport
8. Hostel (1-2)
"It was terrifying because on some level I believe this may be happening in the real world" DavidR, London
9. Halloween
"Scary, excellent acting, great soundtrack. The original is the best horror movie of its kind" Davie John, Hampshire
10. What Lies Beneath
"One of the first scary films I saw and absolutely terrified me, especially with Harrison Ford being the bad guy!" Anon