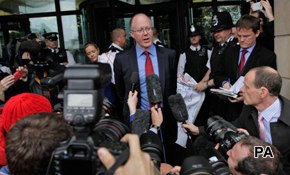 Savile: the BBC in crisis
Wed October 24, 11:30 a.m. BST
John Humphrys asks: how well is the BBC handling its current crisis following revelations about Jimmy Savile?
The growing scandal about Jimmy Savile has done more than destroy his own reputation. Institutions with which he was involved are also being put through the mill as questions are asked about what they knew of his activities and why he was able to get away with them throughout his life. None is more in the firing line than the BBC where he worked for over forty years. The revelations have plunged the corporation into what one of its most senior journalists has called its worst crisis in fifty years. How well is it handling this crisis?
Jimmy Savile became one of the earliest television celebrities back in the 1960s when he was as well known for his support for Stoke Mandeville Hospital as he was for being a brash DJ with his blond hair and huge cigar. He was knighted for his charitable services. Margaret Thatcher regularly invited him to her Boxing Day parties at Chequers. But now, a year after his death, scores of women and some men are coming forward alleging that he exploited his celebrity position to take sexual advantage of them when they were underage.
Many of his victims were vulnerable young people supposedly being cared for in institutions for which he did charitable work. It now appears he was given extraordinary freedom to do as he wished in these institutions and that any suspicions that he might have been so grossly abusing his position were batted away as incredible. Some of the abuse, it is claimed, took place on BBC premises.
For the corporation, these allegations of what went on under its own roof thirty and forty years ago are bad enough. But what has plunged the BBC into such a crisis is its much more recent journalistic handling of the revelations. Many believe it has been engaged in a cover-up.
Newsnight, got wind of the allegations late last year and started investigating them. But just before Christmas the programme's editor, Peter Rippon, pulled the story. His reason, he said, was that the programme had come up with no evidence that either the police, the BBC nor any of the care institutions where the abuse was supposed to have taken place had acted improperly and that it was not for a serious programme like Newsnight to make a story about the alleged activities forty years before of a celebrity who was now dead.
But not everyone was satisfied with this explanation. There was a suspicion that the story was dropped because it might prove embarrassing to the BBC, not least at a time when it was preparing its own tributes to Savile in the months after his death.
When stories about Savile started appearing elsewhere in the media this summer, these suspicions about why Newsnight dropped the story arose again. Indeed another BBC current affairs programme, Panorama, made it the subject of its own investigation and broadcast a programme devoted to it last Monday. In it, the Newsnight reporter who had been pursuing the story said that she thought her editor, Rippon, had had a "panic attack" over the matter and that there had been "a very long political chain" behind the decision to pull the story, though Panorama itself could find no evidence of interference by BBC management in its journalists' decisions.
Nonetheless, Peter Rippon was required to "stand aside" from his job as Newsnight editor because the new Director-General of the BBC, George Entwistle, believed Rippon had given a misleading account of why he had pulled the story. But Entwistle himself was in the firing line because in his previous job, as head of BBC Vision, he had been informed by the head of news that Newsnight was investigating Savile at the very moment when Entwistle was commissioning tributes to Savile. The question arose: why did this not ring alarm bells in Entwistle's mind?
That was the question the Director-General was asked when he appeared before the House of Commons Culture, Media and Sport select committee on Tuesday. Mr Entwistle acknowledged he had been told about Newsnight's investigation but admitted that he had not asked for any details about what the investigation might be digging up. He said he did not want to appear to be putting any pressure on the journalists involved in the investigation. Asked what he had thought when he was told that one of his programmes was lifting stones on Savile, he replied: "I don't remember reflecting on it". That led the committee chairman, John Whittingdale, to accuse him of "an extraordinary lack of curiosity". Mr Entwistle said he now regretted that the Newsnight story had not been allowed to proceed.
Many people remain unsatisfied by this account and suspect that the BBC was indeed guilty of a cover-up. Those suspicions may be heightened now that the police have mounted a full criminal inquiry into the allegations, largely because they believe the allegations incriminate others who are still alive. It has been reported that nine current contributors to the BBC are under police investigation. There has been talk of a paedophile ring at the BBC.
Defenders of the BBC say that whatever finally emerges, the corporation must be congratulated for the way it has allowed its journalists the freedom to inquire into - and report about - its own crisis. What other media organisation, they ask, would be prepared to allow one of its current affairs programmes to investigate the alleged wrongdoing of another? The BBC has also set up two independent inquiries of its own, one under the former head of Sky News, to find out what exactly went on in the Newsnight office and the other, under a former court of appeal judge, to look at the culture of the BBC back in the 70s and 80s when Savile's alleged child abuse on BBC premises took place.
But until they report, the suspicion will remain that the BBC has been engaged in a cover-up of abuse that the Director-General said could be regarded only with "horror and disgust". How else, people will ask, could Savile have got away with it for so long?
What's your view?
Were you surprised by the allegations against Jimmy Savile when you first started to hear them?
Do you believe these allegations?
What do you make of Newsnight dropping the story about the allegations?
Do you think the BBC deliberately tried to cover up the story or not?
Do you think George Entwistle should have shown greater curiosity when told of the Newsnight investigation or do you accept his explanation that he did not want to appear to be interfering with a journalistic enquiry?
Should Mr Entwistle stay in his job?
How do you rate the way the BBC has handled this crisis?
And why do you think Savile managed to get away with his activities for so long?
Let us know your views.