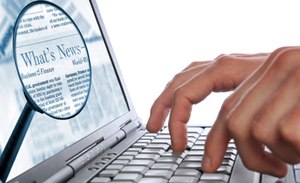 Broadband levy to fund online news?
Fri October 12, 4:44 p.m. BST
Recently, journalist David Leigh put forward the following idea for bringing in a broadband 'levy' to pay for online news journalism.
Writing in The Guardian, Leigh explained his idea as follows:
A small levy on UK broadband providers – no more than £2 a month on each subscriber's bill – could be distributed to news providers in proportion to their UK online readership.
This would solve the financial problems of quality newspapers, whose readers are not disappearing, but simply migrating online.
Leigh explained that the 'levy' would be an easy way to save the newspapers, ensure media diversity and 'monetise the web'.
Following Leigh's proposal, we asked Labs participants to give their views on the following:
Would they support or oppose Leigh's proposal to bring in a broadband 'levy' to pay for online news?

If the 'levy' was introduced, would they be happy to pay it?
With a record number of people taking part in this debate, we discovered a diversity of opinions.
Here's what Labs debate participants thought…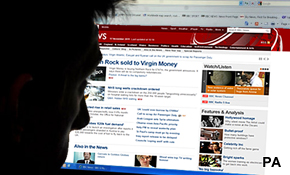 Most participants did not support bringing in a broadband 'levy' to fund online journalism. A variety of opinions emerged from this group of people, which will be presented below.
However, a much smaller number of participants approved of Leigh's proposal, and thought a broadband charge to fund online news was a reasonable idea.
Participants who supported the broadband 'levy' to pay for online news
Many of those who supported Leigh's proposal said that adding a broadband 'levy' is a perfectly reasonable charge, as to get quality reporting the public needs to pay for it. Participants said they understood the position of news providers, as they need to generate income – and would gladly pay £2-a-month to fund online news.
"To get quality reporting we're going to have to pay for it somehow. Online advertising doesn't cover the costs and if print newspapers are in decline then where are the media companies going to get their money from. If you pay for news in a newspaper surely you should be prepared to pay for it online where it is updated more often and can be added to throughout the day" Andy, London
A lot of the participants who supported the broadband levy drew attention to how important press is in sustainable democracy, and how in order to keep press alive, people should accept the idea of paying for online news.
"The problem is that a democracy should have a thriving and creative sector for journalism - not royal chasing paparazzi but sophisticated political commentators" Robin S, South London
"Free access to truthfully told news is an essential aspect of a genuine democracy" Julian, Croydon
Some of the Labs participants who supported the 'levy' raised concerns about distributing funding based on the share of the readership.
"My only concern is that distributing money based on the share of readership will entrench this pattern, with large news organisations continuing to dominate the market and smaller companies unable to afford to improve their services and thereby increase their market share" Isabel, Sheffield
Other participants referred to the decline in print journalism as the main reason they would pay for the news online. A few mentioned the Times as one of the newspapers which already charges for news online – and agreed that other newspapers should follow its example.
"It is illogical to expect to obtain high quality journalism free on the internet yet pay for the hard print. […]The Times does charge for web access and it is only a matter of time before others follow suit. It would be economically unsustainable for them to do otherwise" Frank Formby
Others added that reading news online would be beneficial for the environment.
"You cannot expect news providers to provide the news service for nothing. This method would give them a return and help to have a smaller impact on the environment" Alan, South Yorkshire
A recurring opinion was that the 'levy' would mean that news providers are able to provide the readers with serious comment, and are not as pressured by advertisers to attract readers through sensationalism.
"Either the public pays through advertising, unlikely for news/comment, or the levy is made. Otherwise news will become dependent on the big agencies and concentrate on sensationalism and serious comment will disappear" Chris, Belfast
Participants who opposed the broadband 'levy' to pay for online news
Labs found that a lot of participants did not agree with Leigh's proposal to introduce £2-a-month broadband 'levy' on reading news online, paid to news providers in proportion to their UK online readership. This group of participants expressed a variety of concerns in regards to Leigh's proposal, which we outlined below.
One of the reasons participants opposed the 'levy' was their objection to people having to pay for an industry that, in their opinion, cannot be sustained.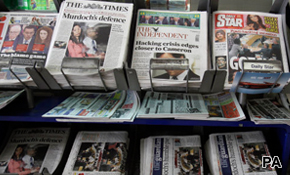 "If the print media can't sustain their own existence in the presence of free information, why should we be forced to pay for what is neither an essential service nor an impartial one. I won't buy newspapers; I don't intend to pay for them through a broadband tax either" Richard, Lincolnshire
"There shouldn't be a tax to prop up a failing industry. It's up to news providers to adapt - the good ones will survive while the poor ones will be shaken out" Stephen, London
One recurring concern was that a £2-a-month 'levy' could be easily increased once established, meaning that people on lower incomes would not be able to afford it.
"This would be another form of taxation and not affordable to many people on low incomes; the £2 levy once established could easily be increased. Who would administer it?" Judi, Yorkshire
"It would be like the BBC licence fee: starts small then grows like Topsy, with no ability to opt out, and the threat of criminal sanctions for non-payment" Anon
A high number of participants thought it is unfair to place a charge on all people's broadband bills, as not all read news online.
"I think it is not fair to place a levy on all peoples broadband bills, some people do not even read online news" Anon
"I do not like the idea of paying for something I do not use. Why should I pay any amount of my hard earned money so that other people can get free news?" Anon
However, some agreed that it would be fair to have the 'levy' as an additional payment, for those who actually read online news.
"This news fee should be an optional extra to whatever bundle the customer is currently using, not a compulsory item added to the already high cost of broadband" Margaret, Lancashire
Some participants thought the system was flawed as it would be a broadband 'levy' which would not actually pay for a broadband service.
"People pay broadband payments for broadband. To add an extra charge without customer request is nothing short of theft. If a business is not economically sustainable, it should not exist, regardless of the business" Liam, Manchester
Other debate participants opposed paying a 'levy', as the money would mean paying large corporations, not independent, smaller news providers.
"I think it'd be unfair to charge some broadband users for newspapers they don't and would never read. I would hate to know that my money, no matter how much, was lining Rupert Murdoch's pockets"
People who neither supported nor opposed the broadband 'levy' to fund online news
Some participants thought the idea was reasonable, yet many thought it was flawed in too many ways.
"In principle this seems like a good idea, but news is not confined to national boundaries and not everyone has access to broad-band. More critically there would be major and significant concerns about who controls the output and how independent and objective it was" Malcolm P, Somerset
Some participants would agree with a levy if it funded only certain news websites.
"This has both pros and cons. I would be happy to pay a levy on my broadband so long as it went towards traditional and serious journalism. However, I would not want my levy to go to trashy journalism. Drawing a boundary between these might not be so easy though" Anon
A part of the people who participated in the debate thought £2-a-month 'levy' would be too much to pay for news. Yet if people were charged a certain percentage of their bill, the system would be more acceptable.
"£2 a month is a lot for some people; maybe [paying] a percentage of their bill would be a fairer system. I want to support quality news but people who read physical newspapers would have to pay twice" Anon

What are your views on the subject? Share your thoughts below.