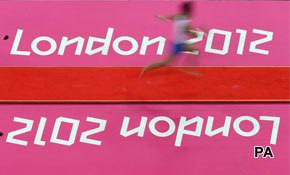 London 2012: Tweet wars
Wed August 8, 3:45 p.m. BST
Olympic sponsors worth it? Our social media tool reveals rival brands talked about for free online
Our social media audience measurement tool, SoMA, has revealed that while LOCOG may have been effective at maintaining the exclusivity rights of headline sponsors like Coca-Cola, McDonald's and Adidas offline, on social media rival brands Burger King, Pepsi, and Nike are being associated with the Olympics for free.
The word 'Olympics', together with 'Burger King', is the most frequent term heard on Twitter, as well as 'Pepsi', and is also the second-top term heard together with 'Nike'.
A look at some verbatim tweets collected by SoMA reveals the tone of the social media chatter about the brands' Olympic rivalry: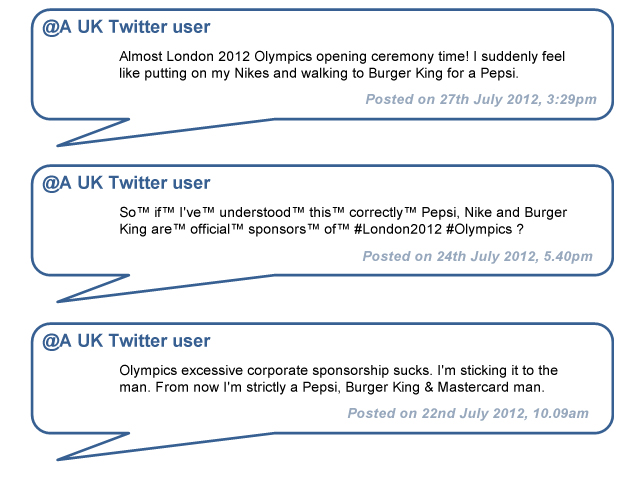 Pepsi vs Coca-Cola
Olympics boss Lord Sebastian Coe was seen to have made a major gaffe when he (mistakenly) claimed that anyone wearing a Pepsi T-shirt would be barred from Olympic events to protect headline sponsor Coca-Cola.
On July 20th, the day Lord Coe made this remark, news about Pepsi reached the Twitter feeds of 15% of the UK Twitter population (a 'reach score'), up from 1% the day before, while mentions of the brand on Twitter in general rocketed up by 866%. Meanwhile, rival Coca-Cola achieved a reach of only 8% on the same day.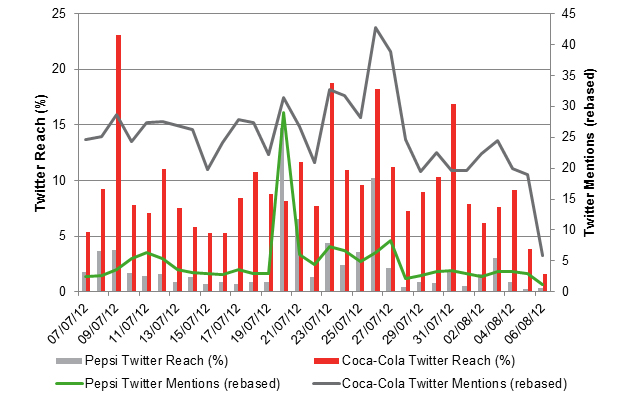 It should be noted, however, that despite Burger King and Pepsi getting a free ride in terms of their association with the Olympics on Twitter, McDonald's and Coca-Cola have achieved reach scores consistently higher than their rivals in the month-long lead-up to the opening of London 2012.
Nike vs Adidas
For Nike and Adidas, the battle of the brands on social media has been more evenly matched.
On July 25th, Nike launched 'Find Your Greatness', a global 'ambush marketing' campaign intended to try and leach some brand benefits from the Olympics without the £100m sponsorship fee that Adidas has paid.
The TV advert and poster campaign features athletes playing Olympic sports all around London with slogans taking swipes at Adidas's sponsorship, such as 'Greatness doesn't need a stadium'.
On the day Nike launched its campaign, news about the brand reached the Twitter feeds of 16% of the UK Twitter population (up from just 2% the previous day), while Adidas's reach score for the same day was less than half that, at 7%.
In the following days, Nike and Adidas have achieved roughly equal reach scores and number of mentions.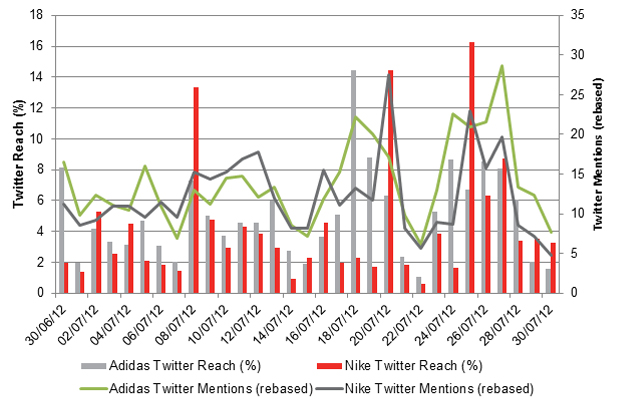 SoMA shows that whilst Olympic sponsors McDonald's and Coca-Cola are besting Burger King and Pepsi in terms of Twitter chatter, their rivals are still getting fringe benefits from the attention generated by LOCOG's fierce enforcement of the sponsors' exclusivity rights.
Meanwhile, despite Adidas's £100m sponsorship deal, it would appear Nike's creative efforts to capitalise on public indignation over sponsorship exclusivity have been just as effective, with the two brands running neck and neck on Twitter.
London 2012 has been branded "the first social media Olympics", and no doubt brands will be drawing lessons as to how they can maximise their social media presence for future Games.
They may also be asking themselves if sponsorship carries the same benefits it used to, and – in light of Nike's success in raising awareness of its brand without being a sponsor – if it's still worth it.
For more information on YouGov SoMA and to arrange a demo – email the SoMA team at: soma@yougov.com or visit our research website