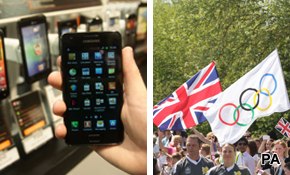 Forget the wellies…
Wed July 4, 3:09 p.m. BST
Euro 2012, Olympics and festivals: 50% of UK smartphone owners online have or plan to use their mobile to follow events
Significant numbers of Britons online with tablets or smartphones have been or will be using their mobile devices to following sporting and cultural events this year, our research for UK communications giant Everything Everywhere, which runs the Orange and T-Mobile brands, shows.
Our online poll shows that half (50%) of UK smartphone owners online have or plan to use their mobiles to follow events by browsing the internet for news, results or following live scores this year
46% of UK smartphone owners follow sport on their mobiles
42% of men with smartphones followed Euro 2012 on their mobiles
Nearly one in five UK adults (18%) admit to having discreetly watched sport at work
Nearly a third (32%) of smartphone and tablet owners who use them to watch video on the go say they have used their device to watch live sport outside their home in the last year
Following football
With Euro 2012 having come to an eventful final last weekend, our poll showed football to be a particularly popular event among smartphone owners.
Nearly one third (31%) of UK smartphone owners and 42% of men with smartphones said that they planned to use or had used their mobile to follow Euro 2012 this year, through browsing the internet for results or following live scores and news feeds
While over a fifth (22%) of male smartphone owners said they had used their phone to watch recorded video clips or live coverage of the competition
Watching at work
The survey found that as the UK enters a jam-packed summer of events, Britons won't let work get in the way of their favourite past time.
Nearly one fifth (18%) of UK adults admit that they have watched or followed a major sporting event at work without their employer's consent
Men are the guiltiest of this, with a quarter (25%) admitting to having watched or followed a major sporting event at work without their employer knowing, when it was not allowed
Going some way to avoid this, 10% of employees say they are being allowed to watch national sporting events which take place during working hours
Nearly one quarter (23%) of workers who will be working at home over the summer say that they will be doing so more than usual this year. Even then, many will still use their mobile devices.
Nearly one third (29%) of respondents with a smartphone or tablet say they are most likely to use their mobile device to watch or follow events while at home this year
26% are most likely to do this while travelling
Uploading content
And activity isn't limited to downloading or streaming content. Some 23% of UK smartphone owners say that they have used their mobile phone to upload images or video to social networking sites when attending events, such as musical festivals or sport.
This is particularly common with younger generations; a whopping 38% of 18 – 24 year olds and 37% of 25 – 34 year olds surveyed say they have uploaded images when out and about at events.
David Salam, Director of Network Strategy, Architecture and Design for Everything Everywhere, said: "As the summer of sport heats up, people will be trying to follow events wherever and whenever they can.
Thanks to the integration of our T-Mobile and Orange networks, our customers have access to the widest 2G and 3G network in the UK so will be able to keep tabs on the sport in more places, more of the time."
For more information please contact YouGov PR Executive Giovanna Clark, +44 (0) 20 7012 6000