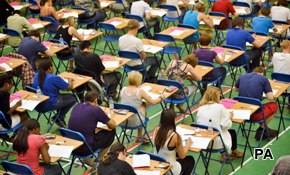 'O' Levels: Do we want them back?
Thu June 21, 2:46 p.m. BST
Will Michael Gove's proposed GCSE reforms make any difference to educational standards, asks John Humphrys, or will more 'interfering' take its toll?
It's normally in August that we have the annual national row about whether or not exams are getting too easy and need to be made more rigorous. Just as students are receiving their GCSE and 'A' level results doubt is cast on whether they actually mean anything any more.
This year, however, the argument is being rehearsed two months early. An education department document leaked to the Daily Mail suggests that Michael Gove, the education secretary, wants to ditch GCSEs altogether and to restore something like the old 'O' levels. Is it a good idea?
The leaked proposals, which Mr Gove has partly confirmed in the House of Commons, have two basic elements. The first is that the national curriculum, which dictates to secondary schools what they should teach, will be abandoned. The second is that GCSEs, which most pupils take around the age of sixteen, will be abolished for the most important subjects and replaced by a two-tier exam system. Around 75% of students will sit a more rigorously academic exam, like the old 'O' level, while the remaining, less able 25% will sit an easier exam, targeted at skills they are likely to need in their working lives and more like the old CSEs (certificates of secondary education).
The leaked document suggests that these reforms (which apply only to England) will be introduced quite quickly, so that by 2016 pupils will take the new 'O' levels ‒ which may be given a different name ‒ in the basic subjects of English, maths and the three sciences, physics, chemistry and biology.
The Daily Mail hailed this news as evidence of a properly 'Tory' policy being pursued. In some ways this is ironic since it was Margaret Thatcher's Tory government in the 1980s which replaced 'O' levels and CSEs with the universal GCSE exam and also introduced the national curriculum. Labour's shadow education secretary, Stephen Twigg, was quick to make the political point: "When the Tories abolished 'O' levels and introduced GCSEs in the 1980s they said standards would rise. Now they say they've fallen," he said.
Long before the leak, Michael Gove had publicly expressed his unhappiness with the current system, echoing the view of many that it had indeed led to a lowering of standards. Last year he scrapped the modular element in the GCSE exam system, whereby pupils continuously take exams in different parts (or modules) of each GCSE subject during the course of their study and are able to resit them if they fail. The problem, he explained, was that "instead of concentrating on teaching and learning you had people who were being trained to clear the hurdle of the examination. That meant that less time was being spent developing a deep and rounded knowledge of the subject."
By scrapping the modular system and making the new qualification dependent on success in a single exam at the end of the course of study, Mr Gove hopes to rectify this. But his purpose goes beyond that.
Many people have argued that the system which he plans to abolish had an in-built propensity to lower standards. Some even called it essentially corrupt. Their argument was that too many players in it had an incentive to lower standards in order to claim that more children were succeeding. At the top, politicians wanted to be able to claim to voters whose taxes they were spending that the policies they pursued were raising educational standards. Easier exams and therefore higher success rates seemed to prove this. Further down, head teachers in charge of schools which now competed with each other for pupils, had an incentive simply to cram their students for exams so that good results would push the school up the league tables which parents avidly study when choosing which schools to apply to.
What's more, the system of six competing exam boards which schools could choose between also encouraged those boards to lower their standards in order to produce better results. The fact that these boards are run for profit seemed to many to make dumbing down inevitable. Mr Gove proposes to do away with competition between exam boards and to have one board in charge of setting exams for each subject.
He also seems to have another aim in mind. Teachers have long complained that the national curriculum restricts their freedom to teach as they think best. As one teacher once put it to me: "I'm no longer employed to teach, merely to administer education." Academies and the new free schools, which together account for half of secondary schools in England, are already exempt from the national curriculum. By abolishing it altogether, Mr Gove is planning to extend this freedom to all schools.
So what is wrong with what he has in mind?
All reforms are a reaction to what seems wrong in an existing system and the reforms his Tory predecessors introduced in the 1980s and which he is now wanting to reverse were similarly reactions to what seemed wrong then. In particular, the two-tier system of 'O' levels and CSEs seemed to many then to be unnecessarily divisive, with CSEs regarded very much as 'second-best'. It was felt that the decision as to which exams any child should take was being made too early and this point is being made again now.
Russell Hobby, the general secretary of the National Association of Head Teachers, welcomed the proposed changes in the exam board system but expressed the worry that making pupils decide between the two new exams in their early teens could be damaging. Children from poorer backgrounds, it's being argued, will disproportionately find themselves taking the 'second-best' exam.
Equally, the national curriculum was set up precisely because it was felt in the 1980s that teachers could not be trusted to teach children what they would need to learn, and that this was why educational standards were not as high as politicians (and many others) thought they ought to be. Back then it was thought government needed to intervene and that is why the national curriculum was introduced. By scrapping it, Mr Gove will, in some people's eyes, be giving power back to teachers without any guarantee that standards will thereby rise.
Finally, some will argue that the sheer upheaval involved in what he is proposing ought to make him pause. Teachers, it will be said, have had non-stop interference and reorganisation over the last twenty-five years and this has taken its toll, not least in the number of teachers leaving the profession. What they need most of all is to be left alone. Mr Gove would no doubt reply, though, that he can't leave alone a system he thinks is failing our children and that if he can at last get it right, it's worth one more big change.
What's your view?
Do you think standards of education in our secondary system have fallen or not in recent years?
Does the GCSE system need to be changed?
Do you share the view that it has led to pupils being crammed for exams rather than learning about subjects properly?
Do you think the reintroduction of a two-tier system, like the old 'O' level and CSE system, will improve standards or will be divisive or, indeed, both?
Should we have one exam board for each subject or give schools the option of choosing between exam boards?
What do you make of the plan to scrap the national curriculum?
Do you think the planned changes are worth the upheaval or not?
And do you think Mr Gove's plans offer the hope of a settled system being created or are just the latest round in a cycle of endless change?