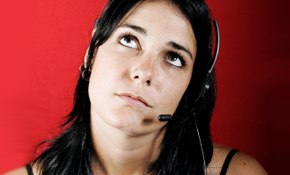 Customer service 'worsened'
Tue January 24, 2012 1:01 p.m. GMT
67% of homeowners think UK customer service has stayed the same or worsened in last three years
Over two thirds of UK homeowners believe customer service has either stayed the same or deteriorated over the past three years, our survey of over 1,400 UK homeowners for mobile workforce management experts Cognito has found. Impolite and unfriendly staff was the most common reason cited in explanation.
Asked about the service provided by consumer-facing organisations, 67% of homeowners think UK customer service has stayed the same or worsened in last three years
22% believed customer service had improved a little over the past three years
Only 3% believed it had improved a lot
Almost half (49%) of those surveyed cited unfriendly and impolite staff as the most common reason for poor customer service
19% said timeliness was an issue
While 19% said that the inability of staff to fix a customer's reported problems was a reason
In comparison, the picture doesn't look so bleak for service standards over the recent winter and festive period.
44% of homeowners rated the customer service they received as good, while 32% gave it an average rating.
In London only 5% rated service over Christmas as very good, which was less than the national average (11%)
'This survey tells us that there is still significant room for improvement, especially when customers are viewing it as a key differentiator and increasingly taking to social media to broadcast instances of poor service.
'An organisation's service has a real impact on their brand and market share, so boardrooms should start recognising this as an opportunity…the first place to start is by focusing on service performance management,' said Jonathan Chevallier, Strategic Development Director at Cognito.
'In these times of economic uncertainty, there will be a polarisation of approach: those that invest to improve service and efficiency, and those that slash costs. We expect those that invest to be the overall winners in the long term and await to see whether those slashing costs ultimately undermine their ability to provide the service their customers expect.'