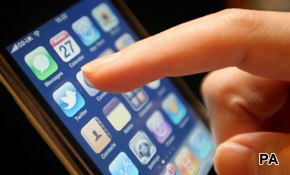 What does your phone say about you?
Tue April 5, 2011 7:41 p.m. BST
A recent online study by YouGov for digital banking provider Intelligent Environments has found that smartphone penetration has now reached a third (33%) of British adults, with the Android (28% of users own this) slightly more popular than the iPhone (26%), and the BlackBerry (14%) coming in third. The research also shows that the type of phone you have may provide some insight into other areas of your life as well, including phone use and income.
IPhone users spend more time on their phone than users of any of the other top models, with 18% spending more than four hours a day on it compared to 4% apiece of Android and BlackBerry users
18% of iPhone users say their main bank account is always overdrawn, compared to 14% of Android users, 13% of BlackBerry users, and 12% of all Brits
BlackBerry users are likely to be higher earners, with 10% earning over £50,000 a year compared to 7% of iPhone users and 5% of Android users
The iPhone is the most popular phone model in London, with 42% of smartphone owners in the capital using the Apple handset compared to 15% Android and 11% BlackBerry
63% of iPhone users say social networking apps are amongst the three they spend the most time on compared to other types
Just 4% of iPhone users rank financial management apps in the top 3 they use the most compared to 10% of BlackBerry users
Android users are the most likely to plan their travel route, with 34% saying travel and map apps are in their top three most used apps
23% of BlackBerry users say they don't use apps at all
And Androids seem to appeal to both young and old users, with this model being the most popular among those who own a smartphone in the 25-34 age group (36% use an Android), as well as those who are retired and own a smartphone (25% use an Android)
James Richards, Director of mobinetic at Intelligent Environments, commented on the result, saying: 'The top three mobile platforms in the UK certainly seem to attract different personalities. It's fair to say that iPhone and BlackBerry have strong identities but given that Android is on a number of handsets, we are clearly seeing more of a mixed user base. Perhaps we will see the telecoms industry of the future diverging their apps and services further to suit the variety of demands being placed on the mobile.'